By Shelly Ann Lau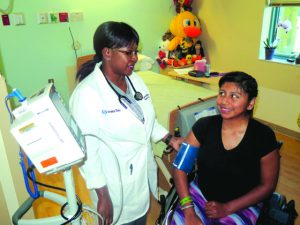 January is a fascinating month. It is a month of new beginnings. Statistics tell us that January is the month where people attempt to make more changes in their lives than any other time of the year. Changing lives is at the core of what we do at the Edward J. Healey Rehabilitation and Nursing Center. In fact, our facility offers new beginnings all year long!
As part of the Health Care District of Palm Beach County, we know that most residents and visitors recognize the District by our Trauma Hawk aeromedical helicopters, especially during the holiday season. And we agree that Palm Beach County is fortunate to have a comprehensive and coordinated Trauma System that is nationally recognized, most recently as "best in class" by MD Content. Without question, our Trauma Agency is vitally important because trauma will touch the lives of one out of every three Americans. And a traumatic injury can happen to anyone, anywhere, at any time.
When someone is traumatically injured, every second counts. 911 is alerted and EMS, Fire Rescue and police are dispatched to the scene. Paramedics provide emergency care and follow standardized treatment and transport protocols created by the Health Care District's Trauma Agency. If they find that the patient meets Trauma Alert criteria, the patient is immediately triaged and transported either by ground or flown by a Trauma Hawk air ambulance to one of the county's two Trauma Centers.
But what happens after that? The road to recovery is equally as arduous and vitally important in the recovery of a trauma survivor. That is where the Healey Center comes in.
When patients are well enough to participate in more intensive therapy outside of a trauma center, they are often transferred to a "residential rehabilitation facility." The goal is to help the trauma survivor regain the most independent level of function possible. The Brain Injury Association of America reports that "Rehabilitation channels the body's natural healing abilities and the brain's relearning processes so an individual may recover as quickly and efficiently as possible. Rehabilitation also involves learning new ways to compensate for abilities that have permanently changed due to brain injury."
The Healey Center is home to 120 residents. It is an important component of Palm Beach County's health care system. Many people imagine a rehab center caters to seniors and others with acquired disabilities, but the reality is that the average age of the mostly male residents is 58. Many of the Healey Center's residents are millennials and other young adults with long lives before them. It is important that they receive quality care with compassion to regain motor and life skills. Unfortunately, demand for services are high, especially following the holiday season. The good news is that Florida's Agency for Health Care Administration lists 54 rehabilitation and nursing home options in Palm Beach County.
In November, the Healey Center was recognized by U.S. News & World Report as a 2017-2018 "Best Nursing Home" for earning an overall Top Performer Rating, the highest rating it awards to nursing homes. U.S. News & World Report analyzed data on health inspections, nurse staffing, and measures of medical quality of care from the federal government to produce the ratings. The Healey Center also garnered a Five-Star Quality Rating from the Centers for Medicare & Medicaid Services' (CMS) Nursing Home Compare website, a rating the Healey Center also received in 2010, 2014 and 2016.
The newest national recognition comes as the Healey Center is also celebrating a remarkable milestone in 2018. We are very proud that the Healey Center has been a source of "Hope and Healing for the last 100 years" in Palm Beach County. So, as we look forward to another wonderful year of new beginnings with all Palm Beach County residents, we are also happy to be celebrating a tradition of changing lives in January and all year long.
Shelly Ann Lau, Administrator
Edward J. Healey
and Rehabilitation Center
Shelly Ann is a certified health care administrator with 13 years of health care experience in southeast Florida. Before joining the Health Care District of Palm Beach County, Shelly Ann oversaw the daily operations of a skilled nursing and rehabilitation center where she helped build brand recognition in the community. Prior to that, Shelly Ann served as the administrator of a skilled nursing and assisted living facility. Her experience includes finance and survey management. She is committed to focusing operations on the delivery of quality care and excellent customer service while maintaining compliance with regulatory standards. Prior to working in the long-term care industry, Shelly Ann served two years as a member relations supervisor for a commercial Medicare plan.
Shelly Ann holds a Bachelor of Arts in Health Administration from Florida Atlantic University and is a licensed nursing home administrator and preceptor. In addition, Shelly Ann is a member of the Florida Health Care Association (FHCA) and LeadingAge Florida.
Health Care Association (FHCA) and LeadingAge Florida
1515 N. Flagler Drive
West Palm Beach, FL 333401
561-804-5600
www.hcdpbc.org