Discover how you can start the year with fresh skin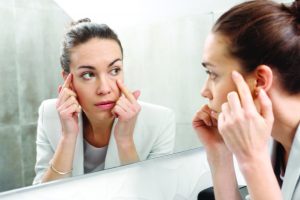 The staying power of one aesthetic procedure that addresses several skin conditions has been around for over 20 years, but the results are still state-of-the-art. If you've noticed that your skin is starting to show brown sun spots, broken blood vessels, or an overall uneven skin tone, IPL (Intense Pulse Light) is the answer you've been longing for.
IPL uses high intensity spectral light to target certain chromophore in the skin, such as melanin in freckles and age spots or hemoglobin in blood vessels. Also known as a photofacial or photorejuvenation, IPL treatments selectively heat the unwanted lesion, while contact cooling keeps the very top of the skin protected.
The treatment can be used for age spots on many parts of the body including face, chest, backs of the hands, and arms. It is also excellent for hair reduction all over the body.
The IPL process is non-invasive, with minimal downtime, and the best part is that it's quick and relatively painless. You can have the skin you've always wanted in a short period of time, and the results will leave you with a radiant glow.
IPL Treats the Following:
– Hyperpigmentation
– Broken capillaries or blood vessels
– Red acne scars
– Rosacea
– Unwanted Hair
– Freckles
– Dull Skin
The procedure begins by applying a cool gel to the skin. The IPL handpiece is placed on the treatment area and bright flashes of light penetrate the skin's surface. Protective eyewear is worn throughout the procedure. A treatment can take 15-30 minutes, depending on the area being treated. A course of 3 or more treatments, spaced one month apart is recommended to achieve desired improvement. During the procedure, the pulses of light feel like a small sting, likened to the snapping of a rubber band against the skin. Most patients return to their normal routine immediately after treatment. You may expect minimal pinkness of the skin for 1 to 3 days, and the brown spots may appear darker, as small speckles are drawn to the surface and flake off over the following week. Makeup can be applied after the procedure if necessary.
Start 2018 with beautiful clear skin and schedule your IPL consultation today!
If you want to enhance the health and appearance of your skin, visit the cosmetic dermatology experts at Brilliant Dermatology & Aesthetics. Please call 561-877-3376, or visit brilliantdermatology.com
for more information.
Elissa Schwartzfarb Norton MD, FAAD, is a native of Boca Raton, where she was born, raised and graduated as Valedictorian from Spanish River High School. She completed her undergraduate education at the prestigious Massachusetts Institute of Technology, where she was honored with the Asinari Award for Outstanding Undergraduate Research. She continued performing graduate-level research at Harvard University and the Dana Farber Cancer Institute before returning to South Florida to complete her medical education. She received a merit-based scholarship to attend the University of Miami School of Medicine, where she graduated at the top of her class and was inducted into the elite Alpha Omega Alpha Medical Honor Society. Dr. Norton remained at the University of Miami for her Internship in Internal Internal Medicine and Residency in the Department of Dermatology and Cutaneous Surgery. She has received numerous awards including the Women's Dermatologic Society Mentorship Award, American Society for Dermatologic Surgery Preceptorship award, scholarships to attend annual meetings of top dermatology societies, and the award for Outstanding Contribution to Medical Student Teaching. Dr. Norton has numerous publications in peer-reviewed medical journals and has presented her research at regional and national dermatology conferences.
She enjoys all aspects of dermatology including medical dermatology for all ages, cutaneous surgery, and aesthetic dermatology.
By combining her passion for skin health and her attention to every visit, she provides top care to her patients. In her free time, Dr. Norton enjoys spending time with her husband, two young sons, and extended local family in Delray Beach.
Brilliant Dermatology & Aesthetics
5162 Linton Boulevard
Suite 203
Delray Beach, FL 33484
P: (561) 877-DERM (3376)
F: (877) 992-1153
www.brilliantdermatology.com