Going to the dentist doesn't have to be scary anymore.
In fact, it can be (dare I say?) fun!
By Dr. Richard J. Staller, D.D.S., F.A.G.D., F.I.C.O.I., F.A.S.D.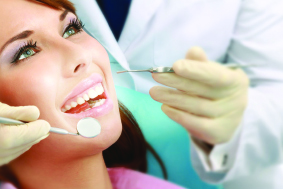 Let's face it: Going to the dentist is never going to be a walk in the park or a day at the beach. But that doesn't mean it needs to be an altogether unpleasant experience. In fact, in the right setting, it can be nearly as enjoyable as taking in a movie or socializing with trusted friends at your favorite coffee shop.
One of our main goals at Advanced Dentistry South Florida is to lessen the anxiety and negativity normally associated with dental care. A caring, hospitable staff educated by Ritz Carlton trainers, soothing colors, natural lighting, a coffee bar, movies shown on plasma screens these are a few of the ways we strive to make it that much less stressful to walk through the front door. It is also a good feeling to know that there is a staff of highly trained doctors including general dentists and dental specialists.
Perhaps massaging chairs, warm blankets, and scent machines aren't enough to entice you to stop avoiding the dentist like so many tend to do. If that is the case, you might want to chew on the fact that many systemic disorders, including those of the heart and lungs, are linked to the health of your teeth and gums. Nowadays, even a hip or joint replacement can't be performed without a dentist's declaration of a healthy mouth.
Not convinced yet? Consider this: An investment in your smile is one of the soundest you can make. It not only changes how you look, but boosts your self-confidence, opens professional doors, and betters how you are perceived by society. In our practice, we strive to maximize the treatment and minimize the cost. You can't put a price on that, nor an age limit. We've seen patients 99 years of age wondering why they ever waited so long!
For many people, anxiety about going to the dentist stems from more than just fearing painful procedures. It can also be worrying about choosing the right provider. Here are some tips on navigating this all-important decision:
1. Don't assume that the one who recommends the least treatment is giving the best treatment. It can be tempting to choose the easier path, but just because a practitioner tells you there's no issue doesn't mean there isn't one. We try to be honest and always tell the truth, not just what you want to hear. Sometimes we might lose patients that way, but it's the only way we will do business.
2. Trust your instincts. See how you're treated from the time you make your first phone call. Is it with respect, patience, understanding and compassion? If not, keep looking. You want a dental office that makes you feel safe, secure, and in the best possible hands.
3. Conduct an interview. Review credentials and ask questions. How long have they been in business? How many patients do they see in a day? Are they using the latest technology? How do they clean their instruments? For example, in our "beyond state-of-the-art" facility, we have 18 treatment rooms, take all images in digital format, use LED for optimal lighting conditions, and utilize the latest in heat sterilization technology for our instruments, as well as having all of our equipment monitored by the manufactures via the Internet. In a small town like ours, word gets on the street. Don't be afraid to ask around.
4. Consider "one-stop shopping."
A team approach gives you successful and predicable dentistry, and happy healthy patients. There are lots of good practitioners around, but there's nothing like having everyone in one place at one time. We have two general dentists, an endodontist , two oral surgeons, a periodontist and four dental hygienists plus a dedicate private surgical suite. Much like a hospital setting such as Johns Hopkins or Cleveland Clinic, we get together and review each case so we can come up with a definitive diagnosis and treat the patient to the best of our ability.
Prioritizing, rather than procrastinating about dental care, is easier than ever, thanks to technological advancements and the wealth of information at your disposal. Once you research and select the right practitioner, it actually is possible to relax and even enjoy, going to the dentist. Espresso anyone?
Dr. Richard J. Staller is on staff at Delray Medical Center, Boca Raton Regional Hospital and West Boca Medical Center where he performed the  hospital's first operating room general dentistry case. Dr. Staller is also on the faculty for Florida Atlantic University's School of Medicine and is the FAU Team Dentist. He maintains a busy lecture schedule, speaking extensively all over the United States on topics such as implants, cosmetic and restorative dentistry.
Dr. Staller has appeared on network television and radio numerous times. He also has done research and presentations on dental lasers and has authored articles that have appeared in notable dental publications. Dr. Staller is a member of such prestigious societies as: The American Academy of Cosmetic Dentistry, A Fellow in the Academy of General Dentistry, The American Academy of Implant Dentistry, The International Academy for Sports Dentistry, A Fellow in the International
Congress of Oral Implantologists.
Advanced Dentistry South Florida is dedicated to giving back to the community by participating in Habitat for Humanity, Boca Helping Hands, Alzheimer Walks, and giving 10% of profits to charity. They are honored to have been named Best Place to Work by South Florida Business Journal in 2015, and Best Dentist in Delray Beach by the Sun Sentinel in 2013 and 2014.