By Dana Luzon, Au.D., CCC-A, FAA –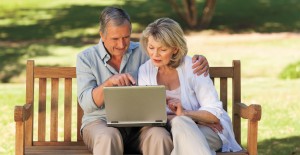 Hearing aid sales online have become more prevalent this year than I've seen in recent years, however, most people don't realize it's against the law in our state.  Most of these "hearing devices" are Personal Sound Amplifiers or PSA's and offer only amplification for loudness and are not programmable by a Doctor of Audiology.  Consumer's today believe that all they need is a "little more volume" and they will hear just fine. While most don't realize it's the clarity of words that they are missing out on. Volume and clarity are two separate things.
Today's digital hearing aids are built on an individual's prescription for their hearing loss, set for each individual ear by a Doctor of Audiology.  Advanced digital hearing aids can also adjust and adapt automatically based on environments such as restaurants, meetings and for TV and telephone use.  Digital programmable hearing aids account for speech clarity not just volume.
"People are turning to the internet to find less expensive alternatives, but I have found those who purchase PSA's online found they just don't work."  Dr. Dana
Luzon, Au.D. reports, "purchasing hearing aids online or through the mail are illegal in Florida, it is a  second degree misdemeanor that could land someone in jail for up to 6 months."
The Department of Health says no one has ever been prosecuted for buying hearing aids online; however, they have sent cease and desist letters to companies who have tried to sell the amplification devices.
Beware of attempting to purchase hearing aids online or through the mail as they might not physically fit, or be prescribed for your degree of hearing loss.  Getting an appointment with a licensed Doctor of Audiology will ensure hearing aids will meet your individual listening and lifestyle needs.
Dana Luzon, Au.D., CCC-A, – Doctor of Audiology
Originally from Southern NJ, Dana Luzon received her undergraduate degree in Speech Pathology and Audiology from the Richard Stockton College of NJ, and continued on to receive her Doctorate of Audiology at Salus University's residential program. Her varied clinical experiences throughout her doctoral studies include: VA hospitals, rehabilitation clinics, ENT and private practice settings. Her professional interests include: audiologic rehabilitation and progressive tinnitus devices. Her interests in the field outside of the clinic include: Humanitarian Audiology, and Audiology Awareness. Dr. Luzon currently lives in West Palm Beach, FL.