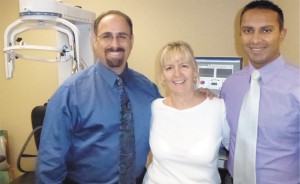 Years of excessive childhood use and abuse of the body – skiing, gymnastics, trampoline jumping – and working at a desk job for forty years left Carol Ann Kaminski suffering from chronic back and neck pain. Eventually her active lifestyle caught up with Carol Ann and the increasing back and neck pain made it difficult for her to enjoy some of her activities.
Carol Ann is very active and likes to kayak and walk and run, but the pain was preventing her from enjoying such activities. The pain reached the point where her back and hip was hurting so bad she had to stop kayaking and running altogether. Her activity was limited to walking and sometimes even walking presented some pain.
Finally, the pain reached a point that Carol Ann decided it was time to return to Active Health Center at Weinberg Chiropractic. Having experienced relief from the treatment she received from the center about five years earlier, returned hoping for the same positive outcome. What she didn't expect was even better results.
When she returned to the center, Carol Ann learned about a treatment that had the potential to improve her situation on a long-term basis, the Multi-Cervical Unit. Marc A. Weinberg, DC, and his partner, Colin O. Behrue, DC, notes that patients who have tried multiple avenues of pain relief without success may be good candidates for the same leading-edge treatment Carol Ann was given: the Multi-Cervical Unit, or MCU.
In late 2008, Active Health Center at Weinberg Chiropractic acquired the MCU II, and was the first practice in the state of Florida to treat patients using the machine. There are slightly more than one hundred such machines in the world, and Dr. Weinberg is proud that his office can offer the
MCU treatment to patients. Since providing such great results to the patients of Florida, two other offices have seen the benefits and have added the MCU technology to their offices.
MCU results are undeniable, making it a preferred treatment for Major League Baseball, the National Football League, major research facilities, and air forces around the world, including the US Air Force.
"The MCU is diagnostic as well as therapeutic," reflects Dr. Weinberg. "Once we find the source of weakness in the neck, the machine goes to work. There's no other machine out there that will actually locate the source of neck weakness as accurately and in as many directions as the MCU II does. Neck weakness is the piece of the neck pain puzzle that most other treatments mistakenly ignore, and that is why the pain frequently returns once these other treatments are stopped."
The part of the MCU that patients use looks like a piece of Nautilus exercise equipment, and indeed it works like a weightlifting machine for the neck. However, assures Dr. Weinberg, a patient doesn't have to be a weightlifter to use it. Dr. Behrue adds, "It is easy to use, completely painless, and patients typically see and feel results within just three to five weeks."
Carol Ann admits that the ease of the MCU treatment made her a bit of a skeptic at first. "I didn't feel like I was actually doing anything," she recalls. "I just felt like I was doing certain motions, and I wondered, how is this going to isolate the muscle groups? How is it going to know which part of my neck to strengthen? But each time I went I started feeling better and better. I could hold my head up higher and stronger, my posture was improving, and I didn't feel as tired at the end of the day. Even my sleep improved."
Once the individualized MCU treatment program of strengthening and stabilization was developed for Carol Ann, her progress was phenomenal and she was pleasantly surprised by the results she was feeling. Carol Ann is just one of a large, growing list of MCU success stories. In fact, there is an overwhelming amount of medical research that validates the importance of diagnosing neck weakness and success of MCU II treatments.
"I saw a tremendous amount of improvement, and I feel that the rest of my life is going to be much better because of it. The results were astounding. I'm getting out kayaking, swimming … all those normal things again."
Now several months removed from her treatment, she still sees a continued improvement. "It's just an overall feeling of well-being," reflects Carol Ann. "My body is perfectly aligned. It's in balance now, so it's effortless to walk, to move, to do whatever I have to do. I just feel better."
Finally, there is hope for the people who have tried various treatments with no luck finding a solution to their chronic neck pain. The MCU is able to isolate where the weaknesses are and then strengthen those areas, oftentimes eliminating the pain for many patients.
Carol Ann credits Dr. Weinberg and his staff for amazing results she received from her customized MCU treatment plan. "Everyone there is very upbeat and positive. It's like a family, and they really go the extra mile to make it comfortable," she says. "And the doctors are the reason they are that way. Their personalities are reflected in their practice – they really do care about their patients.
"I had a great experience at Active Health Center and I never hesitate to refer others to their office if they are experiencing troublesome back and neck pain."
ACTIVE Health Center
561-842-2273
421 Northlake Blvd. Suite F – North Palm Beach