How did you sleep last night?
How would you evaluate your sleep quality in the past week?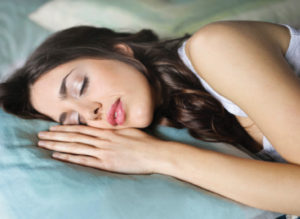 We all experienced bad night's sleep. We know that after a non-sleeping night, we feel less focused, we are tired, our performance, behavior and communication at work/home are less than average. In addition, driving may be dangerous.
According to CDC, "A third of US adults report that they usually get less than the recommended amount of sleep." – https://www.cdc.gov/sleep
Many of us do nothing about it, but accumulate negative effects of insomnia. In many cases, it may eventually activate chronic insomnia.
Sleep is essential to our mental and physical systems and when we lack it, it's an indicator that something is wrong. From the body intelligence perspective, insomnia is a red alert for non-balance.
AWARENESS IS THE FIRST STEP TO REDUCE INSOMNIA
The first step to minimize insomnia is to realize what causes it. There may be more than one reason.
It's important to write a journal of our daily and night activities for at least a week, to understand its primary cause. It is a good opportunity to look inward and identify what's going on in our lives, and adopt new positive habits to improve our sleep and life quality.
What are the factors that may manifest insomnia (combined or independently)?
Stress
Pain (chronic pain, pain that appear because an additional illness, pain after surgery, injury,
menstrual pain, emotional pain)
Bad habits (drinking, drugs, socializing)
Negative physical conditions: air circulation, bad mattress, light and noise, partner
Working / studying late at night
Anxiety
Jet-lag
Obesity
Nonphysical movement
Breathing problems
TURN YOUR BEDROOM
INTO A TEMPLE OF TRANQUILITY
Here is an exercise: – wear glasses of a stranger who is entering your bedroom for the first time. What do you see?
We are so used to our habits that we don't see things that can be improved. Where do you position yourself in the scale between mess/ order?
Do you feel inspired and calmed? Do you have a Silent Space where you can relax and take a deep breathe and reduce mental, emotional and physical stress, so that you don't take that stress together with you to bed?
Lie on your bed with awareness. Are your sheets, pillows and mattress cleaned, soft and healthy to hold your body?
Notice features such as air circulation, lights, colors and pictures that may add components to turning your bedroom to a temple of tranquility.
VIBROACOUSTIC THERAPY MAY BE
A GREAT ADDED VALUE TO MINIMIZE INSOMNIA
Olav Skille (Norway/Finland) the inventor of vibroacoustic therapy found that low sound frequencies in the range between 30hz–120hz help reduce pain and stress in various parts of the body (lower back pain, upper back pain, migraine, digestive problems) in addition to other frequencies that are effective to reduce insomnia and anxiety.
A vibroacoustic Therapy equipment such as mats, recliners, and bed frames, include low sound frequencies, transducers (special speakers) embedded, an app to download the frequencies and an amplifier.
The process of a vibroacoustic therapy session is very easy.
You lie on a mat – called UnWindMe or a special bed frame we call SoundWell Foundation , select a single frequency from your mobile device (tablet or phone) and let go…
After few moments you will feel ticklish sensations of sonic waves rinsing and hugging you from within. You sink into serenity with no efforts and reach peace of bodymind.
This is a process of calibration and harmony of inner systems. This is meditation to organ tissues and cells with no efforts. It brings you to self-hypnosis state of mind.
The outcome – less stress & less pain. Vibroacoustic therapy calms the body and clears the mind. It serves as a reset button. It helps reduce insomnia.
WHOLE BODY VIBROACOUSTIC THERAPY SOLUTIONS
TheSoundWell Vibroacoustic therapy UnWindMe is a portable and personal mat that may be a good solution to deal with insomnia, fatigue, pain and stress.
You may place it on your bed, select a frequency from your mobile device for insomnia and ..let go..
Soundwell Bed Foundation is an alternative to UnWindMe. You may keep your mattress if it's good for you and replace the bed base with our Quantum Sonic Harmonic inner body massage base. The SoundWell Foundation is a collaboration innovative project between TheSoundWell and Biscayne Bedding International.www.soundwellfoundation.com
Please note that vibroacoustic therapy is a generic, holistic and integrative balancing wellness platform. It does not replace medical diagnosis and treatment.
Contact us today to learn of how TheSoundWell vibroacoustic therapy equipment can help you reduce insomnia.
Hello I'm Avigail Berg-Panitz – the owner of TheSoundwell vibro-therapy.
I was fortunate to be mentored personally by Olav Skille – the inventor of the original
Vibroacoustic therapy (Norway/Finland). We use his original harmonic frequencies compositions in our products – (vibroacoustic therapy mats, pillows and teddy bears), to facilitate inner body massage to organs, tissues and cells. I'm an energy healer, meditation facilitator, vibroacoustic therapist and wellness-wellbeing life coach. I have MA in Holistic Health from Lesley University.
My perception is based on providing tools for bodymind balance so that you can drive life and enjoy your life journey – your way.
You are welcome to set an appointment with me to map your challenges and together create a plan to clear your mind from clouds of thoughts, emotions, sensations, memories, imagination and belief system that limit your advancement and drain your vitality.
The tools we will be using to dynamically balance mental and emotional systems:
Energy healing, Vibroacoustic therapy, meditation, wellness-wellbeing coaching and expressive-creative writing.
I advise therapists, physicians, chiropractors and individuals of how to dynamically balance bodymind
and integrative vibroacoustic therapy to increase life quality and recharge vitality.
Contact me today to set an appointment
www.vibro-therapy.com
www.avigaili.wix.com/avigailbergpanitz
www.avigailwellness.com
avigail@vibro-therapy.com
914-433-2849