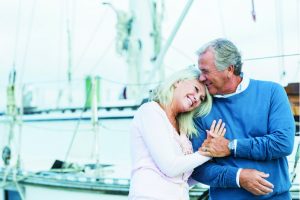 Why medicate when you can cure?
Introducing the only Erectile Dysfunction Treatment that cures ED, RejuvaWavetm is revolutionary, non-invasive and heals the underlying causes of ED. RejuvaWavetm uses FDA-cleared, scientifically proven non-invasive technology that uses Acoustic Pressure Waves to stimulate cellular metabolism, enhance blood circulation and stimulate tissue regeneration creating new blood vessels in treated areas. Traditional treatments for ED, such as pills or injections, loose effectiveness over time and have to be used every time a man wants to engage in sexual activity. Our treatment is about regenerative medicine – helping men return to their younger, healthier selves, and enabling a spontaneous, active sex life.
Go Beyond Medication. Experience
the cure for Erectile Dysfunction.
Simply Men's Health believes in treating and curing the underlying issue with regenerative medicine. RejuvaWavetm stimulates your body's own healing response and creates new blood vessels in the area treated. In some cases, doctor's combine RejuvaWavetm with PRP (Platelet Rich Plasma) in order to add a high concentration of growth factors that work synergistically together. By treating ED patients with regenerative medicine, doctors can best restore patients to their younger healthier selves, rather than relying on oral medications or injections as a temporary fix for each sexual activity.
Is it safe?
Yes. This is an FDA cleared technology, originally developed in Europe and used worldwide. RejuvaWavetm uses state-of-the-art technology that has extensive applications including orthopedic medicine, urology, and anti-aging treatments and wound healing. RejuvaWavetm has virtually no risks or side effects. RejuvaWAVE™ therapy has been used extensively in Europe for over 10-15 years, but is relatively new to the U.S. for erectile dysfunction. As the leader in men's sexual health, Simply Men's Health introduced this technology in the spring of 2015 and the results have been nothing short of amazing.
How to Get Started
At the Simply's Men's Health, take on each case with individualized care and cater your private consultation with our experienced staff of physicians. We pinpoint the exact cause of your sexual health issues and provide a diagnosis to create a customized treatment plan that can CURE ED in about 80% of patients or restore sexual function in over 98% of patients. Return to the sexually confident and active man you were before suffering from erectile dysfunction. Contact the health care professionals at Simply Men's Health today for a private consultation today.
Call TODAY,
Get your life back tomorrow 561-459-5356
RejuvaWAVE™
only available at
Simply Men's Health
100% SAFE
Non-invasive
No Down Time
No Side Effects
10-15 minutes per session
Over 80% Patient Satisfaction
What our Patients are Saying:
Testimonial: I am 70 years old and have diabetes and have had heart surgery and had a stroke. I haven't had an erection in over 10 years and Viagra did nothing. I have tried several clinics and needles in the past, but nothing helped. I heard about this new treatment at Simply Men's Health, and I gave it try not having much expectations. To my surprise after my first treatment I woke up with an erection, something I hadn't seen in years, and by my 5th treatment I was having sex with my wife. It's truly a miracle treatment.   Steven O.
Testimonial: I'm 34 years old and started to experience problems getting an erection and maintaining it over the last couple of years. I had tried Viagra and hormones, but it didn't help.  I heard about Simply Men's Health and made an appointment not knowing what to expect. I signed up for the 3 week EPAT therapy and the Priapus shot. After just a couple of treatments I was getting erections, but even more amazing was that the curve in my penis straightened out. The treatment was only a few minutes and relatively painless, but the results are amazing.  A. B.
Testimonial:   I'm 80 years old and married to my high school sweetheart. One day my wife asked me if I could rub a genie bottle and have one wish, what would it be? My answer was to have sex like we used to when we were young. It would take a miracle. I have had problems with ED for over 10 years and had TURP surgery for my prostate.  I had gone to urologists and tried pills and nothing helped. Well, my wife said she heard a commercial for Simply Men's Health.  I called and made the first available appointment. I was so scared and nervous, but the staff was wonderful and understanding.  Within a few weeks my wish came true and my wife and I are so ecstatic.  Ral S.