From the minute we wake up, we activate our habits in an automatic way. Our missions, such as getting ready to school / work are based on habits.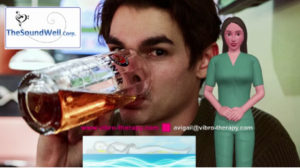 What is a habit?
"A habit (or wont) is a routine of behavior that is repeated regularly and tends to occur subconsciously…. Old habits are hard to break and new habits are hard to form because the behavioral patterns which humans repeat become imprinted in neural pathways, but it is possible to form new habits through repetition." – Wikipedia
From a pragmatic perspective, habits serve a good functional purpose. Habits consume less energies when we execute things– We don't think about how to take a shower, or place dishes in the dishwasher. Driving is a habit; We get into a programmed mode which enables to arrive to our destination while talking on the phone, listening to music or think about our next vacation.
The problem starts with our bad habits. They may be destructive to our health, wellness and wellbeing.
WHY DID WE START OUR BAD HABITS ANYWAY?
Obsessive or too much drinking, eating, smoking, computer gaming are examples of bad habits. They started to serve a purpose of an escape of stress and/or conflict and /or social pressure, and / or a desire.
At some point many people with bad habits understand their negative consequences on their personal life and the impact on the significant people they interact with at home and at work. That is awareness. – Aha moment of facing yourself in the mirror and saying:" this is not good for me, it's harming my relationship or my job, what shall I do? … "
For some, the awaked awareness in itself, and realizing the negative impact of the bad habit may lead to a decision of adopting better lifestyle and stop the bad habit. For instance – some people decide to stop smoking and they do it all at once. In most of the cases, however people may try better habits as a replacement but it will be very challenging, non-consistent and eventually they will be stuck with the bad habit. If you read again the definition at the beginning of this article, you understand that once a habit is embedded as a neutral pattern it creates conditioning of bodymind – a pattern of behavior that is activated in certain circumstances.
HOW CAN WE REPLACE BAD HABITS
WITH BETTER HABITS?
You may go to a hypnotherapist or a psychotherapist which may be effective, depends on their professional expertise, their personality and the chemistry between you two.
You may also explore what triggers from the external world and your internal conditions activate your habits. Observe your 24X7 and write a journal. This is a great opportunity to realize what causes you to operate in an conditioned bodymind way.
Vibroacoustic therapy equipment (mats/ pillows /teddy bears) is a wellness generic, holistic and integrative balancing therapeutic modality and self- help tool. Olav Skille the inventor of Vibroacoustic Therapy (Norway/Finland), found the correlation between specific harmonic low sound frequencies and reduction of pain and stress in various parts of the body. In addition, other frequencies help reduce insomnia, fatigue and anxiety. One of the frequencies brings you into deep meditation or self- hypnosis state of being. In this inner mental condition, you can insert a new positive habit to replace the bad one.
The steps to replace a bad habit with a better one:
Calm and clear the desktop of your mind and reduce mental, emotional and physical stress while having a Vibroacoustic Therapy session. Vibroacoustic Therapy is the easiest, soothing, most effective and effortless way to reduce stress daily.
Focus on visualizing imagery and/or positive experience, which manifests in your mind, that resonates as a good replacement of the bad habit. For instance, if you come back from work, drink  3 beers and eat potato chips. What comes to your mind as a replacement for a beer? Vegetable juice with pepper? Seltzer with ginger? and instead of potato chips? Fresh cauliflower, carrots and cucumbers?
Write a scenario which describes how you activate the new habit and visualize a huge X on your current habit. Record yourself describing what happens as you are enjoying the flavors and the taste of the new habit and play it while you are have an additional session on the mat in a self-hypnosis mode.
When the time comes to the regular 3 beers ritual, with awareness, activate and replace it with the new scenario. Only this time in real in your living room.
Add some physical exercises on the Vibroacoustic Therapy mat to feel good, active and happy.
At the beginning the new scenario will take place as result of will power and awareness. The more you activate it into your life, it will be embedded in your subconscious as a new positive habit that will come naturally. Motivation and passion will grow as your bodymind realize the benefits of drinking and eating healthier substitutes and feeling good and vital.
Life is a serious game of awareness. With Vibroacoustic Therapy you can stop being a slave to your bad habits and start being a creative self-manager of your being.
Vibroacoustic Therapy may be a great added modality to psychotherapists and hypnotherapists.
Hello I'm Avigail Berg-Panitz – the owner of TheSoundwell vibro-therapy.
I was fortunate to be mentored personally by Olav Skille – the inventor of the original Vibroacoustic therapy (Norway/Finland). We use his original harmonic frequencies compositions in our products – (vibroacoustic therapy mats, pillows and teddy bears), to facilitate inner body massage to organs, tissues and cells.
I'm an energy healer, meditation facilitator, vibroacoustic therapist and wellness-wellbeing life coach. I have MA in Holistic Health from Lesley University.
My perception is based on providing tools for bodymind balance so that you can drive life and enjoy your life journey – your way.
You are welcome to set an appointment with me to map your challenges and together create a plan to clear your mind from clouds of thoughts, emotions, sensations, memories, imagination and belief system that limit your advancement and drain your vitality.
The tools we will be using to dynamically balance mental and emotional systems:
Energy healing, Vibroacoustic therapy, meditation, wellness-wellbeing coaching and expressive-creative writing.
I advise therapists, physicians, chiropractors and individuals of how to dynamically balance bodymind and integrative vibroacoustic therapy to increase life quality and recharge vitality.
Contact me today to set an appointment
www.vibro-therapy.com
www.avigaili.wix.com/avigailbergpanitz
www.avigailwellness.com
avigail@vibro-therapy.com
914-433-2849
Vibroacoustic therapy is a wellness balancing platform and does not replace medical diagnosis and treatment.