By Juli Edwards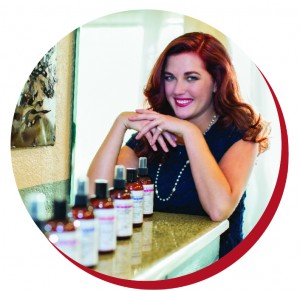 We all love silky, shiny hair, and makeup that will stay put even when we work up a sweat. The synthetic ingredient that's responsible for those results is usually silicone. First introduced to beauty products in the 1950s, silicones are derived from a natural product called silica (basic sand), but undergo extensive chemical processing before being added to our beauty products.
Silicones go by different names and are modified into numerous different formulas in order to perform the specific role expected of them—waterproofing, retaining moisture, adhering color pigments, protecting our hair and imparting smoothness, and making the application of skincare products feel silky—no tugging on the skin as it is spread on, and no oily, sticky feeling. They give our deodorants that velvety feel, allowing them to dry quickly, and they keep water-resistant sunscreens on our skin, even when we sweat or get wet. These are all good things. Why, then, are we seeing more and more products labeled "silicone-free" or "no silicones"?
Silicone creates the illusion of healthy, shiny hair while actually further drying out the hair from the inside, which is exactly as sinister as it sounds. Silicone coats the hair shaft for a sleek shiny finish, but it prevents the real nutrients from conditioners to penetrate the hair shaft. Silicone is almost like rubber and/or plastic. It is used as a sealant against water and even air. It is not a natural ingredient and its side effects are bad for our hair. It gives the hair the illusion of shine, but it is not the shine we want—it is a fake shine from the plastic. The shine we want is when the cuticle layer is sealed and light reflects off the hair. This only happens when hair is properly hydrated and kept as healthy as possible. Silicone actually weighs hair down making it limp, lifeless, and with time, very dull. We get a good shine for a couple of days, but over time it will attract more buildup on the hair. With time it will dry the hair out because it won't allow in the conditioner and it ends up sitting on the surface. Due to lack of moisture, the hair will become very brittle and could lead to frizz and breakage.
Silicone Build Up
We like hair products made from ingredients that will help improve not only the immediate look and feel of hair, but also help improve it with time. By nature, many silicones are very hydrophobic, meaning they do not wash out easily, leaving hair feeling heavy and greasy at the end of the day. When hair feels greasy, we tend to wash and style the hair more than is necessary. That leads to extra damage, meaning the materials are not helping to improve the condition of your hair over time. We call this the cycle of damage.
Because silicone adds another layer to one's hair, it can make the hair feel heavy, as silicone builds up if not washed properly. Washing the hair properly means stripping the hair or clarifying the hair, which can also make the hair feel dry and limp. So the pickle is, you have to condition again, or use another product along with the silicone in your hair, to bring back the luster and shine you've grown to love and need. However, the actual health and luster of the hair has not improved, instead the cycle of damage is just perpetuated.
Silicone is especially problematic for curly hair because most curly hair is on the dry side. Silicones can slide off straight hair more than they can on curly hair. The silicone buildup will get stuck on the curls weighing the hair down and causing more damage in the long run.
The Environment
Not only is silicone problematic for your hair, it is even more dangerous for our environment. Recent concern has arose due to the fact that silicone builds up in the environment over time— they are "bioaccumulative." Environmental activists now call for consumers to avoid them. David Suzuki lists siloxanes (forms of silicone) on his Dirty Dozen list of ingredients to avoid when purchasing personal care products. An Environment Canada review in 2008 concluded that certain siloxanes (D4 and D5) may pose a risk to the environment and have the potential to accumulate in aquatic organisms.
Spotting Silicones
There are so many types of silicones. Some are water-soluble and some are not, an easy way to remember is to stay away from anything ending in "cone", "col", "conol", or "xane". Here is a list of some common silicone-based ingredients used in hair care and beauty products:
Dimethicone Copolyol
Hydrolyzed wheat protein
(Hydroxypropyl Polysiloxane)
Lauryl Methicone Copolyol
Amodimethicone
Behenoxy Dimethicone
Cetearyl Methicone
Cetyl Dimethicone
Cyclomethicone
Cyclopentasiloxane
Dimethicone
Dimethiconol
Phenyl Trimethicone
Stearoxy Dimethicone
Stearyl Dimethicone
Trimethylsilylamodimetheicone
At Healthy Life Salon we are a 100% Silicone free salon. All of the products we use and sell, including our permanent hair color, are silicone free. Healthy Life Salon is a quaint eco-friendly salon and day spa complete with an organic wine bar located in downtown Boca Raton. The owner, Juli Edwards has been a practicing licensed Cosmetologist for more than 25 years. Juli has experienced adverse effects of artificial fragrances and other harsh chemicals and therefore has built a salon with all eco-friendly materials (no formaldehyde, silicone, or fragrance) and uses organic based products exclusively. Services start at $15 and organic wine starts at $7 making it easy to experience Healthy Life Salon on a budget.
To learn more about Healthy Life Salon, contact Juli at Health Life Salon and Organic Wine Bar 561-891-7527.
100% ALL NATURAL | 70% ORGANIC HAIR PRODUCTS
ORGANIC MANI & PEDI | ALOE BASED FACIAL WAXING
REUSABLE DAMAGE-FREE HUMAN HAIR EXTENSIONS
203 SE 1st Ave | Boca Raton, FL 33432
(561) 891-7527 | WWW.HLSALON.COM