By Dr. Dana Luzon, Au.D CC-A, FAAA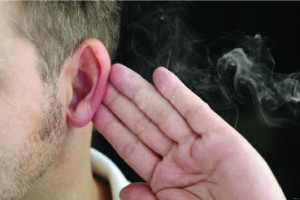 "Cigarette Smoking and Hearing Loss: The Epidemiology of Hearing Loss Study," published in the Journal of the American Medical Association, evaluated the association between cigarette smoking and hearing loss in a large population. The study revealed that people who smoke are almost twice as likely as nonsmokers to develop hearing loss. Also, those nonsmoking participants who lived with a smoker were more likely to have a hearing loss than those who were not exposed.
These results are consistent with early clinical studies reporting worse hearing in smokers compared to nonsmokers, animal studies showing cochlear damage after exposure to cigarette smoke, and population-based self-reported data. Cigarette smoking may have direct ototoxic effects on hair cell function and an effect on the transmission of those hearing signals.
This data, along with several other studies have tied smoking to increased risk of hearing loss in humans. Nicotine and carbon monoxide may actually deplete oxygen levels in the cochlea (the auditory portion of the inner ear), which is bathed in fluids and blood supply. Like any part of the body, if oxygen is depleted, tissue damage can occur.
Hearing loss has often been thought of as an inevitable consequence of aging; however, research shows this is not always the case. If you do smoke, consider having your hearing evaluated to see if there has been any damage. By quitting for even one day, smokers take an important step toward a healthier, tobacco-free life — a step that can lead to reducing cancer risks and lessening the potential effects of hearing loss in your everyday life.
Dana Luzon, Au.D., CCC-A, FAA, Doctor of Audiology
Originally from Southern NJ, Dana Luzon received her undergraduate degree in Speech Pathology and Audiology from the Richard Stockton College of NJ, and continued on to receive her Doctorate of Audiology at Salus University's residential program. Her varied clinical experiences throughout her doctoral studies include: VA hospitals, rehabilitation clinics, ENT and private practice settings. Her professional interests include: audiologic rehabilitation and progressive tinnitus devices. Her interests in the field outside of the clinic include: Humanitarian Audiology, and Audiology Awareness. Dr. Luzon currently lives in West Palm Beach, FL.
Audiology and Hearing Aids
561.627.3552
4266 Northlake Blvd
Palm Beach Gardens,
FL 33410
www.hearingcarefl.com