By Scott Altschul, Senior Vice President, Florida District, Key Private Bank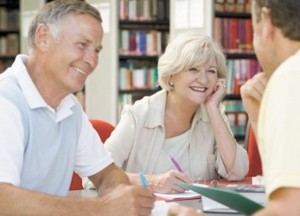 How do you build a relationship with a professional who can understand your investment goals and help you develop personalized solutions to protect, grow and eventually transition your wealth?
According to the Financial Planning Association, financial planning is the long-term process of wisely managing your finances so you can achieve your goals and dreams. The problem is this: the process of managing your wealth requires skill, discipline, knowledge and time. And if you think you have it, statistics suggest you're in rare company. For instance:
Three out of four Americans admit that they are not  saving enough. (2008 Pew Research Center Survey)
One-third of adults do not have retirement savings.  (National Foundation for Credit Counseling)
24 percent of American workers say that they have postponed their planned retirement age. (Employee Benefit Research Group)
70 percent of all people who suddenly receive a  large amount of money lose that money within a few years. (National Endowment for Financial Education)
So the question for most people isn't if they need an investment advisor. The question is, how do you choose the right investment advisor or investment management firm for you? A firm you can feel comfortable with and that employs people who will listen to and understand your unique needs?
Titles. There are many labels in the investment management industry—financial planners, wealth managers, portfolio managers, financial analysts and more. However, these titles only provide you with some background of the person's experience, training and education. It is equally important to look at the motivation and compensation structure of the person and firm you are considering. Is that person compensated only by selling a product, or are their interests singularly aligned with you, the client?
Conduct an interview. You're the employer. Your investment manager needs to work for you, and it's your responsibility to ensure that she or he does. Ask advisors about their background, investment philosophy, approach to risk and how they get paid. You want an investment advisor who doesn't skirt the issue and puts your interests first. And don't be afraid to ask them about what mistakes they've made. You're looking for the best candidate to represent your interests. Someone who displays accountability for their actions and has a legal responsibility to act in their clients' best interest should merit high consideration.
Research, research and research. Look closely at the history of any individual or firm you are considering working with. What is their reputation in the marketplace? How long have they been practicing in their profession? How long have they operated their business or worked for their current investment management firm? Can they provide testimonials?
Ask to view a sample portfolio. Can they explain how they tailor their approach to meet each client's personal needs? A strong portfolio is diverse and in today's economic climate should include a variety of asset classes and investment strategies. The ability to be flexible, transparent and to manage risk is also paramount.
Are they collaborative? Meeting your financial goals is a collective effort between you and your wealth management team. So ask about their approach to working with your accountant, lawyer and other professionals responsible for growing your wealth and minimizing your exposure to risk.
The process of managing wealth can be fraught with pitfalls, which can be costly. However, choosing the right investment manager doesn't have to be a fearful experience. By knowing what questions to ask, you can increase the probability of choosing the right investment management team. An investment manager that will work with you to develop a personalized approach, that meets your comfort level and helps you achieve your financial objectives.
Address: 3507 Kyoto Gardens Drive, Suite 100, Palm Beach Gardens, FL 33410
Email: Scott_J_Altschul@keybank.com
Phone: 561-775-6537
Author Spotlight: Scott J. Altschul
Scott Altschul is senior vice president and investment solutions specialist with Key Private Bank's office in Palm Beach Gardens, Florida. He helps high-net-worth clients manage and grow their wealth, leveraging the considerable resources of Key Private Bank's local team of experienced financial professionals in various disciplines.
Scott has 20-plus-years of experience in the financial services industry, including experience as a portfolio manager for Merrill Lynch and a senior vice president of wealth management for a large financial institution. Prior to that, he practiced law for several years in New York.
A native of New York City, Scott earned his bachelor's degree in economics from the State University of New York at Albany and a law degree from Hofstra University School of Law. He now lives with his family in South Florida.
An active member of the community, Scott has volunteered as a YMCA youth coach for baseball and basketball and has served on the board of directors for the Victory School in Miami. He sits on the Boca Raton Estate Planning Council and is a member of the South Palm Beach and Palm Beach County Bar Associations. He also has served on the professional advisory committee for the South Palm Beach Jewish Federation.
Key Private Bank provides a highly personalized approach to addressing wealth management issues and simplifying the financial lives of its clients. Specialized practice groups and a consistent, disciplined approach helps clients define their priorities and create individualized investment strategies that help them reach their goals. Service areas include financial planning, tax strategy, estate planning and insurance solutions.