By Janet Robbins and Bella Giavanna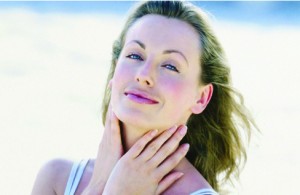 It's true what they say. Beauty begins on the inside. What you consume affects your body and your skin. So as we enter the summer months, consider these tips and creative ideas to make for a healthier you.
Stay Hydrated Beyond Just Water
Summer outdoor activities and events combined with the heat calls for increasing your water intake. Keep extra water bottles in the refrigerator in order to stay cool and hydrated at the same time. If you find plain water boring, make ice cubes with muddled basil, spearmint, cucumbers, and/or raspberries. Drop a couple of those flavored ice cubes in your water to zest it up. Another great way to stay hydrated this summer is to prepare a large pitcher of green or hibiscus tea and store in your frig for convenient pours. Both types of tea offer the added benefit of antioxidants and a change-up from plain water.
Tis the Season for Delicious Ripe Produce and Fresh Seafood
Fill up half your plate at mealtime with delicious low-calorie veggies. And in the summer heat, beef, veal and pork can feel too heavy to digest making you feel sluggish, lethargic, and fatigued.  Eat fish, lobster, clams and crab, which are lower in calories and packed with protein.
Beat the Barbecue Blues
Just because others are grilling burgers and dogs doesn't mean you can't join the "party." In fact, grilling is a healthy way to cook. But choose leaner alternatives like ground turkey and chicken, or go vegetarian and enjoy a plant-based green or walnut burger available at most grocery stores. You can cook a million things on the barbecue, especially with a grill pan or stir-fry griller. Choose your favorite veggies. A combo of zucchini, squash, and eggplant or asparagus, corn, leeks and red onions drizzled with no-fat, low-calorie balsamic vinegar make for a robust entrée or compliment for your summer meal. If you don't have a grill pan, simply wrap the veggies in foil and throw it on the rack.
Sweeten Up Your Health Consciousness
Instead of the typical dessert of high calorie ice cream, cool down this summer with frozen fresh fruit. Just like with veggies, take advantage of low-priced ripe summer fruit. Buy extra grapes, mangoes, pineapple, bananas and blueberries (filled with antioxidants). Make it easy by prepping in advance. Simply wash and cut up fruit into bite-sized pieces and throw them into freezer bags and into the freeezer for a quick treat to break the summer heat.
Pack Up to Cool Down
While you're packing up the cooler with water, juice boxes, soda or beer, throw in a pack of washcloths. As the ice melts it will moisten the washcloths. Then, if you get overheated just reach in and take out a wet ice-cold washcloth and place it around your neck. It's so refreshing and really comes in handy after an intense game of Frisbee, basketball, tennis, a hike or any rigorous outdoor activity.
Eat Earlier
You will sleep better at night if don't go to bed with a full stomach. Instead of digesting your food all night long, your body will be resting and repairing. Eating earlier will also is allow you to take advantage of the longer summer days with after-dinner activities like watching the sunset with your loved one or taking a walk.
Do Even More For Your Skin
Skincare from the outside is much more effective combined with what's going on inside. And using the right ingredients is far more important than using lots of ingredients. When you eat high-powered antioxidants like spinach and kale, those nutrients are absorbed in the bloodstream and end up in the dermal capillaries, which feed and nourish your epidermis, the outer layer of your skin. Now add ingredients like vitamin A serum or peptides, and your skins flourishes from a powerhouse of antioxidants. Also, try adding an orange to your diet every day. You already know that it's a great source of Vitamin C, but did you know that it's necessary for the production of collagen.
Oh, and Don't Forget the Sunscreen
Lather up, reapply, reapply, reapply. Keep the sunscreen coming throughout your time in the sun. Sunburn is not pretty for anyone and the health consequences can be grave.
Put these tips into action and you're going to see a beautiful you inside and out. Now go love yourself and love your summer!
JANET ROBBINS,
Ceo And Founder of Reflections Laser & Wellness Center
Janet Robbins is considered a pioneer in her field as a clinical medical aesthetician, certified clinical electrologist, licensed massage therapist and certified skincare instructor for GlymedPlus Skin Science Institute. With more than 20 years of experience and a degree from the Florida College of Natural Health, she maintains a commitment to ongoing self education, including in the areas of anti-aging and bioidentical hormone replacement modalities.
In 2004, she opened her first laser and wellness center with the belief that healthy skin starts from within. Janet's scientific approach to rejuvenating skin led her to expand into a total health and wellness field, bringing eastern and western medicine to her practice.
Janet is the creator of the 350-hour aesthetic program at the Alpha Institute of Massage & Aesthetics, now known as the Palm Beach Academy in Lake Park. She now has her own advanced training facility for licensed professionals. She sits on the Electrology Advisory Board for Anton Academy of Massage & Aesthetic in West Palm Beach, is a consultant with Health & Wellness Magazine and has been featured in Society Magazine and Florida Woman.
My passion is to educate both the professional and the consumer.
Janet and her Center support the American Cancer Society, the Cancer Alliance of Help & Hope and Susan G. Komen South Florida.
Ask about a complimentary consultation.
Bella Giavanna has been helping men and women transform their health and their bodies for 25 years. She has worked in the healthcare profession for over 20 years in Florida, California, Illinois, and New York. Using her certificate in Plant-Based Nutrition from Cornell University, her 400-hour certification as a Raw Foods Chef and her many fitness certifications, Bella G. has had the privilege of changing the internal and external health of over 1,000 people. She is the author of two books and lectures locally on diet and exercise.
Reflections Juno Beach
Laser & Wellness @ Andre Jourdon Salon: 13901 US Highway 1 Ste 6, Juno Beach, Fl
Reflections Boca Raton
Laser & Wellness Center: 2499 Glades Rd Suite 302, Boca Raton, Fl
Florida.com 561-221-1462