By Jessica Clark, APR
PR and Marketing Associate, Florida SouthWestern
State College, Student Affairs Division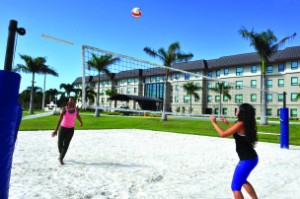 It is that time of year! The sun is out, the beaches
are full, and almost everyone in Southwest Florida is enjoying the beautiful outdoors.  The Florida sun is an inviting haven after the up and down of the winter time, even though the Florida winter is beautiful in its own right.  The warmth of the sun is always welcome and many of our locals and college students are flocking to area beaches, parks, or other outdoor venues to get the most of their free time.  As nice as it is to enjoy the warmer weather, it is important to protect yourself from the harsh UV rays that can damage skin and possibly cause cancer.  Luckily, there are many ways to shield your skin from the sun while enjoying the many outdoor opportunities in our area.
As you are enjoying the weather offered here in Southwest Florida, try to keep these tips in mind:
•    The sun is strongest between 10 am and 4 pm.
•    Wear dark, tightly woven clothing.
•    Wear a wide-brimmed hat and sunglasses.
•    Remember that UV rays bounce off sand, snow, concrete, and water.
•    Tanning beds are harmful too!
•    Keep very young children (6 months or younger)
out of the sun.
•    Apply sunscreen liberally and evenly over all exposed areas before going outdoors (and reapply often).
•     Apply a sunscreen with a SPF of 15 or higher whenever you're outdoors. To achieve adequate UV protection, use products that provide broad spectrum protection, which means protection against both UVB and UVA rays. For broad spectrum protection, look for products that contain ingredients like Avobenzone (Parsol 1789) or zinc oxide.
•     For children, the SSA recommends sunscreen with an SPF 30 or higher.
•     Reapply sunscreen after swimming, perspiring, and toweling off.
•     Don't forget to protect neck, ears and lips!
•     For people with thin or thinning hair, apply sunscreen to the scalp as well.
•    Stay in the shade whenever possible!
(Source: http://www.sunsafetyalliance.org/safety_tips.html)
But it is not all bad. In moderation, the sun is a great source of Vitamin D, which helps "absorb calcium and promote bone growth." Additionally it aids with the function of other important body functions, and helps to "regulate the immune system and the neuromuscular system." Recent studies are also researching the role that Vitamin D plays in lowering the risk of diseases such as breast cancer, colon cancer, prostate cancer, heart disease, depression, weight gain, and others.
(Source: http://www.webmd.com/osteoporosis/features/the-truth-about-vitamin-d-why-you-need-vitamin-d)
From Florida natives to summer vacationers, from FSW and FGCU students pursuing their academic goals to local school age children and their families, enjoying the sand and sun is just one of the benefits of a Southwest Florida summer.  And although it does get cold at certain times of year here, our "summer" weather lasts longer than most regions, so these tips are helpful to keep you and your family safe all year long.  So while summer has officially begun and everyone is out enjoying the weather, make sure to protect yourself with some of the tips from the sources mentioned in this article.  It could not only help you to avoid the short term pain of sunburns, but could also be lifesaving in the future. Be safe and enjoy the Florida weather!
1-800-749-2322