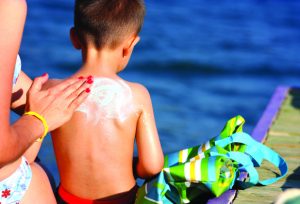 Most of us know that melanoma is the most dangerous form of skin cancer. The reason we hear so much advice on wearing sunscreen, sunglasses, and avoiding over sun exposure between 10:00 am to 4:00 pm, is due to the sun's harmful UV rays during the time when the sun is the highest in the sky.
What is UV Radiation?
UV radiation has multiple levels; for example, UVC rays are the most harmful to the skin and eyes, but the ozone layer blocks many of the rays naturally. UVA rays play a huge role in causing skin damage and aging. The wavelengths of UVA rays are long and are therefore less harmful than UVB rays. However, UVB rays are extremely damaging to the skin and eyes and can cause cancer. UVB rays are shorter wavelengths and consequently can even penetrate through glass, so when you're driving in your car or sitting by a window at work, the UVB radiation can harm you. It's best to always protect yourself by wearing sunscreen and protective clothing.
UV Safety Basics:
Be proactive—It's up to you to protect yourself against skin cancer
Wear sunscreen—Choose a broad-spectrum sunscreen (30 or higher SPF) that protects against both UVB and UVA rays.
Wear an SPF lip balm—Many cancers occur on the lips
Reapply—Make sure to reapply your sunscreen every two hours, or immediately after swimming, or sweating
Wear protective clothing—If you must be in the sun, wear a hat, sunglasses and lightweight
long sleeves
Check yourself—Look for any new molesor lesions
Get a professional skin cancer screening—once a year you should see your dermatologist for a thorough screening
Avoid the sun—between 10:00 and 4:00, even when it's cloudy, avoid the sun or wear protective clothing
Did you know?
Shaded areas can still have UV filtration that reaches your skin. In fact, if you're sitting on the beach under a large umbrella, the sand can still reflect UVB rays up toward you.
Many people think once they apply sunscreen that it's good all day long, but sunscreen only lasts for a limited time and must be reapplied.
Tanning Beds and other ultraviolet light is just
as damaging to the skin
Even if you only get sunburned every once in
a while, the damage is still significant enough
to cause your cells to suffer adverse effects.
If you've had skin cancer before, you are more susceptible to a recurrence.
An SPF of 15 has a smaller percentage of protection than and SPF 30 or 50, but it's marginal, so if you're wearing an SPF 70, do not be overconfident and neglect seeking shade
or reapplying the sunscreen every two hours.
Professional Care Coordinators LLC is a homemaker and companion service that is owned and operated by registered nurses. They have over 25 years of experience caring for people at the most vulnerable times of their lives. Their expertise ranges from newborn to end of life care, and they are registered and insured. Level II background screenings are completed for all caregivers. They cover Palm Beach County, Indian River County, Martin County, Okeechobee County, and St. Lucie County. Your wellbeing and safety is their top priority.
What services do Professional Care Coordinators offer?
• Meal preparation
• Medication reminders
• Shopping assistance
• Transportation to Doctors appointments
• Run errands
• Assist with bathing and personal care needs
If you or a loved one could benefit from Professional Care Coordinators, please contact them today at 561-557-4192, or visit their website at professionalcarecoordinators.com.
Professional Care Coordinators Office
2300 Palm Beach Lakes Blvd. Suite 215E,
West Palm Beach, Florida 33409
561-557-4192
professionalcarecoordinators.com