By Lee R. Cohen, D.D.S., M.S., M.S. –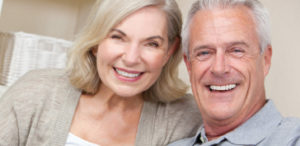 One of the most amazing possibilities dentistry can offer is providing a patient new teeth the same day.  Magical transformations can help replace a single missing front tooth or whole mouth of teeth.  These therapies are well researched and have a great deal of success in certain circumstances.
How Does It Work:
Teeth the same day is a general description for placing one or more implants in the mouth and locking crowns on them right away.  This bypasses the traditional waiting period and allows teeth to be inserted right away.  The procedure can provide a wide range of treatment options for many patients who need to replace failing or missing teeth.
A number of techniques can be used to help a patient get new teeth the same day.  The options for treatment may very as no patient typically has the exact same needs.  For example, a person who has all of their teeth but has an accident which knocks out a single front tooth, is different that someone who is wearing a full denture and has no teeth.
In either case, a dental implant or implants can be placed in the mouth to act as a support beam for crowns.  Remember, a tooth has 2 parts, the crown you see when you smile and the root which anchors it in the bone.  When a whole tooth is extracted, an empty socket remains in the bone.  A dental implant is simply a root replacement.  This new "root" can often be placed in the empty socket and over time becomes glued to the bone.  Traditionally, once an implant is inserted, we wait a number of months (can range from a few to 6 or more) for this gluing to occur.
An important aspect for receiving teeth the same day is the determination of how "snug" the implant fits in the bone or socket at the time of the procedure. We know that ultimately the implant will likely glue to the bone, but determining the initial stability helps decide if we can place a crown on the implant right away. If the implant is not sufficiently "snug", attaching a crown to it immediately might cause the implant to loosen and fail.  This is similar to putting a pole in wet cement and then moving the pole around.  In this case, the pole will likely come out.  The key to success of using implants for immediate support of teeth is the bone quantity and quality present in the area being considered for treatment.
Am I a Candidate:
Teeth the same day is a very successful approach, but it is not applicable in all cases.  A patient with vast infection in the bone is very different than a patient with excellent bone that fell and broke a tooth. In addition, an individual's overall health history and medications may greatly impact success.  An in-depth evaluation and a 3D CT scan are very important in determining the bone present in the treatment areas.  This evaluation will help see if sufficient bone remains for treatment planning this type of procedure.
Teeth the same day can offer many patients a fantastic way to rebuild their smile and chewing ability with little downtime.  The procedure is not for everyone and for every case.  A great deal of skill and careful evaluation is needed to successfully plan and execute this advanced procedure.
Lee R. Cohen, D.D.S., M.S., M.S., is a Dual Board Certified Periodontal and Dental Implant Surgeon.  He is a graduate of Emory University and New York University College of Dentistry.
Dr. Cohen completed his surgical training at the University of Florida / Shands Hospital in Gainesville, Florida.  He served as Chief Resident and currently holds a staff appointment as a Clinical Associate Professor in the Department of Periodontics and Dental Implantology.  Dr. Cohen lectures, teaches and performs clinical research on topics related to his surgical specialty.
The focus of his interests are conservative approaches to treating gum, bone and tooth loss.  He utilizes advanced techniques including the use of the Periolase Dental Laser (LANAP procedure) to help save teeth and treat periodontal disease without the use of traditional surgical procedures.  Additionally, he uses in-office, state of the art 3D CT imaging to develop the least invasive dental implant and bone regeneration treatment options.  Dr. Cohen and his facility are state certified to perform both IV and Oral Sedation procedures.
Dr. Cohen currently serves on the Board of Trustees for the American Academy of Periodontology and the Florida Dental Association.  He is past president of the Florida Association of Periodontists and the Atlantic Coast District Dental Association.  In addition, Dr. Cohen has been awarded Fellowship in the American College of Dentists, International College of Dentists and the Pierre Fauchard Academy.
Lee R. Cohen, D.D.S., M.S., M.S.
4520 Donald Ross Road, Suite 110
Palm Beach Gardens, FL 33418
Phone: 561-691-0020
www.pbcperio.com