By Suheil Khuri M.D.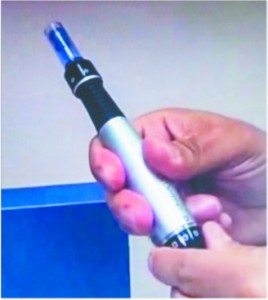 In our previous article (September 2014) on this subject we discussed maintenance of healthy skin during weight loss. We also introduced the subject of platelet rich plasma (PRP) as one of the alternative Injectables to treat skin changes after weight loss.
We will discuss PRP in more details in this article and let you know more about what it is and what it can do for you.
PLATELET RICH PLASMA (PRP)
Platelets are small cells that circulate in the blood. The main function of platelets is to cause clotting of your blood when you bleed. They gather at the site that is bleeding and plug the hole.
Recent research has shown that platelets have another major roll. They produce various growth factors (substances capable of stimulating cellular growth, new cell formation and healing) as well as play a
significant role in new blood vessel formation.
When platelets are concentrated (by placing extracted blood in a centrifuge) many other growth factors and proteins can be isolated with the platelets thus creating what is known as platelet rich plasma (PRP).
When PRP is extracted, activated and then injected into an area it induces new cell formation, stem cell migration to the area, new blood vessel formation, production of new and healthier tissues leading to healing and rejuvenation of that area.
PRP represents a novel noninvasive treatment method for patients with acute and chronic soft-tissue musculoskeletal injuries and more recently in aesthetics and skin care and rejuvenation. The popularity of PRP has increased in the medical community and has received an increased media attention in recent years, particularly because professional athletes have undergone this procedure.
First, some blood is extracted, just like when you get a blood test. The blood will then be treated in a centrifuge so that the platelets, proteins, and growth factors in the plasma can be concentrated. The platelets function best when concentrated to 3-5 times their original concentration. The Platelet Rich Plasma part of the concentrate (buffy coat area as in the next photo) is then withdrawn.
Once activated and injected, the concentrated platelets (PRP) will release several growth factors into the injected area, leading to tissue regeneration and healing.  Collagen is produced and skin elasticity is improved.
What can Platelet-Rich Plasma do for you?
• Restore lost facial volume and youthful contours
• Soften lines and wrinkles, such as crow's feet, smile lines, and frown lines
• Improve hollows and dark circles under the eyes
• Hydrate the skin
• Promote the natural production of healing blood vessels and collagen
• Regenerate new tissue in damaged or scarred areas
For the best possible results, most patients need 2-3 injections given a few months apart. PRP can also be administered with other micro-needling techniques to cover larger areas when needed.
Microneedling Therapy is an advanced technique of introducing serum nutrients into the skin. It is not an injection, but instead uses a device with multiple tiny needles as in the next photo to create microscopic openings in the skin. These openings provide a clearer channel for the skin to better absorb hyaluronic acid, platelet rich plasma (PRP) or other healing nutrient serums.  It is not a painful procedure since an anesthetic ointment is used before any microneedling session.
At Dr. G's WeightLoss & Wellness of Jupiter and our recent affiliation with Aesthetic Care, we offer our patients the: PRP Life Lift™
The PRP Life Lift™ is a highly effective, non-invasive and natural alternative to improve the quality of your skin. The protocol is a combination of the following three therapies:
1. RF (Radio Frequency) Therapy:  works by utilizing heat generated by the RF machine that penetrates the outer layers of the skin to stimulate cellular growth and the formation of new collagen and elastin tissue. The created heat causes also shrinking of the collagen fibers leading to skin tightening. This is a natural and pain free therapy.
2. PRP (Platelet Rich Plasma) Therapy as discussed above.
3. Micro Needling Therapy as discussed above.
The combination of these 3 therapies is unequaled in their ability to bring out significant change to the treated areas.
We will discuss the treatment for excess skin after weight loss in the November issue of South Florida Health & Wellness.
Call us for a free consultation at: 561-427-2232
Dr. G's WeightLoss & Wellness of Jupiter or 561-316-2284 our new affiliate sharing the same office: Aesthetic Care LLC
"Where we make you look great and feel great"
Aesthetic Care
(561) 316-2284
www.AestheticCareMedSpa.com