By Barry N. Chase, DDS, PC, D. ABDSM, D. ACSDD –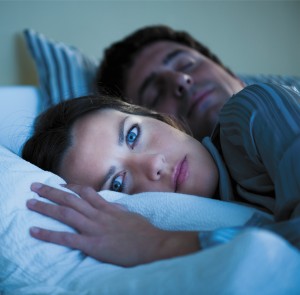 Many people "normalize" their poor sleeping quality. Good sleep is important for a healthy body and well-being.
An estimated 30% – 50% of people snore. Contrary to popular belief, snoring is NOT normal. When we are at rest, we are usually laying down. Gravity places force on the tissues of our bodies, causing our tonsils and tongue to shift backwards. This can make the airway narrow and result in the turbulence of airflow as it forcefully tries to push through. The force of air through the blockage is the unattractive sound that we all know as snoring. Snoring is not only a serious medical condition for the individual, but it can be an extreme disruption for a bed partner.
Medical researchers are continuously studying the effects of sleep apnea and snoring. There have been proven links to diabetes, early on-set of Alzheimer's, lowered metabolism and testosterone, daytime fatigue and drowsiness, sudden cardiac death and even cancer. If left untreated, sleep apnea can have irreversible or even deadly results.
Gary M. came into the office wearing a Yankees tee shirt and a Mets hat (I root for whose winning). Gary is 55 years old, average height and weight, active, married with children, and suffering from Sleep Apnea. "What's your main concern about your sleeping?" I asked. "Snoring. Big time snoring. It's so bad, my wife makes me sleep in the guest room. But in a way it's OK. Lately, I'm not as interested in sex. Not sure why. Just getting older, I guess. Besides, even if my wife was interested in sex, I don't think I could do much. Seems I got ED [erectile dysfunction] too", replied Gary.
Gary is typical of many men seeking treatment for Sleep Apnea. As you just read, Gary really has not connected his sleep apnea with his sexual dysfunction, loss of sex drive and erectile dysfunction.
Ronald T. is a 37 years old elementary school principal. He was somewhat overweight, constantly tired (even though he slept 8-10 hours each night), irritable and unable to get up in the morning to go to work. Not good for an elementary school principal to be tired, irritable and late for work. Ronald tried the C-PAP therapy and was unable to get used to it. He said it made him feel extremely claustrophobic, and although he tried smaller masks and nasal pillows, felt that the C-PAP was not working for him. He came to our office and received and Oral Appliance for his moderate case of sleep apnea. Ronald immediately got the deep and REM (rapid eye movement) sleep he needed. As a result he began to sleep only 7 hours waking refreshed and energetic at 5am. What was he to do for 2 hours before school started? The only place he thought of that would be open at that hour of the morning was an exercise gym. He joined. Within 4 weeks he lost weight, bought a new wardrobe, and got a "cool" haircut. He came back to the office for a follow-up visit, and we barely recognized him. It has been over a year since Ronald has been wearing his oral appliance and is still thin, energetic and "cool".
John B. was a 78 year old man with a history of cardiovascular disease, having had arterial by-pass surgery. He suffered from high blood pressure and high cholesterol. He was diagnosed for obstructive sleep apnea, was C-PAP intolerant and had impressions for an oral appliance taken. The day of his appointment to have his appliance inserted his wife called to say the John would not be keeping his appointment. She said he had difficulty breathing during the night, stopped breathing several times due to his sleep apnea and was snoring loudly. At 4:00 in the morning, John died of a heart attack.
Treating OSA with Oral Appliances
WARNING: Find a dentist trained in Oral Appliance Therapy (OAT) for sleep breathing disorders and Temporal Mandibular Joint Dysfunction (TMJ) and familiar with the protocols and guidelines recommended by the Academy of Dental Sleep Medicine (AADSM).
Sleep apnea is a condition that can lead to other serious medical maladies, or can even be fatal. Make sure you are putting your health, and life, in the hands of a qualified dentist.
There are many oral appliances to choose from. Make sure the one you get is FDA approved. The appliance selected should be based on the severity of your sleep apnea, your dental and cranio-facial (skull) anatomy, condition of your teeth, pre-existing TMJ dysfunction, and certain parameters of the sleep study.
Medical Expectations for the Oral Appliance
Many patients ask, "Why did my physician have me try C-PAP before the Oral Appliance?" The answer is that the C-PAP can reduce your sleep apnea to  less than AHI of 5 or even to 0 (when the patient has a comfortable mask, the machine is set at the right pressure, and it can be used all night). The oral appliance will not reduce the AHI to the lowest numbers as often as the C-PAP. The oral appliance has the limitations of the patient's anatomy. It will, however, accomplish the expected results. That is, it can reduce the sleep apnea to a level that will not threaten the patient's life, and reduce the symptoms of daytime sleepiness, morning headaches, snoring, etc.
There is hope! That is the message of the oral appliance. If you cannot wear C-PAP, you do not have to feel that sleep apnea will ruin and endanger your life. We tell patients the oral appliance can save your life, save your marriage (by eliminating snoring) and someone else pays for it (medical insurance).
The oral appliance is successful because patients wear it all night. They put it in when they go to bed and wear it until they awaken. During the hours we sleep, we go through sleep stages. Most of the deep sleep is in the first half of the sleep hours, and REM sleep is mostly in the second half of our sleep. Many patients take the C-PAP off when the wakes to use the bathroom, then return to bed and are too tired to replace the C-PAP. Wearing the Oral Appliance all night assures the patient they will get the maximum benefit of therapy and achieve the medical and symptomatic results they are after.
A properly constructed oral appliance is comfortable, kind to the TMJ, easy to wear all night, and very effective and should be covered by medical insurance.
If you have sleep apnea, or excessive snoring, or if you are undiagnosed and have excessive daytime sleepiness and other symptoms of sleep apnea, consult your physician or dentist and ask if an oral appliance is right for you.
Ask the dentist:
• Are you trained in OAT for snoring and sleep apnea?
• Do you use only FDA approved appliances?
• Are the appliances you make custom made, utilizing custom impressions?
• Are the appliances adjustable (titratable)?
• Do you work with physician's who diagnose sleep apnea?
• Do you recommend a sleep study after the OAT to monitor medical data for improvement?
• If I have TMJ symptoms from the OAT, how is that managed?
• Do you participate with medical insurance and file my insurance claim for me?
• Are you a Medicare provider for OAT
• Does your treatment include follow-up adjustment appointments after the appliance is inserted?
• Does the appliance come with a warrantee if it should break or need repair?
• Do you follow the protocols outlined by the AADSM?
Location of an office near you:
Theodore Field, DMD
Chase Dental SleepCare of Boca Raton
3020 N. Military Trl., Suite 250
Boca Raton, FL 33431
(561) 443-4133
Randy L. Furshman, DDS & Associates
Chase Dental SleepCare of South Florida
7800 SW 87th Ave., Suite A-140, Miami, FL 33173
(305) 598-2622
David Skopp, DDS
Chase Dental SleepCare of Palm Beach Gardens
2560 RCA Blvd, Suite 105
Palm Beach Gardens, Florida  33410
(561) 799-5000
Stephen J. Pyle, DDS
Chase Dental SleepCare of Weston
2239 N. Commerce Pkwy., Suite 1
Weston, FL 33326
(954) 349-4004
Mauricio Malo, DDS
Chase Dental SleepCare of Hollywood
2525 Embassy Dr. #1, Hollywood, FL 33026
(954) 430-3444
Howard Listopad, DDS
Chase Dental SleepCare of Coral Springs
10161 W Sample Rd., Coral Springs, FL 33065
(954) 752-2970
Fabrizio K. Amador, DMD
Chase Dental SleepCare of Ft. Lauderdale
2330 NE 9th Street
Ft. Lauderdale, FL 33304
(954) 563-5535
David S. Bistritz, DDS
Chase Dental SleepCare of Aventura
18171 Biscayne Blvd
Aventura, Florida 33160
(305) 933-2501