By Susan Allen, Certified Lymphatic Therapist –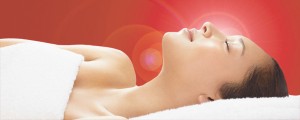 Do you have a holiday party to attend and want to look fabulous?  Want to lose that jiggly fat that has not responded to diet and exercise?
Let me introduce you to red light therapy and a non-invasive body slimming method to remove fat, reduce inches and tighten the skin at the same time… it's called UltraSlim.  It is the newest, most powerful body contouring system on the market and the only red light therapy system that guarantees at least 2" of fat loss after your first full body treatment – no needles, no incisions, no pain, and no recovery time!
How does UltraSlim work?
This fat-melting technology is based on a modulated red light that tricks the mitochondria in the nucleus of the fat cell into creating a transitory pore in the cell membrane, thus allowing the fatty acids and triglycerides to escape into the interstitial space.  The liberated fat cell contents are then drained by the lymphatic system and processed by the liver as part of the body's normal course of detoxification.  The pore in the fat cell will close in about 48-72 hours and the liberated contents will be expelled in the stool over the next few days, resulting in permanent fat loss without harming the fat cells.
The skin tightening technology penetrates deep into the layers of the skin, passing through the dermal layers, increasing the energy levels inside cells, and stimulating the production of collagen and elastin.  Red light therapy has been proven to reduce wrinkles, eliminate fine lines, shrink pores, diminish scars, alleviate pain, accelerate healing, and provide a multitude of other advantages.  It also has been recognized as one of the safest, quickest and most affordable ways to experience dramatic anti-aging changes within the skin.
Red light therapy has been used in the U.S. for over 40 years, but only recently has the technology advanced to provide for fat reduction as well as tightening and rejuvenation of the skin.  It is backed up by hard science and years of clinical research.  Research at Mayo Clinic, NASA, and other leading research organizations has proven the safety and efficacy of this technology.  UltraSlim is the latest and most-powerful red light therapy (patent pending), and was designed by a NASA veteran and a Zerona expert.  This patent-pending technology uniformly covers an area 23" by 17" with sufficient photonic energy with only 8 minute exposures to each targeted area.
Other Body Contouring Technologies
Within a year, many liposuction patients report unwanted fat accumulations – often lumpy, bumpy, "dysmorphic" fat accumulations. No other technology works like UltraSlim – it is faster, more effective, covers a larger area, covers that area more uniformly, and does not touch the skin!  Forget about life-threatening surgery or non-surgically killing fat cells with microwaves, freezing, or ultrasound cavitation.  UltraSlim delivers eight times more photonic energy than lasers, and no unsanitary paddles placed against your skin with Velcro straps (like cheap, ineffective imitations).
At HoriZen Therapies, we are focused on your well-being!  Our goal is to provide the latest, most effective and valued healing therapies to our clients, and assist them in their quest for optimum health and wellness.  Along with UltraSlim, we also offer Ultra-LDT (Lymphatic Decongestive Therapy) which enhances the fat loss results achieved, and Hoshino Massage Therapy. Call today to book a free, 15-minute consultation and ask about our Treatment Packages.  Gift certificates are always available.
2799 N.W. Boca Raton Blvd., Ste. H-201 . Boca Raton, FL  33431
(561) 395-1926 . www.horizentherapies.com