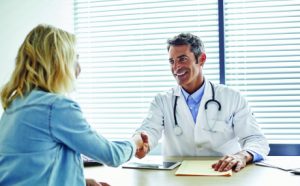 Ah, the good old days, when things were simpler, and life was somehow greener. We've all heard the stories about the way things were, but in our modern age, we are finally realizing that some of those values and conveniences are quite fitting for our futuristic lifestyle. One way, in particular, to bring back a nostalgic service is through "medical house calls."
Having medical care in the convenience of your own home is unparalleled when you need efficient care quickly. Doctors House Calls is on the cutting-edge of this highly sought after health treatment. Their in-home medical services are available in Martin, St. Lucie, Indian River, Palm Beach and Broward counties.
What Does Doctors House Calls offer?
Doctors House Calls is a full-service, comprehensive medical practice, which brings the doctor's office directly to you. Whether you live at home, in an Independent or assisted living facility, or a behavioral health unit, Doctors House Calls will treat you where you are.
From urgent care to chronic care management, Doctors House Calls does it all. They even coordinate with your primary care doctor's office or they can become your primary care provider. In either case, they make certain that your records and services are reviewed and updated. Doctors House Calls are experts at meeting your medical needs.
Doctors House Calls Services
Serve as your primary care provider, or communicate directly with your doctor
Provide ongoing care for homebound patients
Arrange for in-home X-rays, ultrasounds,
EKGs and lab work
Order any needed therapy,
home health nursing or medical equipment
Arrange for prescriptions
to be delivered to a patient's door
Provide Flu shot immunizations
Treat Urgent care needs (but not emergency)
Provide Flu shots,
or other vaccinations at your convenience
Provide cognitive, behavioral
and memory therapy (Parkinson's, Dementia, etc.)
Treat minor injury's (sprains, infections, nausea)
Athletic/Sports Physicals
Good News:
There is NO annual fee or contract. You can call Doctors House Calls anytime you need them, and they will be there to meet your accessibility. They accept Medicare, Medicare Supplements and commercial insurance (or fee by service).
The staff at Doctors House Calls is comprised of state-licensed physicians, physician assistants and nurse practitioners. All together, they have more than 100 years of combined experience in primary care. They will always provide you with the name and credentials of the medical professional who is providing your care.
Another superior difference about nostalgic services like those provided by Doctors House Calls is the patient satisfaction and the word of mouth recommendations.
Patient Testimonials
"Here is an affordable company right here in Fort Lauderdale, that our family is happy to use for my mom (economical creative supplement health coverage) so she can get physician visits, x-rays, prescriptions, and other care without having to transport her to the hospital …Hard to find House Calls that do home visits that work in conjunction with the patient's primary care physician they already trust. I highly recommend Doctors House Calls, LLC here in Fort Lauderdale Beach FL!"
"I wasn't feeling well and made the call to Doctors House Calls. They sent over the mobile lab unit right away. Thanks to Doctors House Calls for saving me a trip to the Emergency Room, and for great care."
"Thank you so much Doctors House Calls! I have been unable to make it to my primary for some time now. It has become too taxing for me to make it out of the house and I do not have support systems to help me to do so. Now with Doctors House Calls, the House Calls come to me. Thank you so much."
The return of the Medical House calls are not only convenient but extremely cost-effective, as well as provide a highly needed modernized approach to fill the void. Traditional medicine is inundated with busy, contagious waiting rooms, overcrowded imaging centers, tasking for the homebound to visit, and inconvenient wait times. Doctors House Calls is filling that void. No matter the time, or day, you can always reach a Doctors House Calls team member ready to assist you. To find out more, please call (772) 781-2207.
Doctors House Calls
In Home Medical Care
Phone (772) 781-2207, Fax (888) 831-3522
www.doctors-housecalls.com