By Dr. Alan J. Bauman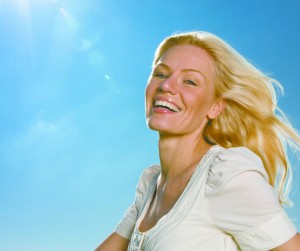 So what can you do about hair loss during and following menopause?
Hair restoration physicians may recommend pharmaceutical/medical treatments along with
lifestyle changes to women experiencing menopause-related hair loss problems.
• Medical Treatments: Medical treatments that will help mitigate hair loss include a specially compounded prescription minoxidil solution called Formula 82M, platelet-rich plasma injections (PRP, also called the Vampire hair growth treatment), low-level laser therapy with the LaserCap, off-label finasteride (for post-menopausal women only), Latisse (bimatoprost) or other prostaglandin analogs and nutritional supplements like Viviscal Professional and pharmaceutical grade biotin.  The best strategy is to use a multi-therapy approach, as prescribed by a hair loss specialist, and routine follow-ups for tracking purposes to see what's working.
Another tool that has become useful in treating hair loss in menopausal patients is the Androgen-Sensitivity Genetic Hair Loss Test. By comparing a patient's DNA to other women who are androgen-sensitive, this test can help predict whether a post-menopausal patient is likely to respond to anti-androgen therapies like finasteride, dutasteride or spironolactone. Without it, the likelihood of response to the off-label prescription finasteride/Propecia for postmenopausal women with hair loss is about 50%, but by excluding those who are not likely to respond, success rates with treatment improves dramatically.
• Lifestyle Changes: While some contributing factors to hair loss are beyond our control, such as genetic predisposition or illness, many can be linked back to certain lifestyle choices that are putting our  follicles at risk. One of the most common culprits Hot flashes. Loss of libido. Weight gain. Mood swings. Hair Loss? There are many symptoms of menopause, but one of the most surprising, and most devastating for women, can be hair loss. But there is good news—while menopause itself is unavoidable, the hair loss that often accompanies it can be effectively treated and, in many cases, prevented.
Since September is Menopause Awareness Month, it is a good time to talk about menopausal hair loss, and educate women on the causes of thinning hair as well as the many treatment options available.
Despite the fact that female hair loss isn't frequently talked about, it is important to know that it is quite common. In fact, after menopause, about 40 percent of women experience hair thinning, which is almost the same rate as men. However unlike men, female hair loss tends to be a lot subtler, and the early warning signs are often missed, or ignored. Women tend to experience thinning over a wide area of scalp, and for many, the first signs and symptoms may come in the form of a smaller ponytail, a wider part-line, or excessive shedding during brushing and showering. Hairstyle changes in cut, curl and color as well as cosmetic thickening products can help compensate in the early stages of hair loss. The problem, however, is that if left untreated, gradual female hair loss can result in a significant loss of coverage at the frontal area, crown or temples.
Hair loss before, during or after menopause—as well as after childbirth—is commonly attributed to hormonal changes. Just as high levels of female hormones during pregnancy leave women with fuller, healthier hair, the declining levels during menopause may have the opposite impact. In addition, when the levels of female hormones fall, the effects of androgens (male hormones) can increase, causing certain hair follicles to fail. And while most physicians agree that replacing  these hormones can alleviate many of the other troubling symptoms of menopause, unfortunately, hormone replacement alone does not seem to radically alter a woman's "follicular fate," and can even sometimes make matters worse.
for female hair loss is poor diet and nutritional deficiency. Women who lack these key vitamins are more at risk of thinning and unhealthy hair: biotin, anti-oxidants, zinc, iron, Vitamin B and protein. Steep drops in these essential nutrients can force the hair follicles to shed their hair strands and go into a prolonged resting phase during which time no new hairs are grown. Hair "super foods" include: lean red meat, fish, berries, pomegranate juice, beans, artichokes and nuts. If you can stomach it, liver is one of the best foods for your hair.
In addition to diet, other lifestyle factors that may be contributing to your hair loss include smoking, stress, poor sleep patterns, caffeine intake, and alcohol consumption. Because there are so many factors to take into considerations when diagnosing the root causes of hair loss, a detailed medical history and diagnostic tests are obtained as an important part of a medical hair loss evaluation with a physician specialist to identify risk factors.
Whether your hair loss is the result of natural hormonal changes and/or other underlying causes, in most cases hair loss is a treatable condition and not something you have to live with or hide. Preventing further hair loss and improving hair growth can restore a feeling of vitality, youth and confidence for women.
If you're worried about menopause-related hair loss, it is important to consult with a both your primary doctor and an experienced hair restoration physician—someone who specializes exclusively in the medical diagnosis, treatment and tracking of hair loss and hair regrowth. Patients should look for a doctor that specializes fulltime in the medical management of hair loss and is certified by the American Board of Hair Restoration Surgeons and recommended by the American Hair Loss Association.
About Dr. Alan J. Bauman, M.D.
Dr. Alan J. Bauman is the Founder and Medical Director of Bauman Medical Group in Boca Raton, Florida. Since 1997, he has treated nearly 15,000 hair loss patients and performed nearly 7,000 hair transplant procedures. A international lecturer and frequent faculty member of major medical conferences, Dr. Bauman's work has been featured in prestigious media outlets such as The Doctor's Show, CNN, NBC Today, ABC Good Morning America, CBS Early Show, Men's Health, The New York Times, Women's Health, The Wall Street Journal, Newsweek, Dateline NBC, FOX News, MSNBC, Vogue, Allure, Harpers Bazaar and more. A minimally-invasive hair transplant pioneer, in 2008 Dr. Bauman became the first ABHRS-certified Hair Restoration Physician to routinely use NeoGraft FUE for hair transplant procedures.
Hair Loss Study Candidates Needed!
Bauman Medical is currently enrolling qualified candidates for an exciting Hair Loss Study.
Please visit www.844GETHAIR.COM for more details.
Hair Restoration for Men and Women
1.877.BAUMAN.9
www.BaumanMedical.com