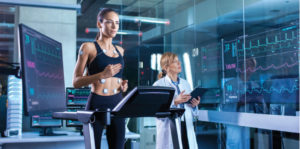 Sports medicine uses the same techniques reserved for high performing athletes to get the general population pain-free without surgery. Some people hear the term "sports medicine physician" and their first reaction is to say "I'm not an athlete so this type of medicine doesn't pertain to me." On the contrary, sports medicine physicians treat a variety of orthopedic issues, review x-rays and MRI images of joints, perform ultrasound guided procedures, and treat sports-related concussions. Their scope includes patients of all ages. For fun, let's walk through a clinic day in the life of a sports medicine physician. In the following vignettes, all patients' identities have been altered according to patient privacy laws. Any resemblance to living persons resulting from changes to names or identifying details is entirely coincidental.
The first patient of the day is Jan, a 67-year-old lady who is here because of her severe osteoarthritis of her tarsometatarsal joint and is frustrated by her nagging pain. She has had two consultations at other locations. She has been told that her arthritis is too advanced causing the joint to be too small to be accurately reached with a blind injection and therefore surgery is the only way to treat the pain. She doesn't want to undergo surgery but she doesn't know what else can be done. Despite the very small joint spaces in her osteoarthritic foot, with the use of ultrasound we, sports medicine physicians, are able to identify the targeted location, confirm placement of the needle, and inject the medication. The anesthetic starts working shortly afterwards, giving her immediate relief. She returns the following week to have the other side injected. She later calls to tell us that this is the best she has felt in years.
Up next is a 20-year-old football player, Ben who awaits his evaluation for the concussion that he sustained at the game over the weekend. He still has a headache and visual symptoms. We provide him with academic accommodations so that he can return to school. We demonstrated to him how to perform visual therapy exercises which will help him to heal faster and with less future symptoms.
In between patients, I receive a call from the athletic trainer at Polk State College who has a few questions regarding her athletes with injuries that were seen in clinic. After answering her questions, I proceed to the next exam room where I am happily greeted by Oscar, a 72-year-old man. He's returning today, over a year since his last visit, for another platelet-rich plasma (PRP) injection into his knee joint. He had previously tried steroid injections and viscosupplementation injections, commonly referred to as "chicken shots," into his knee with minimal relief. Now, utilizing his own growth factors and healing signals (PRP) which were obtained from his blood, he has had relief for over a year. During his procedure, he tells me how much he enjoys life now; he tells me about his upcoming pickleball tournament and the vacation he has planned with his wife.
A middle school baseball player, Bryce, sits with his father in the next room. We review his x-ray imaging together which demonstrates a stress fracture of the growth plate of his shoulder. We discuss how this will impact his upcoming season. This time period it is critical to maintain a healthy shoulder and we go through the exercises that he should be doing during his time off to eliminate long term problems. These focus on strengthening his small rotator cuff muscles and stabilizing his shoulder blade. This non-surgical management will get him back on the mound faster and is more effective in most cases than surgery.
The scope of a sports medicine physician is not limited to the treatment of athletes. For some people, their athletic activities include walking from their bedroom to their mailbox, and their goal is to do it with less pain. The job of a sports medicine physician is to align the management plan of the patients with their respective goals, reduce the need for surgery, and reduce the need for pain medications.
For more information or to schedule an appointment with Dr. Michelle Henne, please call our office at (863) 401-4401 or submit a new patient appoint-ment request at ReleveSportsMedicine.com schedule-an-appointment. Same day appointments are available. Relevé Sports Medicine is open Monday through Friday from 8:00am–5:00pm. During the high school football season, Relevé Sports Medicine has an injury clinic at 8:00am Saturday morning exclusively for football and cheerleading athletes injured Friday night.
Releve Sports Medicine
5535 Cypress Gardens Blvd Suite 270
Winter Haven, FL 33884
(863) 401-4401
www.ReleveSportsMedicine.com