By Chaas Gantt and Maria Gantt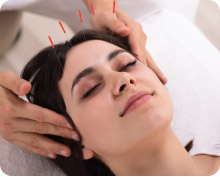 We've all heard of people touting the benefits of acupuncture, stating it cured their TMJ, Arthritis or alleviated autoimmune symptoms. The stories are limitless, but are they true? Can acupuncture really reduce symptoms, regenerate tissue and nerves, give someone more energy and stave off illness?
The practice of acupuncture is just one of the integrated modalities of treatment in TCM and our practice at Palm Beach Acupuncture. This practice which has maintained popularity over thousands of years, establishes Meridians as pathways linking acupuncture points that roughly correspond to the dermatomes and myotomes in neurology, as well as the patterns of referred pain from organ pathology familiar to the medical community.
When these points are stimulated with needle insertion, a cascade effect is set in motion which influences various systems including but not limited to the nervous system, the endocrine system and the immune system to attain the desired regulation and restoration of optimal function.
Similar to a sprinkler system to a garden, the body is constantly working very efficiently to supply the right amount of water, blood, and different nutrients to cells across the body. It is in the obstruction of this supply from injury or dysfunction of any of the systems within our bodies that the origin of dis-ease, pain or illness originates from:
General Pain
(Low Back Pain/Neck Pain/Hip Pain/
Leg Pain/Joint Pain/Frozen Shoulder)
Stress & Anxiety/Depression/Panic Attacks
Migraines/Tension Headaches
Arthritis/Joint Paint/ Rheumatoid Arthritis
Allergies (Food, Seasonal, Pollen)
Infertility
Sciatica
Bell's Palsy
Allergic Rhinitis
Car Accident Related Disorders
Fibromyalgia
Low Energy/Adrenal Fatigue/
Chronic Fatigue Syndrome
Common Cold & Flu
Insomnia
Digestive Related Issues
Lyme Disease
Immune Health/Auto-Immune Disease
Post Traumatic Stress Disorder (PTSD)
Addiction
Women's Health
Lyme Disease
Immune Health/Auto-Immune Disease
Post Traumatic Stress Disorder (PTSD)
Addiction
Women's Health
Acupuncture Has Been Around
For Thousands Of Years!
In 6000 BC, acupuncture originated in China. Instead of needles, at that time they utilized tiny hair-thin bones. Cosmetic Acupuncture for rejuvenating and healing purposes has been the treatment of choice for thousands of years in China. As early as the Sung Dynasty (960 AD – 1270 AD), acupuncture was performed on the Empress and Emperors concubines.
Chaas Gantt L. AP
Nationally accredited and State Licensed Acupuncture Physician and Functional Medicine Practitioner, Board Certified Herbalist and Injection Therapy Certified.
In his practice, he combines the latest research in functional medicine practices, Japanese style acupuncture, NSEV, homeopathy, cupping therapy, moxibustion, clinical nutrition, targeted supplementation, botanical medicine, injection therapy, among other interventions, to address the specific needs
of each of his patients.
Palm Beach Acupuncture & Integrative Medicine (PBAIM) is a professional integrative medical office specializing in gentle and effective Japanese style acupuncture, nutrition, functional medicine and an overall integrated model of care.
PBAIM also accepts most insurance carriers.
With the right information and your personal Commitment to Action, you're in control of your own health.
Please call (561) 533-7475 to schedule your appointment or find out more at palmbeachacu.com