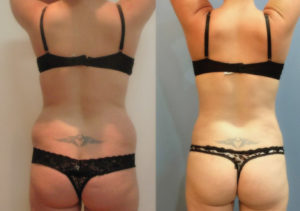 Smoother thighs, a flatter stomach, smaller arms; have you ever thought about getting liposuction, but don't want to undergo the procedure due to fear, and the risks of surgery? What if we told you there was a better way! A safe and effective way to finally get those results.
Smart Liposuction
There is a non-surgical, in-office procedure that requires no general anesthesia so there is little to no downtime Smart Liposuction FAQs (rather than Smart Lipo) is a safe, fast, and effective fat removal and transfer to sculpt the body. Fat is removed from undesirable areas such as the abdomen and can be transferred to other more desirable areas of the body such as the buttocks (also known as a Brazilian Butt Lift), breasts, and face. Hello, fuller lips and less wrinkles!
Smart Liposuction Advantages:
Sculpts your body by removing fat, stimulating collagen production and tightening skin.
Safe, Fast and Easy – Uses local anesthesia only, so there's no general anesthesia risk.
Walk-in & Walk-out: You'll be back to work or play in a day.
Smart Liposuction gets superior results compared to regular liposuction.
Treats Cellulite – The most effective treatment currently available for cellulite reduction.
Fat cells are permanently removed.
Smart Liposuction FAQS
Is There Any Pain or Discomfort?
While pain and discomfort are relative and experiences will vary, the procedure uses only local anesthetic and involves minimal discomfort, if any.
How Long Does the Procedure Take?
Time to perform the procedure varies depending on the amount of fat to be removed and the specific areas, but typically requires only 1-2 hours.
Can Both Women and Men Get the Procedure?
Of course! Many women AND men choose the procedure to reduce abdomen fat. The procedure can help achieve the goals of both women and men by removing fat.
Can the Procedure Tighten Loose Skin on my Abdomen?
Smart Liposuction is highly effective for reducing fat on the abdomen and other areas of the body. It may result in some skin tightening in the treated area. However, liposuction is not a skin tightening treatment. To get you the results you desire. Smart Liposuction performs laser treatment during your procedure to tighten loose skin.
How Many Procedures Are Usually Required to See Results?
Every patient's procedure plan is customized to meet their specific goals. The quantity of Smart Liposuction procedures needed to achieve desired fat reduction results is dependent on the volume of fat reduction desired and the number of areas selected.
Smart Liposuction can Sculpt You new Body because it is the Most Effective fat removal Procedure to date – Results are Immediate and Stunning!
Joint Commission Accreditation Allows
4 Liters of Fat to be Removed which is times More Fat than other Non-accredited facilities may ONLY remove 1 liter of fat by law*
Astonishing results – You will see for yourself stunning Before & Afters during your consult of others who had similar bodies
Laser during the procedure stimulates collagen and tightens skin
Safe, Quick, Easy – Back to work in a Day*
Brazilian Butt Lift – Liposuction with Fat Transfer to Buttocks
The Brazilian butt lift procedure can reshape the upper quadrant of the buttocks so that the butt is lifted and "perky".
Dr. Neil Goodman is a pioneer of the Brazilian Butt Lift, an amazing figure enhancing surgery. Laser Liposuction Body Sculpting sculpts a new figure which can give you the figure you desire but Dr. Neil Goodman is also a fat grafting expert. Fat Transfer to the buttocks is called a Brazilian Butt Lift and delivers a shape laser liposuction alone can't match.
About New Radiance
New Radiance's practitioners are the experts in their field. Our Board Certified surgeons have performed more than 7,000 Smart Liposuction procedures. Our facility is accredited, earning The Joint Commission's Gold Seal of Approval. This credential allows our experts to remove and transfer 4x the amount of fat (4 liters vs. 1 liter for non-accredited facilities).
Check out New Radiance Patient testimonials to see why so many people trust New Radiance with their face and body!
Procedure Costs &
Limited Time Specials
With our accreditation and experience, we are able to offer Smart Liposuction for $2,000-$5,000 less than other area surgeons. Affordable financing starts at around $100 a month. For a limited time, save an additional $500 on Smart Liposuction by mentioning this article.
We recommend you contact us to schedule a free consultation. Our smart liposuction surgeons will be able to provide answers to specific questions as to the results you can obtain.
Dr Neil C Goodman,
MD, PC, PhD, FACOG, FAACS
Dr Neil C Goodman is Board Certified and has performed more than 5,500 procedures in smart liposuction, fat transfer to buttocks, fat transfer to breasts, fat transfer to face, aesthetics treatments and laser treatments. Dr Goodman is ready to help you achieve your body sculpting goals!
Dr Neil C. Goodman has expert-level skills and experience in liposuction procedures, liposuction with fat transfer to buttocks, breasts and face and body sculpting and esthetic treatments.
Dr Goodman has performed over 5,500 smart liposuction and fat transfer procedures transforming and sculpting patients to their personal goals. With his vast experience in tumescent lipolysis techniques, he trains doctors to perform smart liposuction and fat transfer to breast, buttocks and face. Dr Goodman is a Fellow of American Academy of Cosmetic Surgery and American Society for Lasers in Medicine & Surgery. He is the Lead Investigator and luminary for laser lipolysis equipment for Palomar Medical Technologies.
Dr. Goodman has performed over 10,000 cosmetic procedures including: smart liposuction; fat transfer to buttocks, breast and face; neuromodulators; dermal fillers; and fractional skin resurfacing treatments.
To find out more, please visit SmartLipoHealthWellness.com.
(561) 570-2830
Palm Beach Gardens
Wellington
Fort Lauderdale
Port St. Lucie