Did you know that when hair loss first starts, it's impossible to detect it with the naked eye?
By Dr. Alan J. Bauman –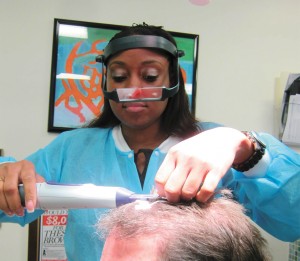 Research shows that once hair loss becomes noticeable, you may have already lost 50% of the hair follicles! Missing the early warning signs of hair loss is one of the biggest mistakes both men and women makes when it comes to protecting the health of their hair. The key to preventing hair loss or reversing it, is to catch it early – after all, once hair loss progresses to a certain point, it becomes more difficult and costly to achieve good results.
That's why a new scientific measurement
called the HairCheck® is so important.
The HairCheck® device is a highly sensitive hand-held 'trichometer,' which measures hair caliber and hair density together and expresses them as a single number called the Hair Mass Index (HMI) or "Hair Number."  This number is then used to accurately assess hair loss, growth and breakage on any area of the scalp. By tracking these numbers, it can help us determine the extent and rate of the patient's hair loss and/or breakage and inform them of any changes over time. This information has also made it infinitely easier to catch hair loss before it becomes too significant. Early detection gives us an opportunityto try one of the many non-invasive treatment options available, including low level laser therapy, nutritional supplementation, medication, and topical solutions. Alternatively, if your hair loss goes untreated for too long, it can leave you with no other option than transplantation.
As easy as stepping on a scale, HairCheck® is a quick and pain-free process that takes about five minutes. Upon completion, the patient receives a personal Hair Number derived from a cross-sectional bundle measurement, which is kind of like measuring the volume of a tiny ponytail. If hair loss or breakage is suspected or detected, your physician will be able to help by making appropriate treatment suggestions as well as measure the response to the recommended plan on an ongoing basis. Just like a scale is used for tracking weight, HairCheck® will track your hair's progress. For example, if the hair fibers get thinner, the HMI number goes down. If the quantity of hair diminishes, the HMI number also goes down. And, obviously, the reverse is true so this becomes a very powerful, sensitive measurement of not only hair loss, but also hair regrowth.
The ability to track a patient's progress is invaluable for both the patient and the physician. For the physician, it gives us insight into what treatments are working and what areas are seeing improvements, allowing us to make any adjustments necessary to ensure the patient is getting the best possible results. These measurements can also be used to help patients quantify the results properly, even before they can 'see' them.  This is important, because just like hair loss, initial changes in hair regrowth take time and can be subtle before they are noticeable to the naked eye. For the patient, HairCheck® ensures you aren't wasting money on treatments that aren't working. When treating hair loss, it is important to keep in mind that it can take more than a year to see the full, final results from treatment, which is unfortunately longer than many patients are willing to wait, so many end their treatment early, disrupting any progress that had been made. HairCheck® can help us demonstrate to the patient the subtle  improvements the treatment is making in the early stages so he or she will know to stay on the therapy for the necessary amount of time. HairChecks are routinely performed every 90 days for patients undergoing treatment, allowing us to monitor and evaluate their continued progress.
Hair loss is a treatable condition, but the earlier the problem is detected and treatment started, the better your chances of keeping your hair.
If you're worried about hair loss, or are interested in learning what your 'Hair Number' is, it is important to consult with an experienced hair restoration physician—someone who specializes exclusively in the medical diagnosis, treatment and tracking of hair loss and its treatment. Only a qualified and experienced hair restoration physician can prescribe the most effective multi-therapy treatment options, including the latest available products.
Bauman Medical Group
Hair Restauration
www.baumanmedical.com | 1-1877-877-BAUMAN9