By: Dr. Dana Luzon, Au.D., FAAA. Board Certified in Audiology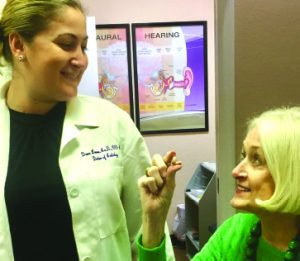 Some people experience mental roadblocks when they are first diagnosed with hearing loss and find out they need hearing devices. Some wait months or years before seeking treatment. Joan felt this way before moving forward, below is her story:
"When I first got my hearing aids, I spoke very openly about them with friends… specifically asking that they speak directly to me as I was adjusting to them. I found it was very easy to explain that it was no different than if I had gotten glasses – except that no one is embarrassed saying "wait I need my reading glasses to read the paper you just gave me."
Once I spoke openly about my hearing aids, several friends began to ask me how I knew I needed them, whether they were uncomfortable and what sort of changes they had made in
my life.
Knowing I needed them was obvious once I realized how much louder my tv was and how often I asked people to "repeat" what they had said. As a professional, I missed points in lectures I attended and even lines in a play if I was any distance from a stage. Recent studies have shown that hearing loss can negatively affect one's mental activity, and it certainly decreases one's social interaction.
Once I decided to get them, I researched various types of hearing aids and places to purchase them. Although one can have a quick hearing test and prescription at "big box" stores, like Costco, I preferred to have my testing done by a Doctor of Audiology just as I have always had my vision tests and prescriptions by an Optometrist.
This is how I found my way to Dr. Dana Luzon. The initial screening tests were thorough, as were her explanations of the various types of hearing aids available. There is a great deal of information to take in when deciding what type would suit me best. The extended period of time allowed for patients to adjust to wearing hearing aids was very important to my ultimate satisfaction as were weekly appointments if there were problems.
It has been just a year and the changes in my quality of life – especially my social interactions have been enormous. They are so much a part of me that I forget I am wearing them. My voice always was loud, a by-product of 30 years as a college professor. It remained loud as I began to experience hearing loss, and I would raise my voice reflexively to compensate when I couldn't hear someone.
Hearings aids have made such a change in my daily life, and I want others to enjoy a similar change. To this end, I often mention that I wear hearing aids because they can't be seen under my hair. Now, my voice has softened, and sometimes others have to ask me to "repeat". I want to show there is no reason to be self-conscious about having a hearing loss."
If this story sounds familiar don't wait years before seeking help. Audiology & Hearing Aids of the Palm Beaches can be your home for hearing healthcare!
Dana Luzon,
Au. D. , FAA, Doctor of Audiology
Originally from Southern NJ, Dana Luzon received her undergraduate degree in Speech Pathology and Audiology from the Richard Stockton College of NJ, and continued on to receive her Doctorate
of Audiology at Salus University's residential program. Her varied clinical experiences throughout her doctoral studies include: VA hospitals, rehabilitation clinics, ENT and private practice settings. Her professional interests include: audiologic rehabilitation and progressive tinnitus devices. Her
interests in the field outside of the clinic include: Humanitarian Audiology, and Audiology Awareness. Dr. Luzon currently lives in West Palm Beach, FL.
Audiology and Hearing Aids of the Palm Beaches
561. 627. 3552
4266 Northlake Blvd,
Palm Beach Gardens, FL 33410
HearingCareFL.com