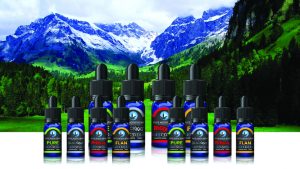 Christopher D Cowart, former athlete and competitive golfer suffered from a tear to the labrum muscle in his shoulder. Before going through with surgery and western medicine, he decided to look more into natural remedies. After speaking with a holistic specialist, he was introduced to CBD. Christopher had to know more, so he contacted a doctor in Colorado who took the time to explain what CBD was, the endocannabinoid system (ECS) and the anti-inflammatory and anti-anxiety benefits of CBD. After hearing how this could possibly help, he ordered a bottle on faith. Luckily, his faith did not fail him, because only 2 weeks later, he was golfing again and had realized he found a miracle! This result propelled Christopher to go into business providing a product he knew he could help others who suffered from a variety of ailments, in addition to simply providing general nutritional wellness. So, he joined forces with one of largest industrial hemp producers in Kentucky to get Blue Moon Hemp started in the fall of 2015. By spring of 2016, Blue Moon Hemp was in full swing providing top quality CBD products to the market.
Blue Moon Hemp's provider in Kentucky is in full compliance with Sec. 7606 of the 2014 Farm Bill, which provides that products which are derived from Industrial Hemp and not Cannabis Indica that have less than .03% THC are permitted for commercial use. Blue Moon Hemp goes the extra step and reduces the THC to "TRIP ZERO" .0001 or ND – Non Detectable. Because of these provision, Blue Moon Hemp is legal in all 50 states. They use eco-sustainable methods, follow organic practices, use no chemicals, pesticides, or artificial flavors, and instead they use all plant-based products. The quality of their product is the gold standard. Blue Moon Hemp was proud to break the purity record (with %100 purity) from Pro Verde Labs in Massachusetts. All their formulations use a Nano-emulsion process, using Nano technology called micro emulsion, or micro encapsulation. This means the product is rendered into Nano sized particles, making it more readily absorbed into the bloodstream regardless of how it is consumed, whether it be by vaping, topical, capsules, etc. Christopher is confident in knowing Blue Moon Hemp carries highly reliable products, backed by an extremely high customer retention rate. He is also focused on providing exceptional customer service, providing resources, a forum, and a blog for customers to reach out to one another all on the Blue Moon Hemp website to help spread awareness and education about CBD and its benefits.
The CBD E-liquid line is Blue Moon Hemp's top product. To make their e-liquid, they use non-GMO organic palm kernel oil and bio corn based propylene glycol. This yields a better taste and a higher quality product than when soy and propylene glycol is used, which is a common practice among many other companies. Their top e-liquid flavors are Flan (reminiscent of Crème-Brule) and Red Devil (Strawberry and Vanilla with hints of Tangerine and Mango). Christopher is excited to announce the upcoming launch of a complete edible line; which includes gummies, chewies, gum, lozenges, and lollipops in tasty flavors like passion fruit and blue raspberry, which will be available in October!
Being an industry leader in product formulation and scientific development, Blue Moon Hemp is in the process of creating several new CBD lines including cosmetics and pet care to launch in the next six months. They are also proud to present the first ever CBD Blunt Wrap. Instead of tobacco, it is made with all natural hemp. The CBD blunt wraps will come in 4 flavors: Sour Diesel, Blueberry OG, Pineapple Express, and Sativa AK, by using terpenes infused with the CBD in the process of making the hemp paper. Look for them in vape shops and convenience stores around the US on November 1st!
Christopher has noticed lot more consumer awareness and inquiry of CBD since the industry has begun to shed the social stigma that has been imposed on it in the past, and as consumers are learning they can treat their aliments with CBD, there is now more acceptance of alternate medicines. This is giving Blue Moon Hemp the opportunity to share their products in vape shops all over the country and at industry shows. You can see them at Champs, Big Industry (NY & LA), and at the World Vape Expo, or simply visit their website at bluemoonhemp.com or give them a call at 844-425-8666 for more information about CBD and Blue Moon Hemp's growing line of top-tier CBD products.