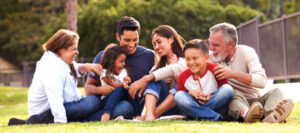 Did you know that 6 in every 10 Americans lives with at least one chronic disease?
In the US, every 40 seconds a stroke occurs. 38.4% of men and women will develop cancer in their lifetime. The #1 Reason households file for personal bankruptcy is due to medical debt.
Don't let these unfortunate issue blindside you; take the essential steps to be proactive and prepared. Protect what matters most FlexLife provides an income tax-free benefit to your beneficiaries plus access to cash values during your lifetime.
FlexLife offers:
Permanent death benefit protection for your loved ones
Flexible coverage and premiums
Cash value accumulation potential
Protection from market losses
Optional rider provides the potential for guaranteed income for life
Living benefits to provide resources in the event of a qualifying terminal illness, chronic illness, critical illness or critical injury
Five index crediting strategies offer diversified choices for cash values
Flexible Coverage
Compared to other permanent life insurance products, universal life is perhaps the most flexible. That's because it lets you adjust the amount of insurance you own6 – and the level of premiums you pay – to best suit your changing needs.
There is also the potential to build cash value in your policy on a tax-deferred basis, which you can use during your lifetime. For example, you have the potential to take policy loans and withdrawals7 for sudden emergencies or later for retirement income. And because FlexLife is an Indexed Universal Life product, your policy values can be credited interest based in part on Crediting Strategies tied to major market indexes, such as the S&P 500®.
Flexible Death Benefits
FlexLife offers two death benefit options; Level Death Benefit, where it stays constant, and Increasing Death Benefit, which lets your protection increase as your policy's cash value grows.
Should your needs change after you've selected a death benefit option, you may switch options.8 For example as your family grows you may feel the need for additional protection. By switching to an increasing death benefit amount your death benefit increase will occur as your cash value increases and is much more convenient than buying additional insurance policies. Or, if your protection needs diminish and you want to focus on growing cash value only, you can choose to lower your death benefit so that more of your premiums are directed to building cash value.
Illness or Injury
Accelerated Benefits Riders13 are optional, no additional cost riders that can allow you to access all or part of the death benefit while you are living if you experience a qualifying terminal, chronic, or critical illness or a critical injury.
How you use your benefit is unrestricted with the exception that in the state of Massachusetts, Accelerated Benefits Rider benefits for chronic illness can only be used to pay for expenses incurred for Qualified Long- Term Care services.
Benefits could be used for, but aren't limited to:
Home modification
Regular bills
Household expenses
Nursing or adult daycare
Access to Cash Value
Your FlexLife policy's cash value has the potential to grow, tax-deferred, over time. Cash value is different than your death benefit. If sufficiently funded, cash value can be accessed through policy loans and withdrawals to help meet a wide range of financial needs, including:
Financial emergencies
College tuition
Retirement income
Home down payment
Life Insurance with Upside Potential and
Downside Protection
Important Terms You Should
Accumulated Value
A portion of your premium payments that can grow tax-deferred over time and may be used throughout your lifetime.
Basic Strategy
A fixed interest crediting account that acts like a holding tank for 12 months of policy expenses and any unallocated premium until it is moved into your chosen Indexed Crediting Strategies on the 14th of every month.
Cap
The maximum interest or upper limit that may be credited. A Cap of 10% means that 10% is the most the chosen Indexed Crediting Strategy will be credited.
Cash Value
The part of your Accumulated Value that can be accessed for policy loans and withdrawals.
Credit Suisse Balanced Trend Index
A volatility-controlled Indexed Crediting Strategy whose returns are based on an index of a global multi-asset investment universe comprised of equities, bonds, real estate, commodities and cash. The Index is rebalanced daily to limit up or down volatility.
Death Benefit
Money beneficiaries receive upon the death of the insured.
Floor
The minimum interest or bottom limit that may be credited. Most crediting options provide a 0% floor. A
1% Floor Strategy is also available (see page 11).
Fixed-Term Strategy
Earns a specific rate of interest declared by the company that is credited on a daily basis and guaranteed for one year.
Hang Seng Index
The Hang Seng Index is a market capitalization-weighted benchmark that tracks the 50 largest companies traded on the Hong Kong stock exchange.
Interest Bonus*
An interest bonus of at least 0.35% will be credited beginning in year 6.
Interest Crediting Strategy
Strategies you choose for the excess premium.
Indexed Strategies
Interest crediting may be tied to performance of a market index.
Participation Rate
The maximum percentage that an index account shares in the positive changes of the chosen index.
Policy Expenses
The cost of insurance and administering the policy taken out of the policy's Accumulated Value every month.
Premiums
The regular payments you make on your policy.
S&P 500® Index
The S&P 500® is widely regarded as the best single gauge of the U.S. equities market. This world-renowned index includes a representative sample of 500 leading companies in leading industries of the U.S. economy. Although the S&P 500® focuses on the large-cap segment of the market it is also an ideal proxy for the total market.
Cheryl Masters – Mortgage Protection: What You Should Know
If something happens, the last thing a family should have to worry about is making the mortgage payment. Some programs will return all the premium you paid, when the policy expires. Chery Masters is the life insurance agency owner at Masters Life Insurance in association with Family First Life. She is an expert at bridging the gap between the community and well-established insurance agents. Her years of experience and relationships allow her to help you in multiple situations. When it comes to your mortgage and unexpected disruptions, she can help you navigate the situation by supplying you with essential analytics and information, reputable agents, accessibility, and follow through.
Cheryl shares her expertise and advice below:
You are among the fortunate Americans who have made their dream of owning a home come true. Many families have to leave their home due to economic hardship caused by death, disability, or unemployment, so protecting your home for you and your family could be one of the wisest decisions you make.
Consider the following:
If you died, would your family have enough money to pay off the mortgage?
If you were unable to work for an extended period, would your family have enough money to pay the mortgage each month?
If you lost your job, would you still be able to afford your insurance premiums?
Protect your family and home today!
Home Mortgage Series Plus from Americo Financial Life and Annuity Insurance Company (Americo) is a portfolio of term life and universal life insurance products that may help you and your family keep your home and your valuable insurance protection if the unexpected happens.
HMS Plus and its optional benefit riders may help:
Pay off the mortgage in the event of your death.
Receive 100% of the base premiums at the end of the Cash Back Option period.1
Make the mortgage payment during a disability.2
Protect your valuable coverage if you become involuntarily unemployed or totally disabled.2
Pay a lump sum if diagnosed with a qualifying critical, chronic, or terminal illness.3
Please call Cheryl Masters at (786) 338-0481 or email her at ms.cheryl.masters@gmail.com for more information or to schedule an appointment.
Cheryl Masters
Masters Life Insurance
786 338 0481
Cheryl@CherylMasters.com
www.cherylmasters.com