A Conservative Treatment Option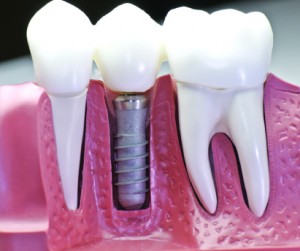 One of the first things a patient typically asks at a dental appointment is, "what is the most conservative option?"  Personally, if it were my mouth being treated, I would ask the same question. The key to making the best choice is understanding what the word "conservative" means in your particular case.
A Common Dilemma:
An example of a dilemma that often leaves patients confused is when they are informed that a tooth has to be removed. If we review the treatment options for this type of situation, the most commonly used one in the past was a "bridge". To be clear, when a single tooth has a deep cavity, the dentist will often place what is called a "cap" or "crown". A bridge is nothing more than having crowns placed on the teeth on either side of the empty space where a tooth has been removed. The bridge has a fake crown connected to it (the fake crown fills the empty space-see the side bar picture).
In many instances, the option of a bridge makes sense. Let's consider a situation where the teeth on either side of a tooth extraction have significant decay. If these teeth already require crowns to make them healthy, then adding a fake middle tooth to this treatment truly is conservative (no additional work was needed).
The Implant Option:
For many, the words dental implant strikes fear. What is interesting is that in most cases, dental implants are the least invasive and least bothersome of all the procedures we perform. As a refresher, a tooth has two parts: the root and the crown. The root is the part that acts like the anchor and is below the gum in the jaw bone. The crown is the part we can see when we smile and that we use to chew.
A dental implant is nothing more than a root replacement. If a tooth needs to be replaced (such as the example above), a dental implant is often a very conservative and painless option. Once the tooth is removed, this new root or "implant" can be placed in the empty space where the previous root lived. It is not visible as it lives below the gum line. Over a number of months, the jaw bone and implant fuse (with a very high success rate). Ultimately, the dentist can then place a crown onto this new root. The good news is that usually the adjacent teeth do not need to be touched at all. Many times, the procedure can be performed without even making an incision. This option may be very suitable for a patient who is losing a tooth, but has neighboring teeth in ideal condition.
It is important to understand that each circumstance requires individual evaluation and planning. After careful review, often with a 3D scan, your dental surgeon can help advise you as to the best option for your situation. Understanding that a dental implant can be one of the most conservative options often allows patients to have less overall treatment with less overall pain.
Lee R. Cohen, D.D.S., M.S., M.S., is a Dual Board Certified Periodontal and Dental Implant Surgeon. He is a graduate of Emory University and New York University College of Dentistry.
Dr. Cohen completed his surgical training at the University of Florida / Shands Hospital in Gainesville, Florida. He served as Chief Resident and currently holds a staff appointment as a Clinical Associate Professor in the Department of Periodontics and Dental Implantology. Dr. Cohen lectures, teaches and performs clinical research on topics related to his surgical specialty.
The focus of his interests are conservative approaches to treating gum, bone and tooth loss. He utilizes advanced techniques including the use of the Periolase Dental Laser (LANAP procedure) to help save teeth, dental implants, regenerate supporting bone and treat periodontal disease without the use of traditional surgical procedures. Additionally, Dr. Cohen is certified in Pinhole Gum Rejuvenation, which is a scalpel and suture free procedure to treat gum recession with immediate results.
Dr. Cohen uses in-office, state of the art 3D CT imaging to develop the least invasive dental implant and bone regeneration treatment options. Dr. Cohen and his facility are state certified to perform both IV and Oral Sedation procedures. Botox® and Dermal Fillers are also utilized to enhance patients' cosmetic outcomes.
Dr. Cohen formerly served on the Board of Trustees for the American Academy of Periodontology and the Florida Dental Association. He is past president of the Florida Association of Periodontists and the Atlantic Coast District Dental Association. Dr. Cohen is a member of the American College of Maxillofacial Implantology and the American Academy of Facial Esthetics. In addition, he has been awarded Fellowship in the American College of Dentists, International College of Dentists and the Pierre Fauchard Academy.