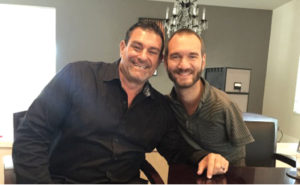 Words and phrases like I'm stuck, I've plateaued, stagnation, limitations, and I'm at my peek are what we've all use to describe various moments in our lives. Whether those moments are days, month's or decades long, we often can fall into these deep pits with no ladder in sight, no rock's to climb, and no man or woman with a rope to help pull us up. What happens when you stay there for too long? What happens to your relationships, your business, your job, your spirit and your emotional intelligence? The answer is usually the same for most people; we lose a little bit of ourselves along the way, and it can be challenging to find your way out and move on.
Okay, okay, maybe you're not in a bottomless pit of despair. Perhaps you're just stuck on one side of the bridge. You know what you need? You need vision, the vision of someone that has devoted his life to helping others achieve success. A great visionary can show you precisely how to rebuild the bridge, right from where you are.
Whether what you need to achieve is success in your business plan, a new business model, and sales tactics, how to become debt-free, or perhaps the motivation to understand your addictions and how to overcome them, coach Marc Feinberg is a leading keynote speaker that is highly-sought after and highly-regarded by celebrities, professional athletes, CEO's and many others needing a transformation.
Coach Marc has been featured on Fox News, ESPN and ABC Sports to name a few. Marc Feinberg is spirit-filled, passionate and purpose driven. Coach Marc helps clients to activate the power of belief in every area of life by taking personal responsibility and standing as the "cause." Personal Responsibility is the #1 principle to all human success and achievement! Marc transforms roadblocks into building blocks and inspires new standards of thinking and behavior, creating outstanding outcomes with all of his clients.
He is the best selling author of The Secret Money Pill: Prescriptions For Designing A Debt Free Company. Marc is a Corporate Trainer, Sales and Enrollment Expert, a Customized Keynote Speaker and his #1 passion in life is to help his clients to accelerate personal healing from years of pain and past failure in one single day with his signature experience called,
"The Day of Destiny."
Marc's Motivational Coaching Specialties:
• Christian Business Coach
• Business Coaching
• Marketing & Branding, Corporate Branding
• Personal Branding
• Become a Best Selling Author
• Inspirational Speaker
• Motivational Speaker
• Life Strategist
• Business Strategist
If you want to transform your life, your future and make your mark in this world and beyond, contact Coach Marc today. But don't just take our word for it. Here are what some of his advocates have to say:
"Coach Marc is the Real Deal."
– HEAVYWEIGHT CHAMPION,
EVANDER HOLYFIELD
"Marc is a man on a mission"
– FOUNDER OF LIFE WITHOUT LIMBS,
NICK VUJICIC
"Marc Feinberg is the real deal. He has been a source of strength, wisdom, and inspiration to my business and me. He is an amazing communicator with an incredible vulnerability and passion to help others change. He would be a great choice for any business or event."
– LEADERSHIP PROGRAM ATTENDEE, ROB K.
Let Marc Feinberg get you to the level you deserve, beyond your own imagination and expectations. He is a visionary that thrives on getting you to go further along in your journey with a detailed plan. As a Motivational Success Trainer and America's Faith Coach, his practices are proven to give you outstanding results.
Coach Marc LLC
Jupiter, Florida 33458
(561) 293-4381
marcfeinberg.com