By Kenneth R. Beer, M.D. FAAD –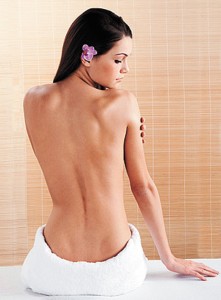 When we think about how to best take care of our skin we usually think in terms of what serum or moisturizer will give us that coveted glow. While what you use on your skin is important, supplementing your skin care with a healthy diet will do wonders in helping you put your best face forward.
Water: Drink up!
Few things can rival water in terms of what it can do for your skin. Our bodies are made of up to 60% water, so keeping hydrated isn't just about what you put on your skin, it's about what you put in your body. Water keeps skin hydrated, reducing the look of fine lines and wrinkles. It also helps cells take up nutrients and get rid of toxins. Getting up to pour yourself a glass right now? Go for it, because water also helps circulation and blood flow, giving you the coveted dewy glow we all crave.
Selenium: Boost Your Immune System
Selenium is a trace mineral that is essential to good health. The antioxidant properties of selenium help to prevent cellular damage from free radicals. In case you're not in the know, free radicals are natural by-products of oxygen metabolism that may contribute to the development of chronic diseases such as cancer and heart disease. Selenium can also help regulate thyroid function and play a role in boosting the immune system. So how do you get your fix? Foods such as shrimp, lamb, snapper, halibut, tuna, and salmon are all excellent sources of selenium. Those foods not on your favorites list? Don't worry. Beef, oysters, sardines, crab and whole wheat pasta are also good sources of selenium.
Coenzyme Q10
Coenzyme Q10, or CoQ10, is a powerful antioxidant made naturally in your body. That's great news right? Sure, but the problem is that production decreases with age. CoQ10 protects sin and other body cells from the damage caused by…you got it…free radicals. CoQ10 can be found in a variety of topical serums and creams, and is reported to improve the appearance of wrinkles and the signs of aging. Rich sources of CoQ10 include fish, poultry, and whole grains.

Vitamin A: Repair Your Skin and Slow the Signs of Aging
Vitamin A is used in many forms to help with a variety of skin issues from repairing tissue to helping reduce the appearance of fine lines and wrinkles. Topical creams such as Retin A help with acne while retinols, vitamin A derivatives, help to reduce the signs of aging.

Vitamin C: Protect Your Skin
Vitamin C helps protect skin from the sun. It also helps to undo damage done by free radicals, which destroy skin-firming fibers such as collagen and elastin. Excellent sources of vitamin C include red bell peppers, citrus fruits, papaya, kiwi, broccoli and Brussels sprouts. Of course, eating Vitamin C alone won't protect your skin from the Sun's harmful rays. Use a broad-spectrum SPF 30+ sun block for optimal results.
Essential Fats for Your Skin
Omega-3 fatty acids are considered essential fatty acids. They are necessary for human health but the body can't make them, you have to get them through food. help produce your skin's natural oil barrier, keeping dry skin and blemishes at bay. Omega-3 fatty acids can be found in fish such as salmon, tuna, and halibut as well as in algae, krill and nut oils.
To get skin that really glows from within the solution is simple: put good products in and put good products on. What do we mean by that? We mean eat well and use products with good ingredients on your skin. Ingredients such as selenium, CoQ12, vitamin A, vitamin C, and omega-3 fatty acids. Beauty starts from within, so go ahead and eat your way to healthy, glowing skin.
KENNETH BEER, MD PA
1500 N Dixie Highway Suite 305
West Palm Beach, FL 33401
561-655-9055 | www.palmbeachcosmetic.com

Dr. Kenneth R. Beer, MD PA is board certified in both dermatology and dermatopathology, the microscopic study of the skin. He is one of the few cosmetic and surgical dermatologists to be credentialed in both specialties. Dr. Beer completed his residency in dermatology and fellowship in dermatopathology at The University of Chicago. He is a voluntary assistant professor at the University of Miami and a consulting associate in the Department of Medicine at Duke University.
Dr. Beer has authored numerous publications including several scientific articles and chapters in textbooks of Cosmetic Surgery and Dermatology. Among the publications Dr. Beer has published are articles comparing various topical creams with Botox, different types of fillers used to treat nasolabial creases and a host of others that have advanced the field of dermatology. He is renowned as one of the country's top experts in Botox and has published extensively in cosmetic dermatology journals, including "Cosmetic Dermatology," "Dermatologic Surgery" and is the author of the monthly "Cosmetic Clinic" for dermatologists that appears in "Skin and Aging" magazine. By combining his dermatology and dermatopathology expertise, Dr. Beer has become a leader in skin cancer surgery and reconstruction as well as cosmetic dermatology.