By Alan J. Bauman, M.D., ABHRS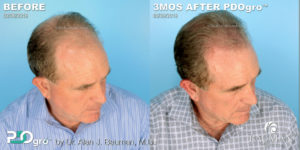 Genetics play a key role in many hair loss cases, but it's important to realize there may be other contributing factors as well. In fact, there are a host of epigenetic (non-genetic) and other issues that can be contributing to your hair loss, such as illness, medications, stress, styling regimens and other habits that can all accelerate hair loss. Hair follicles, just like other parts of the body, such as the skin, bones, teeth, etc., require proper care, nutrition, and treatments in order to keep hair youthfully thick and resilient. While the hair strand itself isn't alive, the underlying hair follicles are, and they need to be kept healthy or else you will soon find your hair becoming weak, brittle, dull, thin or even falling out.
As you begin putting your healthy resolutions into action, you may see the health of your hair improving as well. Here are some simple ways you can boost both your overall health and the health of your follicles.
Eat a healthy, balanced diet – Men and women who lack these key vitamins are more at risk of thinning and unhealthy hair – biotin, antioxidants, zinc, iron, Vitamin B and protein. Steep drops in these essential nutrients can force the hair follicles to shed their hair strands and go into a prolonged resting phase during which time no new hairs are grown. To ensure your hair stays healthy, or to give unhealthy hair a boost, make you're your diet is packed full of hair "superfoods," which include: lean red meat, fish, berries, pomegranate juice, beans, artichokes, and nuts. If you can stomach it, liver, with its abundance of iron, is one of the best foods for your hair.
Don't smoke – Male pattern baldness or Androgenetic Alopecia has its "roots" in the male sex hormone Dihydrotestosterone, which triggers progressive miniaturization of the hair follicles, based on age and hereditary risk factors. Social factors such as nutrition, diet, lifestyle, stress, medications all are believed to have an impact on the progression of male and female hair loss. Smoking restricts blood flow (think vital oxygen/nutrients/etc) to the skin and follicles, accelerating age-related changes. Researchers have recently shown that the more a man or woman smokes, the worse his/her baldness is likely to be – so add that to your list of reasons to quit!
Take your vitamins – Nutritional supplements like professional-grade "SuperBiotin," Viviscal PRO–made from marine protein, or perhaps the multi-nutraceutical Nutrafol which has a version specifically for postmenopausal women – are good places to start when looking for a hair vitamin to give your hair a boost. Nutrafol Male and Female are exciting nutraceutical products because they target more than one possible trigger for hair loss and hair thinning, including inflammation, the effects of cortisol (stress hormones), free radical damage, and others. Nutrafol also has a new "HairBiotic," a probiotic specifically for optimizing your gut microbiome for absorption of nutrients and managing inflammation for good quality hair production.
Don't stress – Stress affects the body in many ways; it is important not to underestimate the power of stress. However, usually, it takes severe, traumatic stress (like that related to a severe psychological or physical experience – a natural disaster, death in the family, or crash dieting) or chronic stress over time to cause hair loss. Some autoimmune diseases of the hair and scalp that cause patchy hair loss, like alopecia areata, can be precipitated or aggravated by bouts of stress.
Check your medications – There are many prescription medications that are known to be associated with hair loss. Some of the commonly prescribed categories of drugs that can exacerbate hair loss include antihypertensives (blood pressure), cholesterol/statins, hormone replacement like thyroid, birth control, testosterone, etc., certain mood modulators/antidepressants, antibiotics, anti-acne, antifungals, chemotherapy agents and more. Always discuss these side effects with your doctor before stopping any medications and ask your Hair Restoration Physician what you can do for your hair if you need to use them.
Give your scalp some love – New "Scalp Makeovers" are available to treat oily, dry, itching or flaking scalp as well as hair breakage, thinning and more. It's sort of like a high-tech facial for the scalp. Evaluations start with a detailed scientific "Trico-Test," performed by a trained trichologist and bespoke treatments range from sebum-regulating topical serums to scalp steaming and massage, moisturizing lotions, hair boosting stem cell-derived growth factors applied with microneedling, and organic transdermal patches.
If you're worried about hair loss or thinning, or looking for ways to boost the overall health of your hair, it is important to consult with an experienced hair restoration physician – someone who specializes exclusively in the medical diagnosis, treatment, and tracking of hair loss and hair regrowth. Patients should look for a doctor who is a full-time medical hair loss specialist who is certified by the American Board of Hair Restoration Surgery (ABHRS) and accepted by the International Alliance of Hair Restoration Surgeons (IAHRS).
For more information on how advanced hair restoration treatments can help you look and feel your best this year, please visit
www.baumanmedical.com or call 561-220-3480.
Tips on Finding a Hair Restoration Physician
A Hair Restoration Physician is a doctor who specializes exclusively in the medical diagnosis, treatment and tracking of hair loss and its treatment.
Look for physicians who are board-certified by the American Board of Hair Restoration Surgery (ABHRS), accepted members of the International Alliance of Hair Restoration Surgeons (IAHRS), recommended by the American Hair Loss Association and who have achieved elite Fellow status with the International Society of Hair Restoration Surgery (FISHRS).
Seek out a full-time specialized hair expert, not a doctor who is a "jack of all trades."
Due to the limited number of board-certified hair restoration physicians worldwide, prospective patients should be prepared to travel and take advantage of online Virtual Consultations.
Before choosing your doctor, visit the clinic, read reviews, ask for before-and-after photos and references, and, most importantly, ask questions. Get a second opinion if things don't "feel right."
Medical doctors who do not specialize in hair restoration (general practitioners, cosmetic and plastic surgeons, dermatologists, etc.) may not be up to date on the latest evaluation and treatment methods and hair transplant techniques. This can lead to delays in diagnosis, subpar treatment results and, in some cases, complications.