Massage Therapy Can Create a Healthy Home for Your Family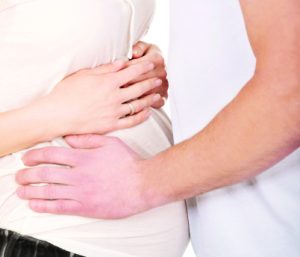 When it comes time to bring another human being into the world, we must consider the mothers' health a top priority, as well as her partner. Massage therapy provides a multitude of benefits for everyone involved, mom, baby & partner. It is ideal to get started at the beginning of the pregnancy all the way through birth and post-partum. Along with you, having your partner receive massages will help to put the entire family in a healthy state physically and emotionally, which creates a happy home atmosphere. We can all use a little peace and therapeutic touch in our lives.
The Benefits of
Prenatal Massage for Mom
First off, prenatal massage has tons of benefits for moms, which means the baby receives all of the natural chemical benefits too! It reduces lower back & foot pain, inflammation, stress, cortisol levels, depression, and anxiety. It also increases dopamine, serotonin, oxytocin, and relaxin. Those are basically all of your feel good hormones. Relaxin helps to create ease in hip mobility & flexibility by allowing your muscles, ligaments and tendons to stretch according to the needs of your pregnancy. You want your body to work with the changes that are happening to you physically for a healthy pregnancy, labor outcome, and for the newborn's well-being.
Benefits for Her Partner
Of course, there is a lot of focus on the mom and baby during pregnancy, but we can't forget the partner. Pregnancy is a family affair. We need to remember that this is a life-altering situation for the partner too. This means there will be stresses and concerns that cause the partner to be irritable, anxious or perhaps even feel as though they have taken second place in your relationship; and the baby hasn't even arrived yet. Couples massages help to diminish some of these stresses by incorporating a peaceful evening at home, for at least a few hours per month together. This gives you dedicated bonding time on a healthy level throughout the pregnancy that not only brings you closer, but it also sets the stage for a healthy home environment for the baby in womb & out.
The Vital Baby Connection
Having your massage therapist there for your family after your beautiful baby has arrived creates much needed emotional transitioning support for your household. This also provides the baby with an opportunity to receive the benefits of therapeutic touch outside of the womb for the first time. The amazing part is that the baby is already familiar with your therapist due to the "in womb connection" made during moms massage sessions. Infant massage creates much needed bonding with the partner and provides a more restful night sleep for everyone. This is why it is recommended to take the infant massage workshops to learn how to provide massage properly for baby.
Postpartum & The Family
The effects of postpartum will vary with each person individually and again, it is not just the mom going through the changes. Mom will want to take advantage of the relaxin in her body to assist in abdomen restoration through massage and other techniques. The family will experience emotional changes as they care for their newborn. These new sensitivities, fears, and realizations can create a somatic release through massage therapy. These releases can create a clearing for parents to step into their new roles in life with confidence guided by a loving connection with one another.
By now, you can see the significant benefits of having regularly scheduled massage therapy.
It just simply has a way of putting you in a space of rest, care, love and honor for your mind, body, and spirit in a world that doesn't always readily provide it for you. Take the time your family needs to stay healthy with therapeutic massage and experience the wealth of health.
Massage Myth Buster:
Q: It is not safe to get a massage in your first trimester.
A: FALSE
It is perfectly safe and conducive to a healthy pregnancy to receive massage therapy as soon as possible by a LMT specialized in prenatal massage. A trained and licensed therapist will know how to provide a massage that is efficient and safe.
Q: A "good" massage will always hurt.
A: FALSE
A good massage will put your body into a parasympathetic state which means it will be relaxed enough to assist the therapist naturally in the massage. When a massage hurts it put your body into a sympathetic state, fight or flight, and begins to release stress hormones, which is exactly why we need regular massages in the first place. Speak up if a massage ever causes you pain and your therapist will happily adjust the pressure accordingly. *Sports and other massages designed for structural repair are a different story.
About Mind Body Spirit Healing Center
At Mind Body Spirit Healing Center they provide the bodywork that works best for your specific needs. They treat each client individually, meaning no two clients get the same massage because no two bodies are alike. It takes a few sessions to explore what your muscles respond positively to, and customize your sessions for the best therapeutic results. As your body changes, so do your treatment. They are honored to provide you with these amazing therapeutic modalities.
To find out more about
Pre and Postnatal massage benefits,
or to schedule a therapeutic massage
appointment, please visit
MindBodySpiritHealingCenter.com,
or call 561.510.1080 today.