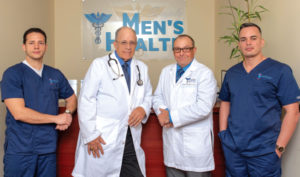 Want to put the spark back in your relationship? REJUVAnation Medical Center offers two revolutionary procedures RejuvaWAVE® and RejuvaEnhancement that turn back the clock on sexual vitality and vigor. With these advanced procedures, men of all ages can enjoy a spontaneous, active sex life once again, as they did in when they were much younger.
Simply Men's Health REJUVAnation Medical Center is a leader and pioneer in the field of men's sexual health. They use exclusive, patented, state-of-the art equipment RejuvaWAVE® (acoustic-pressure wave) combined with RejuvaEnhancement (umbilical stem-cell procedure) to reverse and cure the underlying cause of erectile dysfunction. No pills. No needles. No surgery.
These procedures naturally improve blood flow to the penis by stimulating the growth of new blood vessels and opening up blood vessels by removing micro-plaque. They optimize sexual performance, enhance size and fullness of erections, increase sensation, and reverse ED and Peyronie's Disease. Patients have seen incredible results in a very short amount of time.
"I'm in my '70s and have diabetes, bypass surgery and prostate cancer," says one patient. "I had tried everything and thought my sex life was over until I came to Simply Men's Health. The results have been amazing. They have restored my ability to enjoy a spontaneous sex life again. I feel like Superman!"
Owner of Simply Men's Health REJUVAnation Medical Center, Joan Katz, M.D., a Harvard-trained physician in preventive and anti-aging medicine adds, "Simply Men's Health was designed to be a haven for men to confidentially restore men's sexual vitality. With our exclusive RejuvaWAVE®, we reverse the underlying cause and restore spontaneity."
All exams and procedures are done by male physicians and medical providers. Men of all ages can benefit from the treatments exclusively found at Simply Men's Health, including younger men who want to enhance size, optimize their sexual performance and improve their sexual health.
The medical center, specializing in regenerative medicine, also treats and cures other common issues, including hair loss and low testosterone, and uses stem cell therapies for anti-aging, sports injuries, knee pain, arthritis and chronic conditions.
RejuvaWAVE® Shockwave Therapy to Cure ED and Peyronies Disease (PD)
Non-Surgical Hair Restoration
RejuvaEnhancement Priapus Shot
Bio-Identical Tesosterone Hormone Replacement
Umbilical and Amniotic Stem Cell Therapies for Auto Immune Conditions and Chronic Diseases
Knee and Joint Umbilical and Amniotic Stem Cell Therapies
IV Anti-Aging Regenerative Medicine
Medical Profiles Special Advertising Section
Simply Men's Health
Office Location
5405 Okeechobee Blvd.
Ste. 205
West Palm Beach, FL 33417
855-511-WAVE