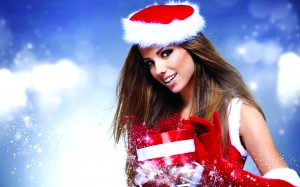 Everyone knows that the holidays can be a stressful time; getting the right gift for that special someone can be difficult. Here are a few suggestions to keep your stress levels low and your spirits in holiday cheer.
1) Don't spend money beyond your means. Don't buy silly gimmicky trinkets that will not be appreciated. A gift well thought out is best. Most people love to be pampered…Consider gift certificates. Gift Certificates are a convenient way to buy a nice gift without breaking the bank. They are available in dollar increments (starting at $10.00) of your choice or could be specific service or package of multiple services.
2) Discuss gift-giving costs with your loved ones. Grab bags are becoming more popular in families so that everyone can get a nice gift instead of a bunch of junky tchotchke that end up in the garbage or worse, stored. Buying a gift of health and beauty will be cherished and enjoyed.
3) Support small local business when purchasing. Find a place that has the same values that you and your recipient have. You will feel good about your purchase knowing that you are helping the economy grow instead of increasing the numbers of those big discount super stores.
At Healthy Life Salon you can do all of these things and feel good about your purchase. Healthy Life Salon is an Eco-Friendly hair salon and Organic Wine Bar in Downtown Boca Raton. We offer many products and services to help you stay healthy and beautiful.  Healthy Life Salon uses all organic hair products that are gluten-free, vegan, and have no artificial fragrance, silicone or drying alcohol.
Packages are available and can be purchased over the phone or at the salon.
If it is a new friend that you are buying for, think about a bottle of wine or bubbly. Bottles of Kosher, Organic and Sustainably Harvested wines in reds, white, and sparkling are available at Healthy Life Salon and Organic Wine Bar. It is so easy to give the gift of health and beauty.
Here are some of the packages available at Healthy Life Salon and Organic Wine Bar:
Feng Shui Beauty Makeover Package
$200 – 3 hours
Includes 1 Feng Shui Personal Profile Chart, 1 Cut & Blow-Dry, 1 Organic Manicure, 1 Organic Pedicure, and 1 Complete Make-up
Instruction.
It's fun to have your Feng Shui Personal Profile Chart completed. You will learn about shapes, colors and angles that best suit you based on ancient wisdom of Feng Shui. Get a fantastic cut based on your chart along with a relaxing organic manicure, pedicure, and all organic makeover.
Color My World
$250 – 31/2 hours
Includes 1 Feng Shui Personal Profile Chart, 1 Cut and Blow-Dry, 1 Dimensional Color, 1 Complete Make-up Instruction.
Truly for the most curious about Feng Shui Beauty, this package is for those in need of a whole new look. Organic Manicure and Pedicure can be added $75 (additional 90 minutes)
Event Package
$175 – 2 1/2 hours
Includes 1 Event Up-Style, 1 Organic Manicure,
1 Organic Pedicure, 1 Make-up application.
Great for any special event or prep for that weekend getaway. Learn how to easily take your up-style to a more casual look throughout the weekend.
Fast Beauty
$100 – 1 1/2 hours
Includes Blow Out & Hot Tool Set, Toe Polish Change, Fingernail Polish Change, Make-up Application.
Great for that gal that is on the go who needs a quick beautifying service.
Nourish Me
$100 – 1 1/2 hours
Includes 1 Aloe Vera Scalp Treatment, 1 Organic Manicure, 1 Organic Pedicure
Indulge your locks, feet and nails with wonderful scalp, feet and hand massage using all natural organic Aloe Vera and Pure Essential Aromatherapy Oils. Blow out can be added for additional $37 (add 30 minutes)
The Metro Man
$115 – 2 hours
Just for him, a wonderful way to experience organic grooming at its best. Includes a Men's Style Cut and Blow-dry, Organic Manicure, and Pedicure. Add a 1 hour Organic Facial for $75.
Purchase of any package entitles the guest to 25% off any glass or bottle of organic or kosher wine. Complimentary filtered water, organic tea or coffee are provided.
Healthy Life Salon is a quaint eco-friendly salon and day spa complete with an organic wine bar located in downtown Boca Raton. The owner, Juli Edwards has been a practicing licensed Cosmetologist for more than 25 years. Juli has experienced adverse effects of artificial fragrances and other harsh chemicals and therefore has built a salon with all eco-friendly materials (no formaldehyde) and uses organic based products exclusively. Services start at $15 and organic wine starts at $7 making it easy to experience Healthy Life Salon on a budget. Come enjoy the benefits of healthy products that really work and support a small local business!
To learn more about Healthy Life Salon, or purchase a package for that special someone contact Juli at Health Life Salon and Organic Wine Bar 561-891-7527.