By Dr. Alan J. Bauman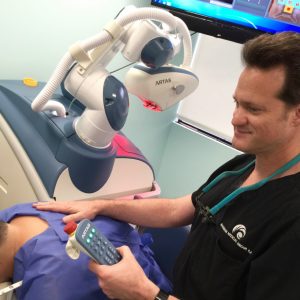 Permanently restoring one's hair to a more youthful and healthy state with a hair transplant can make you look and feel great. But, what's new in the field of hair transplantation that has improved patient comfort, downtime, naturalness and overall results?  The ARTAS robotic-assisted follicular unit extraction hair transplant is the latest advancement in the field of minimally-invasive surgical hair restoration. Follicular unit extraction, or FUE, is an advanced technique that leaves no linear scar and has a quicker, more comfortable recovery than traditional "strip" harvest procedures. Thanks to this new high-tech robotic system, experienced hair transplant surgeons are now able to safely perform FUE hair transplants with more precision, control and efficiency.
Currently there are just a small number of clinics offering the FDA-approved ARTAS robotic-assisted transplant system worldwide, but that number is growing rapidly as more consumers opt for less-invasive transplant techniques.
Here are four of the most frequently asked questions regarding robotic-assisted transplants:
1.    What can I expect in terms of downtime/recovery?
Patients choose minimally-invasive robotic FUE hair transplantation with the ARTAS system for a number of important reasons. First, they want the benefit of FUE—the no-scalpel, no-stitch technique of harvesting of follicles from the donor area. ARTAS transplants involve a simple, single-day procedure for most patients. Patients are typically awake and comfortable during the procedure, watching a movie or relaxing, listening to music. After the procedure, you're able to return home immediately. Most patients return to their usual activities within a few days. While this less-invasive technology has made recovery faster and easier; it is important for patients to understand that the process doesn't end with the surgery. Follow up care and commitment is necessary to ensure optimal results.
2.    Will my results look natural?
The combination of the artistry of the doctor and technology offered by robotic-assisted hair transplants means patients are getting the 'best of both worlds,' and the end result is hairlines that look incredibly natural and not transplanted. This is in large part thanks to an interactive software program, called the ARTAS Hair Studio. The ARTAS Hair Studio allows the surgeon to create a digital 3D preview image for patients, which helps paint an accurate picture for patients of what they can expect, to ensure that they have realistic expectations going into surgery. Once the plan is created and both the physician and patient have signed off, the 3D image is delivered to the robot for recipient site making. This imaging helps create an optimal site distribution that avoids damaging existing healthy hair. And because the donor area is just as important as the recipient area, the software aids in preserving the natural look of the area, with robotic precision.
3.    What are the benefits
of an ARTAS transplant?
Patients and physicians are drawn to robotic-assisted transplants for a variety of reasons, such as improved accuracy and precision of the graft-harvesting process. Not only does the robotic-assisted technique allow for reduced harvesting time, but also increased survival of harvested follicular unit grafts. The robot's optical guidance system works at 60 times per second to identify, measure and characterize available hair follicles for harvesting. Robotic FUE harvesting of grafts is performed hundreds to thousands of times during each hair transplant procedure session with a consistency of speed and accuracy that would be difficult to duplicate with the
human hand.
4.    Will it hurt?
Thankfully, major advances in medications and techniques now allow skilled hair transplant surgeons to safely perform procedures virtually painlessly.  Long lasting local anesthesia is used to keep all transplant zones comfortable during the procedure. Most patients will relax, nap, listen to music or watch movies while the transplant procedure is being performed. Over the past 20 years,
Dr. Bauman has developed a sophisticated "ouchless" hair transplant protocol of tools and techniques that are designed to keep patients 100 percent comfortable. After FUE procedure is performed, the vast majority of patients simply need a motrin, tylenol or nothing at all for comfort.
It is important to note that when selecting a hair transplant surgeon, it is important to make an informed and educated choice. Many hair loss patients are unaware of the qualifications, training and expertise needed to properly perform a hair transplant. As with other medical specialties, hair restoration even has its own board-certification. Before choosing a surgeon, it is important to know their qualifications, visit the clinic, read reviews, ask for before-and-after pictures and most importantly, ask questions. Not only should you look for a surgeon with the technical skills, but also a significant amount of artistry, which is also needed in order to recreate the natural patterns of hair growth and achieve realistic looking results.
To find a qualified hair restoration specialist, start by visiting the American Board of Hair Restoration Surgery, International Alliance of Hair Restoration Surgeons and the Fellows of the International Society of Hair Restoration Surgery.
Are you a candidate for ARTAS robotic-assisted FUE hair transplantation with board-certified hair transplant surgeon, Dr. Alan Bauman? For more information on the ARTAS Robotic-Assisted FUE Hair Transplant, visit baumanmedical.com and search key word "ARTAS robot." To learn more about Dr. Bauman, and Bauman Medical, visit www.baumanmedical.com or call 1-877-BAUMAN-9 or 561-394-0024.
Tips on Finding a Hair Restoration Physician
A Hair Restoration Physician is someone who specializes exclusively in the medical diagnosis, treatment and tracking of hair loss and its treatment.
Look for physicians who are ABHRS board-certified in hair restoration, recommended by the American Hair Loss Association and accepted by International Alliance of Hair Restoration Surgeons.
Due to the limited number of board-certified hair restoration physicians worldwide, prospective patients should be prepared to travel and or consult long-distance.
Before choosing your doctor, visit the clinic, read reviews, ask for before-and-after pictures and most importantly, ask specific questions about how hair loss is diagnosed, tracked and treated
in their clinic.
Find a specialist because primary care doctors, endocrinologists, plastic surgeons, and even most dermatologists, are not fully equipped to diagnose and scientifically track your hair loss and hair regrowth process.