By Lauren R. Rosecan, M.D., Ph.D., F.A.C.S. –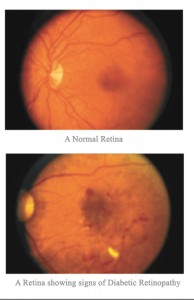 Diabetic retinopathy, the most common diabetic eye disease, occurs when blood vessels in the retina change. Sometimes these vessels swell and leak fluid or even close off completely. In other cases, abnormal new blood vessels grow on the surface of the retina.
The retina is a thin layer of light-sensitive tissue that lines the back of the eye. Light rays are focused onto the retina, where they are transmitted to the brain and interpreted as the images you see. The macula is a very small area at the center of the retina. It is the macula that is responsible for your pinpoint vision, allowing you to read, sew or recognize a face. The surrounding part of the retina, called the peripheral retina, is responsible for your side—or peripheral—vision.
Diabetic retinopathy usually affects both eyes. People who have diabetic retinopathy often don't notice changes in their vision in the disease's early stages. But as it progresses, diabetic retinopathy usually causes vision loss that in many cases cannot be reversed.
Diabetic Retinopathy Symptoms
You can have diabetic retinopathy and not be aware of it, since the early stages of diabetic retinopathy often don't have symptoms.
As the disease progresses, diabetic retinopathy symptoms may include:
• Spots, dots or cobweb-like dark strings floating in your vision (called floaters);
• Blurred vision;
• Vision that changes periodically from blurry to clear;
• Blank or dark areas in your field of vision;
• Poor night vision;
• Colors appear washed out or different;
• Vision loss.
Diabetic retinopathy symptoms usually affect both eyes.
Careful management of your diabetes is the best way to prevent vision loss. If you have diabetes, see your eye doctor for a yearly diabetic retinopathy screening with a dilated eye exam — even if your vision seems fine — because it's important to detect diabetic retinopathy in the early stages. If you become pregnant, your eye doctor may recommend additional eye exams throughout your pregnancy, because pregnancy can sometimes worsen diabetic retinopathy.
Contact your Eye M.D. right away if you experience sudden vision changes or your vision becomes blurry, spotty or hazy.
Diabetic Retinopathy Treatment – The best treatment for diabetic retinopathy is to prevent it. Strict control of your blood sugar will significantly reduce the long-term risk of vision loss. Treatment usually won't cure diabetic retinopathy nor does it usually restore normal vision, but it may slow the progression of vision loss. Without treatment, diabetic retinopathy progresses steadily from minimal to severe stages.
Laser surgery – The laser is a very bright, finely focused light. It passes through the clear cornea, lens and vitreous without affecting them in any way. Laser surgery shrinks abnormal new vessels and reduces macular swelling. Treatment is often recommended for people with macular edema, proliferative diabetic retinopathy (PDR) and neovascular glaucoma.
Laser surgery is usually performed in an office setting. For comfort during the procedure, an anesthetic eyedrop is often all that is necessary, although an anesthetic injection is sometimes given next to the eye. The patient sits at an instrument called a slit-lamp microscope. A contact lens is temporarily placed on the eye in order to focus the laser light on the retina with pinpoint accuracy.
Vitrectomy surgery – Vitrectomy is a surgical procedure performed in a hospital or ambulatory surgery center operating room. It is often performed on an outpatient basis or with a short hospital stay. Either a local or general anesthetic may be used.
During vitrectomy surgery, an operating microscope and small surgical instruments are used to remove blood and scar tissue that accompany abnormal vessels in the eye. Removing the vitreous hemorrhage allows light rays to focus on the retina again.
Vitrectomy often prevents further vitreous hemorrhage by removing the abnormal vessels that caused the bleeding. Removal of the scar tissue helps the retina return to its normal location. Laser surgery may be performed during vitrectomy surgery.
Medication injections – In some cases, medication may be used to help treat diabetic retinopathy.  Sometimes a steroid medication is used. In other cases, you may be given an anti-VEGF medication. This medication works by blocking a substance known as vascular endothelial growth factor, or VEGF. This substance contributes to abnormal blood vessel growth in the eye which can affect your vision. An anti-VEGF drug can help reduce the growth of these abnormal blood vessels.
After your pupil is dilated and your eye is numbed with anesthesia, the medication is injected into the vitreous or jelly-like substance in the back chamber of the eye. The medication reduces the swelling, leakage, and growth of unwanted blood vessel growth in the retina, and may improve how well you see.
Medication treatments may be given once or as a series of injections at regular intervals, usually around every four to six weeks or as determined by your doctor.
Lauren R. Rosecan
M.D., Ph.D., F.A.C.S.
The Retina Institute of Florida with four offices conveniently located in Palm Beach and Martin Counties.
Toll Free Phone Number:  1-800-445-8898 Or 561-832-4411
West Palm Beach
901 North Flagler Drive, 33401.
(561) 832-4411 Office. (561) 832-1591 Fax
Palm Beach Gardens
11382 Prosperity Farms Rd., #128, 33410.
(561) 627-7311 Office. (561) 627-6791 Fax
Stuart
618 East Ocean Blvd., #3, 34994.
(772) 287-7026 Office. (772) 220-4186 Fax
Boca Raton
1050 NW 15th Street, #114, 33486.
(561) 368-7723 Office. (561) 368-0093 Fax