By Alan J. Bauman, M.D.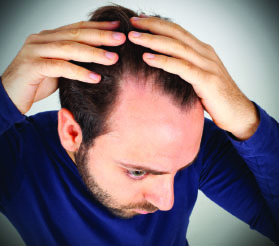 The hair restoration field is constantly evolving and advancing, as each year, we learn more about the root causes of hair loss. Each discovery is bringing us closer and closer to not only understanding why we lose our hair, but what we can do to both treat, and prevent it.
We've already taken another step forward in 2016, with two new studies, which both found that hair follicle stem cells play a large role in age-related hair loss. These findings confirm what many hair restoration experts have known for some time, that stem cell therapy will no doubt play a key role in reversing hair loss, stimulating hair growth, and ultimately preventing hair loss in the future.
While these scientific findings are exciting for those of us in the field, they don't mean a lot to hair loss sufferers, at least not yet. And while stem cells may be playing a role in your hair loss, there are also a
number of other reasons why you are losing your hair.
Here are 6 Possible Reasons You Could Be Losing Your Hair:
Genetics – There are approximately 200 genes that regulate hair growth. Both men and women can inherit "the hair loss gene" amongst other hair characteristics that make hair loss more significant. After puberty, the hereditary hair loss genes can take over—causing a gradual and progressive miniaturization of hair follicles. As our hair ages, the follicle function diminishes in proportion to hereditary risk.
Hormones – This is especially important for women, because at times in a woman's life when hormone levels change—birth control pills, childbirth, menopause, hormone replacement therapy, etc.—sometimes there's an association with significant hair loss. Scientific studies suggest that some women may be genetically predisposed to be sensitive to androgens (even small levels), which are are known to be the primary trigger for hair loss in men.
Health – Your health can play a large role in the health of your hair. Weight loss, thyroid disorders, stress and other health-related issues can also cause hair loss. Additionally, certain medications may also cause hair loss, such as: oral acne medications with retinoids, antibiotics, antifungals, antidepressants and other mood modulators, birth control pills and other hormone treatments, anti-hypertensives, cholesterol-lowering drugs, immunosuppressants, and more.
Physical Damage – Women who wear hair extensions, braids and tight ponytails can cause lasting physical harm to hair follicles, resulting in a type of permanent hair loss known as traction alopecia, a form of scarring alopecia. Even men who frequently sport a "man-bun" can be at risk. Additionally, using harsh chemicals like bleaches and dyes, blow dryers and flat irons, and combing the hair when wet puts the hair strands themselves at risk of damage and breakage.
Diet – Our follicles need certain types and amount of nutrients to produce healthy hair, so when you engage in unhealthy dieting (such as crash diets) or have nutritional deficiencies – particularly in calories, protein, iron, zinc or vitamins A, B, C – you become at risk of a short-term hair loss condition known as 'telogen effluvium.' This risk is compounded for those who are already genetically predisposed to hair loss.
Scalp Conditions – An unhealthy scalp, and certain skin conditions, such as dandruff, psoriasis, and fungal infections, can cause inflammation, which can make it difficult for hair to grow. A medical analysis of the scalp can also identify problems such as imbalances in sebum, pH, hydration, toxin and cortisol levels, which can be contributing factors in unhealthy hair, as well as hair loss and thinning.
Hair loss may be due to one or a number of factors. If you are concerned about hair loss, or would like more information on the growing number of effective treatment options, you should contact a board-certified hair restoration physician— someone who specializes exclusively in the medical diagnosis, treatment and tracking of hair loss and its treatment. These specially trained physicians have had extensive training specific to treating hair loss, and have up-to-date knowledge of the newest treatment options. Unlike primary care physicians, hair restoration physicians will use advanced diagnostic tools, like the HairCheck device, which helps to accurately assess hair loss, growth and breakage on any on any area of the scalp, to help determine the extent and rate of the patient's hair loss.
Once the extent of your hair loss has been identified, your hair restoration physician may recommend both pharmaceutical and lifestyle changes as part of your treatment regimen. Medical treatments that will help mitigate hair loss include a specially compounded prescription Formula 82M minoxidil solution, platelet-rich plasma injections (PRP, also called the 'vampire hair growth treatment'), prostaglandin analogs, low-level laser therapy, and nutritional supplements. In advanced cases, hair transplantation via NeoGraft FUE, or the ARTAS robot, may be the patients' best strategy for treating their hair loss. These state-of-the-art techniques are only available through board-certified hair restoration surgeons, and require both proper planning and artistry for natural-looking results.
We may not know exactly why some people lose their hair, and others don't, but we do know that hair loss is no longer inevitable, it's optional. Remember, early detection and intervention give you the best chance at saving the hair that you have, and reversing the loss.
Weapons to Fight Hair Loss
PRP Hair Regrowth – Does our own blood hold the cure for baldness?
A new "vampire" cell therapy treatment called PRP or Platelet Rich Plasma concentrates platelets from a small sample of your own blood and re-injects them back into the scalp to rejuvenate weakened hair follicles in a quick and effective non-invasive outpatient procedure.
Laser Therapy –  Low-level laser therapy has become an accepted standard in the treatment of hair loss, including FDA approved laser caps that are easy to use and hands-free.
NeoGraft FUE Hair Transplant: The "Cadillac" of transplants. NeoGraft FUE is a machine that allows doctors to perform a hair transplant surgery with remarkable precision and without scalpel or stitches.
ARTAS Robotic Hair Transplant – The Artas Robotic System is an image-guided robot that can harvest up to 1,000 hair grafts in a single hour – which makes hair transplant surgery faster and safer.
Formula 82M – A new upgrade on the FDA-approved topical treatment minoxidil (aka Rogaine). Formula 82M has a better delivery mechanism, less side effects, and dramatically improves the efficacy of this powerful treatment.
Genetic Tests for Hair Loss – Do you have the hair loss gene? With a simple swab of the cheek, you can accurately determine your chances of going bald later in life!
HairCheck – By the time hair loss becomes noticeable, you've already lost 50% of your strands! A new gadget now makes it possible to track your hair count and spot hair loss early on, before it's too late.
Future Treatments – Hair cloning and stem cell therapy are just a few of the future treatments now in development.
Bauman Medical Group
Hair Transplant and Hair Loss Treatment Center
1450 S Dixie Hwy
Boca Raton FL 33432-7359
Toll Free: 1-877-BAUMAN-9
Tel: 561-394-0024
Fax: 561-394-4522
Email: doctorb@baumanmedical.com