By Dr. Kerri White –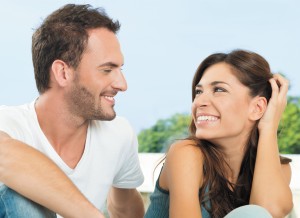 Fifty-four percent of the U.S. population ages 50+ can attest that a smile is the feature that can overcome decades of birthdays most attractively, according to an Aging and Beauty Study. One of the easiest ways to dramatically improve your smile is having your teeth whitened at the dentist.  A bright, white smile is a symbol of health, youth and well- being.  With all the whitening products available today it can be a little overwhelming and a previous bad experience can be keeping you from getting the smile you deserve to have. There are a few factors you should consider before deciding which system is right for you.  Just as people's teeth stain differently, so do whitening results vary from person to person.
The three main causes of darkened teeth are certain foods/drinks, antibiotics and genetics.  Smoking, coffee, tea, red wine, carrots, oranges, and other foods with tannins or acids can yellow and darken the teeth.  Exposure to high levels of fluoride, tetracycline, and use of antibiotics as a child are also factors contributing to the darkening of teeth.  Teeth affected can range from dull and yellowing to dark brown and grey. The thickness of enamel you were born with also has an impact.
For those with less severe staining who want to brighten up their smile, there is a variety of one hour in- office whitening systems available.  They typically range between $199-$499.  The difference in price usually reflects the difference in peroxide concentration levels.  The higher price should mean higher whitening power.  I personally use The Venus Whitening Max system by Heraus for my in-office one hour whitening's.  It has a high 38% whitening power and is safe on enamel.    As a comparison, the Crest White Strips and most over the counter products are usually around 6% or less.
For more severe staining multi-visit whitening system with take home bleaching may be necessary.  These usually consist of having impressions made and wearing bleaching trays at home for a few weeks along with a few in-office visits.  This type of whitening produces the best results possible.  There is a wonderful product that has been available for the past few years that I use at my office it's called Kor Deep Bleaching System.  If you want your teeth as white as they can be and you don't mind a bit of homework it's the way to go!  It can even whiten teeth that have severe tetracycline staining. You can also continue whitening at home and do touch ups with the trays to keep your teeth permanently white.
Some patients will experience sensitivity to hot and cold while whitening and others don't feel a thing.  This can depend on the thickness of enamel, any gum recession you may have or the size of your teeth's nerves. Most tooth sensitivity cases can be easily managed by your dentist.  Your dentist can also protect your gums from being irritated by the whitening solution.
With so many great options available there's no reason you shouldn't be enjoying a bright, white smile of your own!
I invite you to come to our office and try the one hour Venus Max Whitening for the Give Back a Smile Whitening Charity.  100% of proceeds are used to help victims of domestic abuse regain their smiles through cosmetic dentistry.  You get to try one of the best one hour whitening systems for a discounted fee and you get to give back a smile to someone that needs it!
Why wait?  Whiten your teeth today!
White Smiles of Boca – Dr. Kerri White
200 W. Palmetto Park Rd., Ste 103
561-395-4948
www.whitesmilesofboca.com