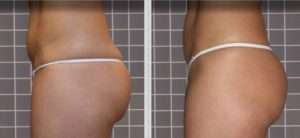 Carmen Care Laser was founded in 2013 and is the only clinic in south Florida specializing in all types of lasers for wellness and health. Over the years, they have treated hundreds of patients with painful symptoms of the musculoskeletal system that are often attributed by disorders such as, arthritis, fibromyalgia, back pain, sciatica, migraines, and neuropathy just to name a few.
Laser Therapy or Low-Level Laser Therapy is a treatment that utilizes specific wavelengths of light to interact with tissue. It can be used on patients who suffer from a variety of acute and chronic conditions in order to help eliminate pain, swelling, reduce spasms and increase functionality. When the cells are stimulated through laser therapy, pain is 100% naturally reduced.
The Aesthetic Discovery
"Laser works!" Leslie Carmen, founder says. "You just need to treat the root cause and the source of the pain! But as we were treating patients, we saw that not only was the patient getting relief from years of pain even after surgery, but also old scars would diminish in size and shape. Even skin discoloration and swelling would improve. These were all aesthetic side effects of the laser stimulating microcirculation."
So when Bella Shape (known as Icoone® in Europe) was introduced to the US, Carmen Care Laser jumped on the opportunity to be one of the first clinics to use this patented technology for body shaping and skin rejuvenation using the power of light and laser. This innovated combination of FDA cleared techniques offers a gentle yet efficient skin stimulation for improving the appearance of cellulite while reducing body contouring. The Bella Shape can be used for lymphatic drainage, which has a detoxing effect and can relieve pain, edema, and inflammation.
Leslie reports, "The results have been remarkable, Bella Shape Laser works! When used on the neck and face wrinkles diminish and the skin tightens visibly, often after just a few sessions."
What better time of year to try Bella Shape!
Preparing for holiday parties, dinners, family get-togethers, and events are always a little easier when you're feeling confident about your body. We've all been there, stubborn bulges, dreaded cellulite, and loose skin can make us feel less likely to wear our favorite dress with confidence.
Working out and eating right often fall short in our stubborn areas and as we age, many of us lose the firmness in our face and body that we once had.
Bella Shape Benefits
• Firms skin
• Improves laxity & texture
• Reduces cellulite
• Fat reduction
• Works on the body & face
• Reduces fine lines
• Lightens discoloration
• 100% Natural Cell Stimulation
• No downtime
How it Works
The Bella Shape Laser is a comprehensive, non-invasive, body-shaping technology. It works in three very distinct ways. The first is through a motorized massage that gently lifts, suctions and rolls the deep layers of the skin and underlying fat. The second is through the LED light that can permeate through the fat cell membrane. While this fat is penetrated, the continual massaging motions send the fatty deposit and fluid (edema) into the lymphatic system for drainage.
The third component of Bella Shape is the diode laser. It's well documented that diode lasers can penetrate and absorb lipids (fat) by creating a thermal result that melts the fat membranes.
What's even more unique about the Bella Shape Laser is that the rollers are perforated with tiny holes to increase blood flow and nutrient delivery to the skin's layers, allowing collagen and elastin stimulation to rapidly smooth and firm the skin.
It does usually take 10 treatments to see the full effect, but changes can absolutely be seen after just a few treatments.
The perfect holiday gift is at your fingertips; with no pain and fast results, isn't it time for you to get your glow and firmness back now?
Please call 561-405-9577 to schedule your complimentary consultation to discuss your beauty goals, or to learn more about Carmen Care Laser's therapeutic pain relief treatments.
Carmen Care
3301 NW 2nd Avenue, Suite 100,
Boca Raton FL 33431
561-405-9577
carmencarelaser.com