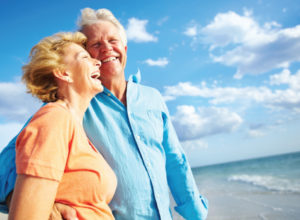 When you're dealing with chronic pain, it's difficult to focus on anything other than your discomfort. The agonizing and sometimes debilitating pain can cause us to lose out on the important things, like spending time with our families, being productive at work, and even the simplest daily activities can require monumental strength to muster through them. In the U.S. over 100 million people reportedly suffer from some form of chronic pain. Living with pain on a daily basis can become intolerable and for this reason, many people suffer with addiction.
Pain Management & Addiction
The most common treatment for chronic pain is to mask it with narcotic prescription pain medications. Narcotics like Opioids are highly addictive, and our state is currently leading the country in abusing the drug and overdose episodes.
The CDC reports that nearly half of all opioid-related deaths are due to the narcotic being prescribed for pain related circumstances such as lower back pain, nerve and joint disorders, arthritis and spinal injury. They also estimate that 42,249 deaths annually are related to opioid overdose, and that number s on the rise.
CBD for Pain
The advantages of cannabidiol (CBD) in treating a wide array of conditions from multiple disorders is hard to dispute. Many patients who have suffered for years with chronic pain and have become dependent on narcotics have not only had improvement in their pain but have also been able to stop narcotic use altogether.
Cannabidiol offers many of the same benefits of THC, without the unwanted psychoactive effects. Some of its potential benefits include reducing inflammation, pain killing effects, anti-anxiety and anti-depressant properties.
Arthritis affects approximately 350 million people worldwide and nearly 40 million in the United States alone. Many arthritic conditions vary in severity as well as how they impact the body. The way the most common types of arthritis attacks the body have made CBD an obvious choice for eliminating these symptoms the most ordinary form of arthritis is osteoarthritis, which is caused by wear and tear on the body as we age and affects seniors more than any other age group. On the other hand, you have rheumatoid arthritis, which is an autoimmune disease.
In the end, regardless of what type of arthritis you have, it is guaranteed to cause pain in one or more of your joints due to inflammation and deterioration. A study conducted by Jason McDougall from the Departments of Pharmacology and Anesthesia, and Pain Management and Perioperative Medicine at Dalhousie University in Halifax, Nova Scotia in Canada, found that CBD was shown to be effective both at reducing the pain associated with osteoarthritis, and reduced further nerve pain associated with osteoarthritis through an anti-inflammation pathway. The study, published in December 2017, was conducted on male Wistar rats, but could show promise as identifying CBD as a prime candidate for a natural Arthritis relief.
Even though it is not prescription, CBD derived from Hemp Oil is becoming a trusted source of many medicinal benefits. CBD can be used to target many conditions.
Customers of Your CBD Store have experienced the following health benefits of CBD Oil:
• Alleviates Seizures
• Arthritis
• Controls & eases muscle spasm
• Anti-nausea
• Anti-psychotic
• Anti-tumor factors
• Brightens skin
• Cancer cell death
• Cancer cell growth inhibitor
• Fights viral infections
• Improves sleep
• Reduces anxiety
• Reduces beta-amyloid plaque
• Reduces cognitive impairment
• Reduces Seizures/anticonvulsant
• Reduces inflammation
• Relaxes organs and tissues
• Relieves pain
Why Choose Your CBD Store?
Their SunMed Products are Superior!
SunMed Broad Spectrum Hemp Oil products are made with the highest quality, organically grown hemp; it comes from Denver, Colorado and is registered with the Colorado State Department of Agriculture. The phytocannabinoid rich (PCR) hemp has a naturally high CBD level, as well as an abundance of other beneficial cannabinoids (CBG, CBN, CBC) as well as flavonoids, terpenes and essential amino acids.
While most CBD oil companies extract CBD making a pure CBD isolate, SunMed offers a high-CBD broad spectrum hemp oil, without the THC. By extracting the THC patients can gain the benefits of other cannabinoids and terpenes that are lost in pure CBD oil products available from other brands.
SunMed Broad Spectrum Hemp Oil and SunMed Hemp Oil products are intended to be used as an herbal supplement. Please consult your doctor before you quit taking any medications with intentions of replacing them with the natural and holistic option of CBD.
These products have not been reviewed by the U.S. Food and Drug Administration (FDA) and are not approved treatments for any medical conditions.
Your CBD Store of Lakeland
At Your CBD Store, we believe in bringing the highest quality CBD products to market. We formulate our products with our customers' needs in mind, using other cannabinoids and terpenes, creating unique synergies that increase efficacy, target specific ailments, and increase the binding of CBD. We believe you the customer should see our product from soil to oil and should be seeing the best product on the market along that journey. By setting the standards in the CBD industry, Your CBD Store is moving plant medicine to the 21st century.
Your CBD Store
3145 S FL Ave., Lakeland, FL 33803
(863) 937-3195
Lakeland.CBDrx4u.com