by Janet Robbins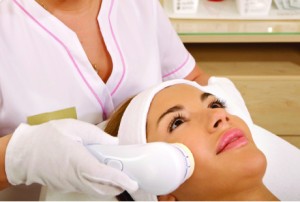 Looking to get rid of unwanted hair? It's a common concern. And there are two primary options available, electrolysis and laser treatment, but how do you know which one is best for you. Well, read on. There are many factors to consider, and it's always best to meet with your specialist first (I give a free consultation for first-time patients), so that you can make a smart decision. Even if you think you know what you want, everyone is different, and hair removal is customized to each individual.
What's the Difference?
•    The biggest difference between electrolysis and laser hair removal is that electrolysis eventually eliminates hair growth permanently with enough treatment sessions. Laser treatments are a form of hair reduction but are not approved as "permanent" by the U.S. Food & Drug Administration (FDA); whereas, electrolysis is. The FDA does approve all medical-laser devices and specifies that laser services may make the claim of "permanent hair reduction." In the FDA's words, this means a steady reduction in re-growth after a treatment regime.Ultimately, both can be highly effective, butelectrolysis will achieve a more sustained and intensified result.
•    Another big difference is hair color. If you have blonde, white or red hair, you will only benefit from electrolysis.
•    Several other variables should be taken into consideration by the consumer who's undecided between these two methods–namely, the amount of time you have to devote to getting rid of body hair, how much discomfort you are willing to tolerate, how much money youcan spend (don't forget to consider the cost of razors, which has skyrocketed) and if these various procedures will give youyour desired results.
About Electrolysis
•    If you choose Electrolysis, be sure to select an experienced, skilledprofessional. Electrolysis can be a time-consuming procedure, depending on the size of area treated and the hair density of that area.  Electrolysis involves removing one hair follicle at a time. A thin probe is inserted into the skin next to the hair root and delivers a small jolt of electricity that kills the root.
•    Getting rid of hair on a small area of the body, such as the upper lip, can take only an hour, while removing hair from a large body part, such as the back, can take upward of 150 hours. Some hair follicles will grow back and require additional electrolysis treatment. Electrolysis also can be used to clean up hair in between and around the eyebrow area, while laser hair removal cannot be used to remove hair around the area of the eyes due to safety issues.
About Laser Hair Removal
•    Removing hair using laser treatments is far less time-consuming, less painful and can be less expensive than electrolysis. Laser treats a cluster of hair and is a technology of light looking for a dark attraction. The darker the hair, the better the results. The follicles themselves are destroyed using heat without causing permanent damage to the skin.
•    Some people see up to 80 to 90 percent permanent hair reduction with treatments. Removing hair from a small area on the face can take minutes, while removing hair from the legs or back could take 45 minutes to an hour. The Laser Hair Journal, a site maintained by professional dermatologists, states that between four and seven laser hair-removal sessions are usually required to get the best results for "good candidates" for this procedure.
The "Good Candidate" Factor
•    Electrolysis works the same for everyone, regardless of skin tone and hair color. But when it comes to laser hair removal, there are other considerations. Genetics, lifestyle, medications and age all come into play. In fact, all of these individual facets should be taken into account for any skincare treatment.
What's the Bottom Line?
•    In the battle of laser versus electrolysis, how do you know which one is right for you? Sometimes it's a combination of both for best results. For instance, using laser on larger areas or areas that have a lot of thick, dark hairs and then use electrolysis to get rid of whatever is left over. I prefer electrolysis for the eye area and areas where you have thin, sparse hairs.
•    Most importantly, consult with a professional who specializes in both procedures and has years of experience.
At Reflections Laser & Wellness Center we have been providing both Electrolysis and Laser Hair
Removal for over 20 years.  Let us help you determine the best option for your hair removal needs you can reach our offices at 561-221-1462, and visit our website for more information about the services we offer www.reflectionsflorida.com .
JANET ROBBINS,
Ceo And Founder
of Reflections
Laser & Wellness Center
Janet Robbins is considered a pioneer in her field as a clinical medical esthetician, certified clinical electrologist, licensed massage therapist and certified skincare instructor for GlymedPlus Skin Science Institute. With more than 20 years of experience and a degree from the Florida College of Natural Health, she maintains a commitment to ongoing self education, including in the areas of anti-aging and bioidentical hormone replacement modalities.
In 2004, she opened her first laser and wellness center with the belief that healthy skin starts from within. Janet's scientific approach to rejuvenating skin led her to expand into a total health and wellness field, bringing eastern and western medicine to her practice.
Janet is the creator of the 350-hour aesthetic program at the Alpha Institute of Massage & Aesthetics, now known as the Palm Beach Academy in Lake Park. She now has her own advanced training facility for licensed professionals. She sits on the Electrology Advisory Board for Anton Academy of Massage & Aesthetic in West Palm Beach, is a consultant with Health & Wellness Magazine and has been featured in Society Magazine and Florida Woman.
My passion is to educate both the professional and the consumer.
Janet and her Center support the American Cancer Society, the Cancer Alliance of Help & Hope and Susan G. Komen South Florida.
Ask about a complimentary consultation.
Reflections Juno Beach
Laser & Wellness @ Andre Jourdon Salon: 13901 US Highway 1 Ste 6, Juno Beach, Fl
Reflections Boca Raton
Laser & Wellness Center: 2499 Glades Rd Suite 302, Boca Raton, Fl
561-221-1462
'