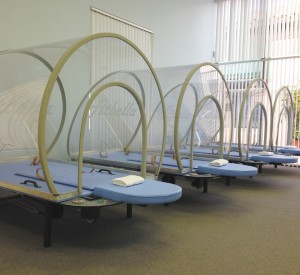 The knowledgable and friendly staff at Fitbella, a weight loss and fitness center, have proven to be successful at providing a natural and healthy way for women to lose weight, get fit and live better.
If you are tired of trying numerous diets and exercise programs but not getting the results you would like; the unique approach that Fitbella offers may be just what your body needs to reach and maintain a healthy lifestyle. Fitbella offers a spa-like atmosphere in which clients complete a tailored low impact workout followed by a detoxifying steam bath.
The Fitbella method is unlike any other fitness program available in the area. You execute a customized personal workout inside a Fitcapsule, under the instruction of a trained Fitcoach. The Fitcapsule is a large capsule heated to 98 degrees, maximizing the benefits of reshaping the body. Working closely with the Fitcoach, you complete a combination of targeted muscle movements while the warmth reactivates the metabolism in about 30 minutes. One 20-30 minute workout in the Fitcapsule is equivalent to about an hour-and-a-half at a regular gym.
Following the workout, you relax in the Fitbath, a steam bath designed to detox, smooth, tighten and hydrate skin.
During the initial visit, the Fitcoach will conduct a Fitcheck to aid in developing individualized workouts that specifically target certain trouble areas for each client. Every woman is unique and as such requires a unique approach to total body wellness. Proper nutrition is vital to the success of maintaining a healthy lifestyle. Taking into consideration your current lifestyle, the Fitcoach will be able to recommend structured diets and nutritional guidance to ensure your success.
Fitbella is more than just a weight-loss method, it is a lifestyle. It is a natural healthy way for women to lose weight and be fit.
For more information about the Fitbella approach to total body wellness, contact Melissa Rabino at 775-0122 or email at pbg@fitbella.us.
Fitbella is located at 2401 PGA Blvd., Suite 128, Palm Beach Gardens, in the Harbour Financial Center. See fitbella.us, facebook.com/fitbellausa and on Twitter @fitbella_ usa.