By Marc Murray, Life Coach –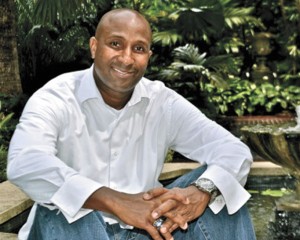 It was minutes before we were to run out of the tunnel to compete against conference foe Middle Tennessee in an Ohio Valley Conference football showdown in 1986. James Clark, who played linebacker for Murray State University, stood up and gave one of the most memorable speeches I have ever heard from a teammate in the eleven years I played on the gridiron. James' speech was not sophisticated, yet what he said was very powerful, allowing me to stretch my imagination. James simply proclaimed, "Today we have to reach for the stars! We have to aim high so reach for the stars when you go out on that field! But if we don't reach the stars the sky ain't so bad!" In a moment, my paradigm shifted, I became flexible enough to receive his message.
I am now a Life Coach and Certified Personal Trainer. I frequently work with athletes of all levels who want to improve performance. In the initial meeting I look for a person's ability to move both physically and mentally. I am looking for the one thing that I know must be prevalent in their physiology and psychology before speed, strength and vertical leap can improve. That one thing is FLEXIBILITY.
Physical flexibility is readily apparent, and a familiar term to most people. However, mental flexibility is intangible. People find it hard to define, and it is often the obstacle standing in the way of goal achievement. The way you personally perceive the world, yourself and your abilities is true. From that perception you create your own limitations or successes. Just as physical flexibility can change, range of motion can improve – so can mental flexibility. It requires guidance, exercise, and at times feeling a little discomfort.
Ask anyone who has attended a Yoga class for the first time. The feeling of discomfort, emotional uncertainty, and confusion can be overwhelming until the instructor offers encouragement. The same is true for flexing the mental muscle. Encouragement and direction are key in making changes in flexibility to reach your goals.
What was once seen as an obstacle can be a stepping stone, an impossibility a reality. Learning to stretch your mental muscle allows you to find solutions to challenges more readily. It enables your emotional brain to remain in check and valued while engaging the rational self. Flexibility allows you to move from different perspectives readily, explore multiple options, and find the road to your personal dreams.
Ellen Langer, psychology professor at Harvard and author of Mindfulness, reveals that we should think "flexibly". We should be mindful of all the different possibilities and not to close ourselves off from information that could help us.
This past summer I created a training program for Olivia DiCarlantonio. Olivia was about to enter her freshman year at Ohio State as a student-athlete to play lacrosse. In addition to incorporating a physical flexibility routine into her workouts, I also recognized that she needed more endurance training to meet the standards of the Buckeyes Women's Lacrosse program. Olivia came to me in good shape and was a very hard worker. Nevertheless, I stepped up my game and included uphill sprints, resistance, plyometrics and core training. Olivia did exceptionally well. However, incorporating 400-meter runs before and after workouts put Olivia to the mental test. It was my way of telling her to reach for the stars. Reaching for the stars would be painful for her, but I knew it would be worth the outcome. On one particular day I trained Olivia for almost two hours. After the workout I told Olivia I wanted her to do a 400-meter run, she gasped, and then accepted the challenge. Olivia flexed her mental muscle and ran a faster time than she did in previous workouts when she had fresh legs. That day she reached for the stars and found the sky. Weeks later she held a star in her hand when she texted me that she passed a rigorous fitness test for the Ohio State Women's Lacrosse team. What star do you want to go after? What goal have you not committed to because of the mental flexibility it requires? James' speech stretched us that day and the Racers defeated Blue Raiders, winning the Ohio Valley Conference that season which was more than just stargazing.
Marc is the owner of Marc Murray Life Coaching and Consulting. He is also the Founder and President of Marathon Athletics, Inc, A Non-For-Profit organization that focuses on encouraging young male athletes to become better leaders.
He has 5 years experience in the fine dining hospitality industry and was trained by the Ritz Carlton Hotel Company in Palm Beach, FL where he was chosen by the executive committee to receive the prestigious Five Star Employee Award in the early nineties.
Marc has contributed the majority of his professional life, a total of 16 years, to education. He worked as a teacher for 5 years in private school and spent 11 years in administration with the Palm Beach County School District.
He played collegiate football at Murray State University for current Virginia Teach Head Coach Frank Beamer. While at Murray State he played an important role in helping the Racers win the Ohio Valley Conference Championship in 1986.
Marc has committed himself to designing a life that he can be proud of. His desire is to help others reach their potential with skillful coaching and practical tools. He is especially gifted in connecting with the Millennial Generation, and is passionate about motivating and giving them specific strategies on how to achieve their dreams with confident determination.
Call Marc for:
Expert Life Coaching
Dream Building Workshops
Motivational Keynote Speaker

561.358.3741
www.marcmurraylifecoach.com