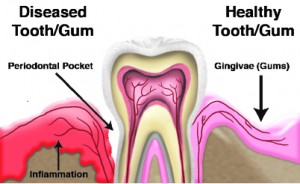 A Center for Disease Control and Prevention (CDC) study revealed that one out of every two adults over the age of 30 has periodontal disease. The report revealed that 47% of these cases involve more advanced forms of the disease. In adults over the age of 65, 7 out of 10 individuals are likely to have periodontal disease.
What is Periodontal Disease:
The disease itself consists of chronic inflammation the affects the gum tissue and jaw bone supporting the teeth. If untreated, the situation could lead to irreversible jaw bone and tooth loss. Equally important is the more recent research linking periodontal disease to other significant illnesses such as Diabetes and Cardiovascular Disease. Periodontal disease can be considered an important risk factor for stroke and heart attack.
Importance of the Study:
This research is the first of its kind to evaluate patient's full mouths (not only isolated teeth) for the presence of the most destructive form of the disease, Periodontitis. Previously, it was not believed to be as widespread in our population. Results of the study revealed that the disease occurs with a higher frequency in men than women (56% to 38%). In addition, smokers were also found to have an increased risk of periodontal disease (64%).
The significant prevalence of the disease becomes even more important when paired with the fact that it increases as we age. Today, we on average live longer and keep more of our teeth than previous generations. Clearly, living longer lives and retaining more teeth as we age, will likely lead to an even higher rate of prevalence of periodontal disease.
Determining If You Have Periodontal Disease:
The American Academy of Periodontology recommends an annual comprehensive periodontal evaluation. This painless assessment typically includes a review of your current x-rays, along with an evaluation of the gum and bone health around your teeth. In addition, a risk assessment for future development of the disease can be determined. Fortunately, there are a number of options available when treating periodontal disease, many of which are pain free. The best option for each individual patient can only be determined after a true assessment of the teeth and gums are performed.
Lee R. Cohen, D.D.S., M.S., M.S.
4520 Donald Ross Road, Suite 110
Palm Beach Gardens, FL 33418
Phone: 561-691-0020
www.pbcperio.com