By Dana Luzon, Au. D. , CCC-A, FAAA, Board-Certified Doctor of Audiology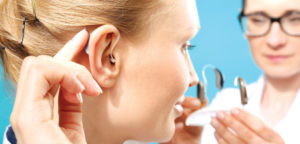 When choosing a doctor for any healthcare need, how do you find someone who will take care of that health issue? Doctors, friends, and family members often have someone they know and trust who can help with your hearing care needs. But when it comes to finding a hearing healthcare provider, how do you decide who is right for you? Investment in better hearing should be measured by the results you experience every day.
According to leading consumer research, two out of every three hearing aids are improperly fit.
Hearing devices are not calibrated automatically; by themselves, they are not effective. They are not a
"retail purchase"and are not one size fits all. The ability to integrate your devices with your lifestyle is essential to achieving better hearing, and a doctor of audiology is the most qualified, trained professional to do this. They set up the aid, teach you how to use it, and manipulate it specifically for you and the listening environments that are most important to you. Hearing loss is a health problem, requiring a health care professional to treat it.
At Audiology and Hearing Aids of the Palm Beaches, we take a concierge approach to hearing care. We work closely with you to make sure we meet all of your hearing healthcare needs. Included with the treatment plan are a 75-day trial and adjustment period, 3 years of office visits, 3-year manufacturer warranty including loss insurance, free batteries for the life of the devices, and a home for your hearing healthcare.
I would like to share this true story from a current patient:
"I met with two audiologists before contacting Dana Luzon. Neither of them remotely compare to her.
First, her knowledge of what hearing aids are available greatly surpassed theirs. Second, her professional ability to help me select which manufacturer and model was perfect for me far exceeded the abilities of the other audiologists I spoke with. The difference in them and her is like comparing a Ferrari to a Ford. Third, she makes time available for you when you need her. The other specialists made me wait up to a week if I needed service. I like the fact that she has only one patient in the office at a time, so that she can concentrate on them.
She is without question the doctor of choice for hearing in the Palm Beaches. I am writing this testimonial as a thank-you to her for all she has done for me. In addition, it will mean a lot to me to help you receive the hearing aids that are best for you and save time, effort, and unnecessary stress in doing so. "
— Larry
Most of my patients find that having a home for their hearing healthcare, being seen on time for their appointment, and having convenient appointment times in a friendly and quiet atmosphere suit their needs best. Quality patient care is important in helping you achieve better hearing. What is the VALUE of a professional hearing healthcare provider? There's price and then there's priceless. You have to decide what's best for you!
Dana Luzon, Au. D. , CCC-A, FAA, Doctor of Audiology
Originally from Southern NJ, Dana Luzon received her undergraduate degree in Speech Pathology and Audiology from the Richard Stockton College of NJ, and continued on to receive her Doctorate of Audiology at Salus University's residential program. Her varied clinical experiences throughout her doctoral studies include: VA hospitals, rehabilitation clinics, ENT and private practice settings. Her professional interests include: audiologic rehabilitation and progressive tinnitus devices. Her interests in the field outside of the clinic include: Humanitarian Audiology, and Audiology Awareness. Dr. Luzon currently lives in West Palm Beach, FL.
Audiology and Hearing Aids
561. 627. 3552
4266 Northlake Blvd
Palm Beach Gardens,
FL 33410
www.hearingcarefl. com