By: Dana Luzon, Au.D., FAAA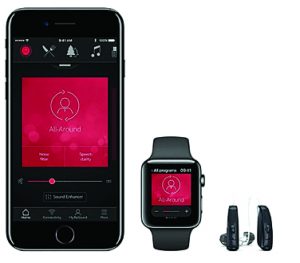 Hearing aid manufacturers are constantly improving on the quality of their devices, and with every new launch comes new features that may benefit the patient and the audiologist.  Having an audiologist to customize and adjust your hearing devices is an integral part of your hearing care experience.
With most hearing devices, they must be fine-tuned and adjusted over time for each patient which has always been done in the audiologist's clinic. ReSound has come up with a new solution that allows the patient to have their hearing aids adjusted from the comfort of their own home or whenever it is convenient for you, called ReSound Assist! This revolutionary advancement will cut out travel time to the clinic and many adjustments can be made based on the patients' needs after they are first fit in the office. With its unique integration with other smart devices, the all new hearing aids mean hearing care wherever you are.
Who benefits from this new feature?
Patients who have limited transportation options.
Patients who live far away from their audiology clinic.
Patients who are only in Florida seasonallyHomebound Seniors.
Patients who are working full time and would need to take time off work to have quick adjustments made.
"ReSound Assist will notify me when a patient is requesting a change to their hearing aid settings, I can make that change here in my office and send it back to the patient through a cloud based system. The hearing devices can now be adjusted based on real world patient experiences. This will give me real time feedback of the patient's struggles in different settings. This all new feature will allow patients to have an office visit and hearing aid adjustments from wherever they are. This will be much more convenient for patients who cannot always travel to the office for an appointment." Dana Luzon, Au.D.
Some other key features include direct to iPhone calls and music streaming as well as a next generation app that allows you to adjust your settings at any time and includes built in guidance and coaching so you can comfortably be yourself in any situation. This comprehensive sound ecosystem seamlessly connects your hearing aids, wireless accessories and smartphone apps. All the hearing technologies that improve your life now work together!
If you think this technology may be right for you, call Audiology & Hearing Aids of the Palm Beaches today for a hearing evaluation and in office technology demonstration. Schedule an appointment to see how the ReSound LiNX 3D can help you hear better today!
Dana Luzon, Au. D. , FAA, Doctor of Audiology
Originally from Southern NJ, Dana Luzon received her undergraduate degree in Speech Pathology and
Audiology from the Richard Stockton College of NJ, and continued on to receive her Doctorate of Audiology at Salus University's residential program.Her varied clinical experiences throughout her doctoral studies include: VA hospitals, rehabilitation clinics, ENT and private practice settings. Her professional interests include: audiologic rehabilitation and progressive tinnitus devices. Her interests in the field outside of the clinic include: Humanitarian Audiology, and Audiology Awareness. Dr. Luzon currently lives in West Palm Beach, FL.
Audiology and Hearing Aids  of the Palm Beaches, Inc.
561. 627. 3552
4266 Northlake Blvd, Palm Beach Gardens, FL 33410
HearingCareFL.com