By Lee R. Cohen, D.D.S., M.S., M.S. –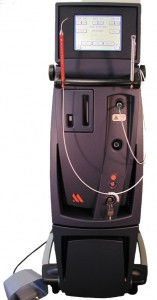 One of the most common diseases we face in our lifetime is periodontal disease.  This typically painless disease involves infection and loss of the supporting gum and bone around our teeth. As the gum tissues become inflamed and bone is lost, the chances of losing our teeth increases considerably.
Many of us routinely see our dentist and hygienist on a regular basis. At these appointments, measurements to evaluate our gum "pockets" are recorded. The numbers we hear our hygienist calling out represent how inflamed our gum tissue is and how much bone has been lost around our teeth. In cases where the depths below the gum line are significantly deep (more than 4mm usually), the hygienist can no longer reach the bottom of the "pocket" therefore leaving the potentially dangerous bacteria undisturbed. Such situations typically require more advanced treatment. The goal of any periodontal therapy where bone is being lost is to arrest the disease, slow the progression of the bone loss and try to maintain one's teeth for years to come. Today we have two primary advanced treatments for periodontal disease.
Traditional Periodontal Surgery:
One of the best tools we have to combat periodontal disease where bone loss has occurred is traditional periodontal surgery. Our efforts with traditional surgery include opening the diseased areas, removing any tartar and infected tissue, adjusting any bone irregularities and then closing the gum tissue with sutures. Typically the gums are placed either higher (on upper teeth) or lower (on lower teeth) so that they are resting near the underlying bone. Due to this repositioning of the gums, teeth usually look longer. Ultimately, we have shrunk the deep "pocket" by reducing the space between the gum and bone. In some situations, we are able to add bone graft material in an effort to grow some of the lost bone back.
Laser Periodontal Therapy (LANAP®):
The simplest comparison would be how LASIK revolutionized eye surgery. Laser Assisted New Attachment Procedure (LANAP) is the only FDA approved laser protocol that has been shown to successfully treat periodontal disease while regenerating new gum and bone. LANAP requires NO INCISIONS and therefore NO SUTURES. Due to this fact, post-operative swelling and recovery are almost non-existent.
The goal of LANAP is exactly the same as traditional periodontal surgery, but the approach is completely different. In this procedure, a specialized laser (only one laser and protocol have been approved for this patented procedure) is used to vaporize the diseased tissue. The wavelength of the laser is only attracted to the dark, diseased gums and leaves the healthy tissue virtually undisturbed.
Once this unhealthy tissue is vaporized, the entire area is cleaned and tartar deposits removed. In the small space between the gum and tooth tiny clots are formed that help stimulate the growth and development of new, healthy gum and bone tissue. As the gum reattaches to the tooth (almost like zipping a zipper between the gum and tooth) the deep "pocket" decreases in size. Therefore, in the case of LANAP, the teeth typically do not look any longer when the procedure is completed. Additionally, minimal to no post-treatment swelling or discomfort is typically seen.
Treatment Comparison:
Research has shown that 5 years after treatment there is no statistical difference between the results of traditional surgery or LANAP. It is important to understand that not everyone is a good candidate for LANAP and that both traditional and laser therapy cannot guarantee success. It is clear that many patients are aware that they have these painless, deep "pockets" but opt not to treat their disease due to the potential issues associated with surgery. LANAP offers patients a chance to help keep their teeth and treat their disease without having to undergo traditional surgery.
Lee R. Cohen, D.D.S., M.S., M.S., is a Dual Board Certified Periodontal and Dental Implant Surgeon. He is a graduate of Emory University and New York University College of Dentistry.
Dr. Cohen completed his surgical training at the University of Florida / Shands Hospital in Gainesville, Florida. He served as Chief Resident and currently holds a staff appointment as a Clinical Associate Professor in the Department of Periodontics and Dental Implantology. Dr. Cohen lectures, teaches and performs clinical research on topics related to his surgical specialty.
The focus of his interests are conservative approaches to treating gum, bone and tooth loss. He utilizes advanced techniques including the use of the Periolase Dental Laser (LANAP procedure) to help save teeth and treat periodontal disease without the use of traditional surgical procedures. Additionally, he uses in-office, state of the art 3D CT imaging to develop the least invasive dental implant and bone regeneration treatment options. Dr. Cohen and his facility are state certified to perform both IV and Oral Sedation procedures.
Dr. Cohen currently serves on the Board of Trustees for the American Academy of Periodontology and the Florida Dental Association. He is past president of the Florida Association of Periodontists and the Atlantic Coast District Dental Association. In addition, Dr. Cohen has been awarded Fellowship in the American College of Dentists, International College of Dentists and the Pierre Fauchard Academy.
Lee R. Cohen, D.D.S., M.S., M.S.
4520 Donald Ross Road, Suite 110
Palm Beach Gardens, FL 33418
Phone: 561-691-0020
www.pbcperio.com