By Alan J. Bauman, M.D.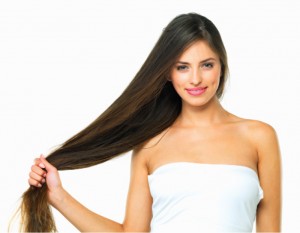 Is hair loss standing in your way of becoming a "new you" in the New Year?
If thinning hair is an issue you're hoping to tackle in this year, you are in luck, because there are an abundance of options available to treat hair loss at every stage. From the first signs of thinning to advanced hair loss, recent medical advancements have made stopping hair loss and restoring hair growth a medical reality.
Giving Your Hair a Boost
Whether your problem is thinning hair, a dry and flaky scalp, or hair that has simply lost its luster, here are a few simple steps you can take to put a little life back into your locks.
• Start With Your Scalp – Healthy hair starts with a healthy scalp. So if you want to grow healthy hair, first you need to have a healthy scalp. With a Scalp Makeover, women undergo a simple skin diagnostic test to see if their sebum, pH, hydration, toxin and cortisol levels are imbalanced, and then depending on the results, a variety of scalp therapies are provided, ranging from sebum-regulating topical serums (as well as hydration, anti-hormonals and blood microcirculation stimulants) to scalp steaming, scalp massage, electrotherapy stimulation, and hair boosting dermal patches.
• Eat for Healthy Hair – Your body needs vitamins and nutrients to grow, and so does your hair. How you eat can determine how healthy, or unhealthy, your hair is. Women and men who lack these key vitamins are more at risk of thinning: biotin, anti-oxidants, zinc, iron, Vitamin B and protein. Another good tip is to avoid extreme diets, these "crash" diets can lead to major shedding, and temporary hair loss. For those really looking to give their hair an added boost, nutritional supplements can be extremely effective in stimulating growth.
Stimulating Growth & Slowing
Down Hair Loss
For those who are already experiencing hair loss and thinning, you may need to consider a regimen that both stimulates healthy hair growth and slows the progression of hair loss. Today, there are several highly effective treatments available for both men and women.
• PRP – Cell Therapy: Helping the body heal itself through cell therapy is a hot trend today in medicine. The use of autologous PRP (platelet rich plasma) for wound healing after hair transplants and as a stand-alone treatment for enhancing hair growth is becoming more widespread as research continues.
• Laser Therapy: Over the past few years, the FDA has given the "nod of approval" to more than a few low-level lasers for regrowing and improving hair growth-and not just for men, but for women too. From combs to caps, and other hands-free devices, laser therapy offers a discreet hair loss treatment that is non-chemical, non-invasive, and pain-free.
• Latisse for Hair Loss: Latisse (Bimatoprost) is already FDA-approved to grow longer eyelashes. Allergan is currently in phase II clinical trials to use it on male and female pattern hair loss as well. If it succeeds, it will be only the second topical treatment to receive FDA approval for hair loss. A small but growing number of doctors are prescribing prostaglandin analogs like bimatoprost for off-label use on the scalp in certain patients and seeing positive results.
• Formula 82M – Aside from the generic minoxidil or brand name Rogaine you find on the shelf at the pharmacy, a growing number of off-label, customized, compounded versions of the medication can be obtained with a doctor's prescription. Sophisticated minoxidil formulas such as Formula 82M  may offer a dramatic improvement over the aging Rogaine/minoxidil recipe with fewer side effects, which is good news, since medical studies have found that the efficacy rate for over-the­ counter minoxidil is just 38.3 percent!
Hair Transplants
Medications, laser therapy, Platelet-Rich-Plasma, nutritionals, etc. can help make hair follicles grow thicker, healthier hair; however, once the follicle is dead and gone; the only option for regrowth in that area is a hair transplant.
• NeoGraft FUE – The FDA-approved NeoGraft FUE machine is used to extract individual hair follicles, via a suction-based system, from the donor area at the back of the patient's scalp – which are then implanted into the bald areas of the scalp. This means no scalpels, sutures, or staples for the patient. It also replaces the older "strip harvest" method of hair transplantation, which removes a large strip from the back of the patient's scalp, resulting in a long linear scar. The FUE procedure has been available for several years, but prior to the NeoGraft machine, it was too time­ consuming and expensive for most patients to utilize. Now that the process is automated by NeoGraft, surgeons can perform the "Cadillac" of hair transplants in considerably less time, and at less expense for patients.
• ARTAS Robotic-Assisted FUE Hair Transplant –The ARTAS robot is a state-of-the­ art medical device that assists in hair transplant surgery by helping to safely and effectively extract intact hair follicles for transplantation using the FUE technique. The robot's precision allows patients to benefit from an unprecedented level of safety; efficacy and comfort during their hair transplant procedure. The innovative ARTAS robotic FUE system uses advanced digital imagery to map and analyze the  hair in natural groupings on the scalp.
Make the Commitment
One of the hardest parts of treating hair loss in both men and women, is helping the patient understand that it is a long-term process. Just like hair loss, initial changes in hair regrowth take time and can be subtle before they are noticeable to the naked eye. When treating hair loss, it is important to keep in mind that it can take more than a year to see the full, final results from treatment, which is unfortunately longer than many patients are willing to wait, so many end their treatment early, disrupting any progress that had been made.
Regular follow-ups should be performed every 90 days while undergoing treatment. These appointments can help ensure patients are responding to their treatment regimen and getting the best
results possible.
The Sooner You Start,
The Sooner You'll See Results…
To learn more about any of these treatments, or to assess you r personal hair loss risk, contact a hair restoration physician who can work with you to determine the most effective treatment regimen for your specific needs. Patients should look for a specialist who is board-certified by the American Board of Hair Restoration Surgery, recommended by the American Hair Loss Association and a Fellow of the International Society of Hair Restoration Surgery. Only a qualified and experienced hair restoration physician can perform natural-looking hair transplants and prescribe the most effective multi-therapy treatment options, including the latest available products.
Diplomate, American Board of Hair Restoration Surgery
See photos of our brand new 11,000 sqft Hair Transplant and Hair Loss Treatment Center on Facebook!
Follow Dr. Bauman on Twitter, LinkedIn and Google+