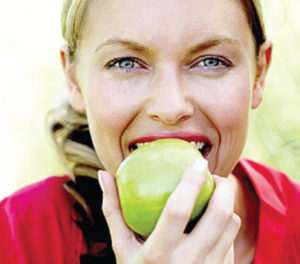 Partial dentures have long been used to help fill in the spaces where people are missing teeth. These types of appliances are "removable", meaning they can be taken in out of the mouth. Partials have served an important function over the years, allowing patients to chew and smile when other options are not possible either due to lack of remaining/supporting teeth or financial limitations.
Although these appliances are very useful, they do not come entirely free of potential problems. Partial dentures typically rest on the gums in the empty spaces and usually have metal clasps that grab onto the adjacent teeth for support. In many cases, the clasps are visible when patients speak or smile. In addition, the clasps can put tremendous strain on the remaining teeth which could ultimately lead to additional loss of teeth.
Another common complaint with partial dentures is the "rocking" or "movement" that can occur during chewing. This is a possible issue due to the fact that our gum and bone continually changes over time, which alters the way the prosthesis sits in the mouth. In addition, rocking can occur if the teeth supporting the partial denture are loose. Ultimately, partials can serve patients well, but some do feel that the movement, pressure on the remaining teeth or impact on chewing and speech are problematic.
Stabilizing the Partial:
An alternative does exist that can help remove some of the areas patients most complain about with their partial. If sufficient bone is present in the areas where teeth are missing, dental implants may be used to help support and stabilize the prosthesis.
Dental implants serve as "root replacements" that can be placed in the mouth where your previous roots lived in the bone (before the teeth were removed). Under most circumstances the roots will bond with the bone over a number of months. Typically we hear how crowns can be connected to the healed implants to replace teeth. We also have the ability to use these implants in different ways. In the example of stabilizing a denture, connections similar to a trailer hitch or ball can be attached to the implant. Snaps that lock onto these balls are incorporated into the denture on the underside (where the partial rests on the gums).
This allows a patient to "snap" the partial into place and limits movement considerably. In most occasions, metal clasps can be avoided. The benefits of this procedure are often considered the elimination of rocking or movement, improved chewing ability and improved esthetics.
This often simple treatment offers patients the ability to improve issues they may have related to partial dentures. A thorough evaluation of the bone using a 3D CT Scan can help determine if this therapy is appropriate. It is important to remember that no one treatment is suitable for all cases.
Lee R. Cohen, D.D.S., M.S., M.S., is a Dual Board Certified Periodontal and Dental Implant Surgeon. He is a graduate of Emory University and New York University College of Dentistry.
Dr. Cohen completed his surgical training at the University of Florida / Shands Hospital in Gainesville, Florida. He served as Chief Resident and currently holds a staff appointment as a Clinical Associate Professor in the Department of Periodontics and Dental Implantology. Dr. Cohen lectures, teaches and performs clinical research on topics related to his surgical specialty.
The focus of his interests are conservative approaches to treating gum, bone and tooth loss. He utilizes advanced techniques including the use of the Periolase Dental Laser (LANAP procedure) to help save teeth, dental implants, regenerate supporting bone and treat periodontal disease without the use of traditional surgical procedures. Additionally, Dr. Cohen is certified in Pinhole Gum Rejuvenation, which is a scalpel and suture free procedure to treat gum recession with immediate results.
Dr. Cohen uses in-office, state of the art 3D Green 2 CT imaging which offers Hi Resolution 5 Second Low Dose Scans to develop the least invasive dental implant and bone regeneration treatment options.
Dr. Cohen and his facility are state certified to perform both IV and Oral Sedation procedures. Botox® and Dermal Fillers are also utilized to enhance patients' cosmetic outcomes.
Dr. Cohen formerly served on the Board of Trustees for the American Academy of Periodontology and the Florida Dental Association. He is past president of the Florida Association of Periodontists and the Atlantic Coast District Dental Association. Dr. Cohen is a member of the American College of Maxillofacial Implantology and the American Academy of Facial Esthetics. In addition, he has been awarded Fellowship in the American College of Dentists, International College of Dentists and the Pierre Fauchard Academy.
The Palm Beach Center for Periodontics and Implant Dentistry
www.PBCPERIO.com
561-691-0020