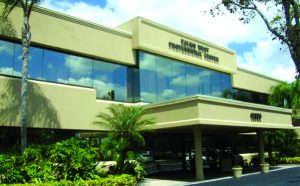 BY DESIGN, THE office of WellingtonMD feels more like a Manhattan spa or a ritzy skin care boutique than a doctors' office. But the latter thing is true. Despite the sun shining through large bay windows onto pastel walls, blond-wood surfaces and a quartz countertop check-in desk (casually dressed receptionists with iPads offer you a water), WellingtonMD is a like a breath of fresh air compared to typical medical offices.
WellingtonMD is considered a hybrid practice offering both traditional family medicine services (insurance based) as well as concierge medical services (Testoste-rone Replacement).
Dr. Brian Anthony Lipari is a Family Medicine trained physician who completed his residency at the prestigious Northwell Health Medical Center in New York. Dr. Lipari furthered his medical expertise by completing two years of fellowship training under the guidance of his mentor, Dr. Milton Waner, at Columbia University College of Physicians and Surgeons as well as Lenox Hill Hospital in New York.
As people tire of long wait times, rushed visits, a reliance on prescription medicines and dealing with the morass that is the insurance system, WellingtonMD is finding another way to deliver wellness.
WellingtonMD offers more time with a physician, and an office tricked out with more gadgets than a starship's sick bay and a state of the art facility with on-site lab for Testosterone Replacement Therapy. On intake, you have the option to complete the traditional paperwork with pen or do it digitally with an iPad.
In triage all the equipment is the best in medical practice from scales to vital machines to the EKG. In the exam room, you sit in a custom-designed Chic Chair surrounded by cleanliness and beautiful artwork. Digital images from your past visits flicker across a timeline made of your health records through their electronic health record.
In regards to the Men's Wellness division of the practice, many labs (Testosterone, PSA & Estradiol) can be done on-site, with the results ready in as little as 15 minutes. If patients are candidates for Testosterone Replacement, therapy can start same day. Patients get sent home with prescription medicine if need be. If there's a follow-up question, they're told they can expect an answer within minutes.
For the men interested in Men's Wellness, the $149 fee covers the initial consultation with Dr. Lipari, a full physical exam and labs which the results will be obtained and reviewed with the patient at the same visit.
The most interesting part of WellingtonMD, though, is the level of care given to each patient.
"We've created this office to give patients the care, time and comfort they deserve," says Dr. Lipari, the CEO and Medical Director.
A visit to WellingtonMD is indeed pretty cool. Before they opened their office, Dr. Lipari and his team meticulously built out and tried to think of every detail to make the office feel welcoming. "Not everyone likes to go to the doctor, but when you have to…we want it to be as comforting as possible" said Joseph Davidoff, Office Manager.
They brought in actual patients to talk to doctors, and then had the doctors meet with engineers about the design of the whole thing. The result is indeed slick. Some patients believe that the health care industry takes pride in not caring about the experience. And if fixing that means indulging in some things that people enjoy, well, that's what we wanted to do says Dr. Lipari.
No question, WellingtonMD (and other concierge-style practices) want to benefit their patients. So, ah, about that: "You get longer visits, greater acceptability of your clinician, and more patient-centered care, quote-unquote," says Caleb Alexander, co-director of the Center for Drug Safety and Effectiveness at Johns Hopkins Bloomberg School of Public Health and lead author, over a decade ago, of a paper on concierge medicine characteristics.
Of course, optimizing your healthcare for the greater good is the goal.
Like many of these pioneers attempting to reinvent medical services, WellingtonMD accepts insurance for family medicine but does not accept insurance for Testosterone Replacement Therapy.
WellingtonMD, which opened in December, describes it as a continuation of the "progressive, contemporary, inclusive approach" to wellness. The 3,000 square foot space — intends to hold classes and counseling sessions for anyone invested in health & wellness.
"We don't want to just triage a patient with diabetes," said Lipari. "We want to the change the root drivers of chronic disease, helping people to get off medication and live a healthier life."
Wellington MD
12989 Southern Blvd., Suite 103
Loxahatchee, FL 33470
(561) 268-2880
www.wellingtonmd.com